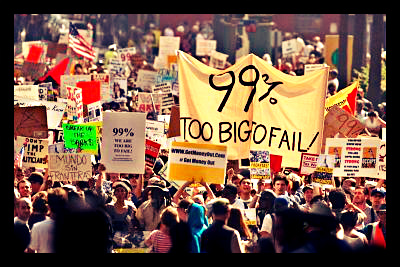 On September 17, 2011, thousands of people marched on the Financial District, then formed an encampment in Zuccotti Park, launching a movement that shifted the conversation about economic inequality in the US and world wide. It became known as "Occupy Wall Street" or OWS, and it undoubtedly changed the political landscape of this nation.
The acts of civil disobedience committed by citizens in the months that ensued after the original encampment, the cause those citizens were fighting for, their methods and all that was exposed, will be written in US history books.
Movement
The Occupy Wall Street movement did not bubble into a full scale revolution, and many cynics or critics point to a lack of any substantial policy shifts in the wake of the OWS uprising as a sign that it did not accomplish anything.
However recently, on the 2nd year anniversary of the original act of civil disobedience in New York, many people took to the streets both in homage of what took place, and as a reminder that the ideals, passion, and people behind it, had not gone anywhere.
"We're still out here fighting for economic justice. The bankers still have all the power," protester Linnea Paton said. "They've bought our government and we need a people's movement to do that, and the movement is still here."
Grass Roots Democracy
National media coverage and large organized acts of civil disobedience have not been seen for well over a year. On the surface it certainly can seem that the movement has died out and that nothing was actually accomplished. Certainly many of the entrenched powers that be have argued this point.
Yet a closer and more nuanced look reveals a different picture. There are still hundreds of small-scale local organizations, working with the model and often the title, that the original OWS encampment developed.
There are also plenty of indirect offshoots of nonprofits working for specific causes that are very in tune with what the OWS movement was all about. Occupy Foreclosed Homes for instance, happened all over the country in the wake of the housing market collapse.
Near where I live there is still an active Occupy Santa Rosa organization. The OWS Oakland, which organized some of the largest demonstrations that took place at the height of the movement, is still very much active.
Long Term View
Perhaps the main contribution that was made by the Occupy Wall Street movement is the awareness of some of the root problems our society faces.
Rarely did the political dialogue that was shaping US policy in the years leading up to September 17th 2011 include discussions of economic inequality or banking corruption.
What will ultimately be the legacy of the Occupy Wall Street movement in the annals of US history remains to be seen. However, one can still actively shape its course and become an active participant in our societies future. Acting and striving for a sustainable and equitable future is at the core of our constitution, and is after all a moral obligation we all share.
– Tyler Shafsky
Photo: Voices from Russia
Sources: USA Today , Democracy Now, Occupy Oakland
https://borgenproject.org/wp-content/uploads/logo.jpg
0
0
Borgen Project
https://borgenproject.org/wp-content/uploads/logo.jpg
Borgen Project
2014-02-04 20:37:21
2014-02-04 20:37:21
Where is Occupy Wall Street Now?