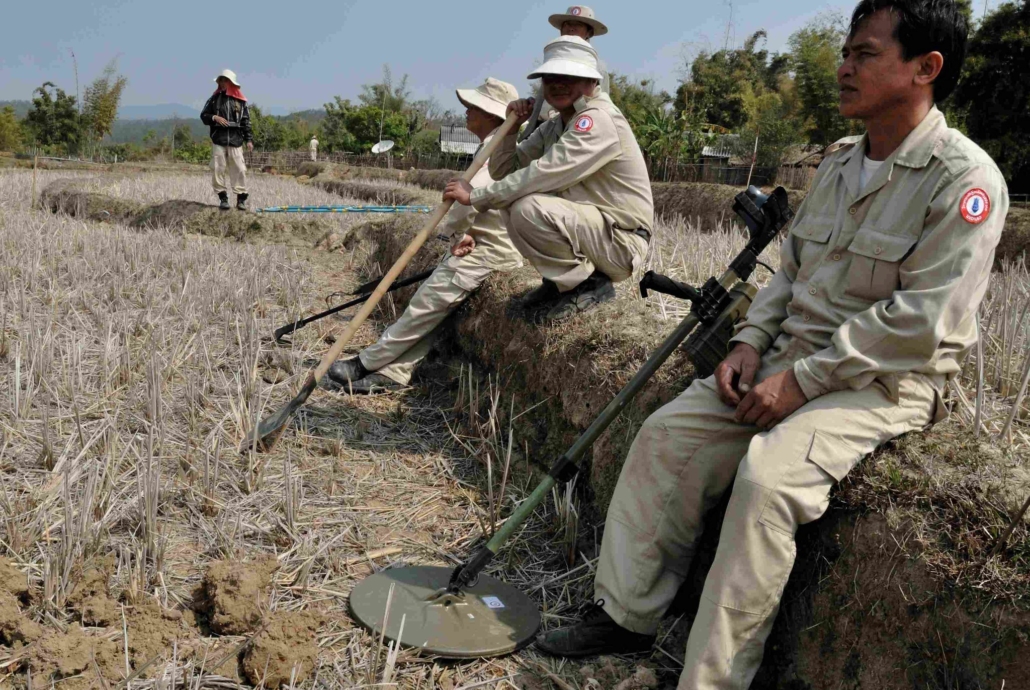 Laos, known as the Lao People's Democratic Republic, is the only landlocked country located in Southeast Asia. It shares borders with Thailand, China, Myanmar, Cambodia and Vietnam. The United States dropped 270 million cluster bombs in Laos during the Cold War and the War in Vietnam. In total, U.S. "Cold War bombs" have killed or injured an estimated 50,000 Laotians, mainly civilians and almost half of them children.
About a third of the bombs that the U.S. dropped remain in Laos undetonated. The name of these is "unexploded ordinances" or UXOs. These UXOs affect both the economic and physical well-being of the Laotian people. Recently, various organizations as well as the U.S. government have been providing funding and in-person aid to create a safer country for the Laotian people by searching for and removing unexploded ordnances (UXOs).
A Brief History of the Cold War Bombing
The United States bombed Laos from 1964 to 1973 during the Cold War to cut off Communist supply lines. According to Al Jazeera, every eight minutes for nine years, it dropped the equivalent of a fully-loaded plane of bombs. This has made Laos the most bombed country in history. Around a third of the bombs that the U.S. dropped failed to explode on impact. As a result, some have said that the U.S. left about 80 million bombs behind. These undetonated Cold War bombs have killed or maimed 20,000 people in the years since the bombing runs stopped. This legacy of UXOs is currently wreaking havoc on Laotians, who still live in fear of detonating the dormant bombs.
The Public Health Impact of Unexploded Ordnances
Laos' economic development as an agricultural economy has suffered since 22% of detonations have occurred through farming activities. Dormant bombs also affect mining, hydropower projects, forestry and the construction of schools and clinics. Funds that other areas would use have had to go towards demining efforts and medical treatment. The Lao government has claimed there is a correlation between unexploded ordinances and poverty. This is especially true as survivors often do not have the ability to be fully productive.
Solutions
Organizations such as Mines Advisory Group (MAG) and its team of around 1,200 people have been working in Laos since 1994 to help alleviate future unexploded bomb tragedies and fatalities. MAG removed its 300,000th bomb in August 2021. In a project with International Relief and Development, MAG cleared 115 schools in one region of potential bomb threats. In turn, this led to increased school enrollment in the area by 30%, as well as creating a safer environment for young boys and girls. MAG plans to help the country achieve its goal of removing all UXO by 2030.
Along with MAG, Legacies of War has been working with key decision-makers in the U.S. government to provide greater resources to remove UXOs and provide services for the 12,000 UXO victims still affected.  Legacies of War has quadrupled U.S. funding to Laos. Through its efforts, land available for cultivation and economic development has increased, while annual casualty rates dropped from around 300 to less than 50.
Finally, in 2016, under the Obama administration, the United States gave an additional $90 million in aid to Laos to remove unexploded ordnances over a span of three years. This was almost as much as the U.S. gave to Laos in the past 20 previous years. In fact, Obama was the first sitting President to visit Laos in 2016. He believed the United States had a moral obligation to help Laos "heal." The Pentagon also allowed aid agencies to access bombing records so they would have a better idea of where more UXOs are potentially located.
Looking Ahead
While Laos has not fully recovered from the bombing runs during the Cold War, humanitarian aid organizations and the U.S. government are making progress to remove UXOs, create a safer society, allow better access to land and alleviate the fears of its citizens. Additional resources targeted to search for and remove UXOs will help realize Laos's goal of removing all of them by 2030.
– Jerrett Phinney
Photo: Flickr
https://borgenproject.org/wp-content/uploads/logo.jpg
0
0
Jennifer Philipp
https://borgenproject.org/wp-content/uploads/logo.jpg
Jennifer Philipp
2022-04-17 07:30:44
2022-04-11 07:23:43
How Cold War Bombs Affect Laos Today