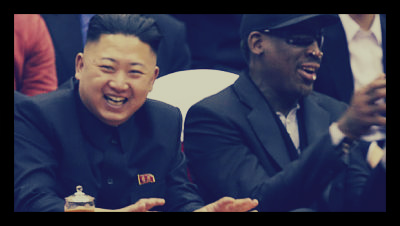 Last month, ex-NBA basketball player, Dennis Rodman, did what many political leaders will never have the opportunity to do. He made the long trip over to North Korea and met with its mysterious and very powerful leader, Kim Jong Un.
North Korea is known for its isolation, yet, recently, has begun to make huge headlines in the United States. North Korea and the United States have never been allies and tension between the two countries have existed for years. North Korea's nuclear test last month has only increased this tension, making new threats against American military bases in Japan and in Guam even more pressing and serious. The threat came earlier this month from a spokesperson for the Supreme Command of the North Korean People's Army, who said "the U.S. should not forget that the Andersen Air Force Base on Guam, where B-52s take off, and naval bases in Japan proper and Okinawa, where nuclear-powered submarines are launched, are within the striking range of the D.P.R.K.'s precision strike means." Videos depicting the White House and Congress buildings being blown up have recently come out of North Korea.
Yet, even with all of this, communication between President Obama and Kim Jong Un has been very little. In fact, any communication on the matter, is made through the media. The spokesperson for the Supreme Command of the North Korean People's Army made his statement to the state-run Korean Central News Agency. The Pentagon retaliated by making a rare announcement about the missions nucelar-capable B-52 bombers have and will continue to take over South Korea.
Chances of any U.S. political official making his or her way to a police state, such as North Korea is very rare. And, yet, Dennis Rodman recently acted as an ambassador for the Harlem Globetrotters, flying to North Korea to meet and spend two days with Kim Jong Un.
Dennis Rodman has come back with a lot of insight into Kim Jong Un, making it seem as if the North Korean dictator is willing to speak directly with President Obama to meet some sort of peace agreement. He even offered advice to Kim Jong Un in talking to President Obama, saying, "[Kim] loves basketball. And I said the same thing, I said, 'Obama loves basketball.' Let's start there." While President Obama has not made any efforts to talk to Kim Jong Un, Dennis Rodman has been making his rounds to talk about his trip to North Korea, appearing on many talk and news shows. Recently he appeared on The Tonight Show with Jay Leno and referred to Kim Jong Un as his friend and a nice guy. In an interview on "This Week," Dennis Rodman on talking about Kim Jong Un said, "I love him. He's awesome."
Whether or not Dennis Rodman's knowledge of North Korea and Kim Jong Un will be helpful to the United States in its dispute with North Korea is unknown as U.S. State Department officials have no plans to debrief the former basketball star. Former deputy assistant secretary of state, Col. Steve Ganyard, finds this ridiculous as  "There is nobody at the CIA who can tell you more personally about Kim Jong Un than Dennis Rodman."
-Angela Hooks
https://borgenproject.org/wp-content/uploads/logo.jpg
0
0
Borgen Project
https://borgenproject.org/wp-content/uploads/logo.jpg
Borgen Project
2013-03-27 09:49:29
2020-04-27 06:13:54
Dennis Rodman Travels to North Korea and Meets Kim Jong Un