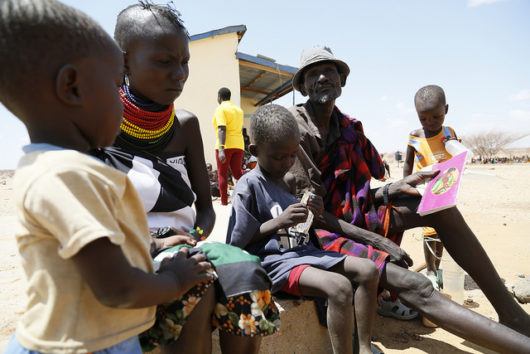 South Sudan gained its independence from Sudan in 2011. That same year, the country was admitted into the U.N. as the world's youngest country.
Since then, the South Sudanese people have struggled in dire circumstances of famine and violence. The following top 10 facts about hunger in South Sudan described below delve into the issue of famine and violence in the country, but also reveal hope for its better and more promising future.
Top 10 Facts About Hunger in South Sudan
More than 5.7 million people in South Sudan lack sufficient food to satisfy their basic needs. That number is predicted to rise to 6 million by the end of 2018. This food crisis is in part due to what the U.N. calls a man-made catastrophe, brought on by conflict and economic collapse.
Famine has not yet been officially declared except for in two out of 10 counties of Unity State. At that time, 100,000 people were on the verge of starvation. While the state of famine officially ended as of February 2018, it is predicted that it will have to be declared again later this year due to a lack of consistent humanitarian access and funding.
More than 1.3 million children under the age of 5 are at risk for acute malnutrition. The rainy season that begins in April exacerbates this problem as communities become geographically isolated and people from these areas are unable to reach medical services. Particular areas of concern are Leer, Mayendit, Longochuck and Renk where acute child malnutrition is labeled as extreme.
The harvest of 2018 was the smallest recorded since South Sudan gained its independence from Sudan in 2011. According to the World Food Program, the country is only producing a fraction of what it needs. Even in the capital city, relatively immune on the food crisis, a rise in food costs make it impossible for families to afford food and their options are disappearing as the South Sudanese currency crashes.
Food production is crippled mainly because of the civil war in South Sudan. According to the U.N., the civil war began the largest refugee crisis in Africa since the Rwandan Genocide. More than 2 million people have fled the country which has crippled food production.
About 80 percent of the country's population live in rural areas and rely on livestock and subsistence farming to survive. This lifestyle is caused by a severe lack of infrastructure. Few paved roads that do exist in the country are usually completely cut off during the rainy season.
A meal that would cost a New Yorker $1.20 would cost someone in Juba, South Sudan equivalent of $321.70. This means that people need to spend 155 percent of their daily income for a plate of bean stew. This finding complements the 2017 World Food Program report that stated that the relative price of a meal in South Sudan was among the highest in the world.
Aid agencies that have the goal of improving the situation on the ground face a relentlessly hostile operating environment. The Norwegian Refugee Council (NRC) reports that in April alone, there were 80 reports of aid workers being prevented from delivering their aid. The next month, the NRC was forced to suspend emergency food distribution in Unity State because of active fighting on the ground.
This geographic region has been known for its rolling hills and greenery, once regarded as South Sudan's breadbasket. However, even those who are capable of cultivating crops choose not to, as they fear they will get caught be government soldiers and be labeled as rebels. Despite first-hand witnesses, the army denies these allegations and claims that it would never steal the people's food.
The problems in the country have not been ignored by the international community. In 2017, the Food and Agriculture Organization of the United Nations (FAO), The World Food Programme (WFP), and the United Nations International Children's Emergency Fund (UNICEF) and their partners conducted their largest ever aid campaign to the country. FAO provided 5 million people with seeds and tool and also vaccinated more than 6.1 million livestock to keep the animals alive and healthy. UNICEF and its partners admitted 208,000 children with severe acute malnutrition in 2017. Finally, WFP is pre-positioning 140 metric tons of food in 50 areas across the country that are likely to be cut off during the rainy season.
The situation in South Sudan may have been officially labeled as a famine too late, however, the issue has not gone without international attention. Many aid agencies, although with a lot of struggles, remain committed to improving the situation for the South Sudanese people.
What these top 10 facts about hunger in South Sudan reveal is that despite the fighting and economic problems, the land remains fertile and ripe for when peace prevails and crops can once again be sewed.
– Georgie Giannopoulos
Photo: Flickr
https://borgenproject.org/wp-content/uploads/logo.jpg
0
0
Kim Thelwell
https://borgenproject.org/wp-content/uploads/logo.jpg
Kim Thelwell
2018-11-24 07:30:05
2019-12-17 14:43:18
Top 10 Facts About Hunger in South Sudan