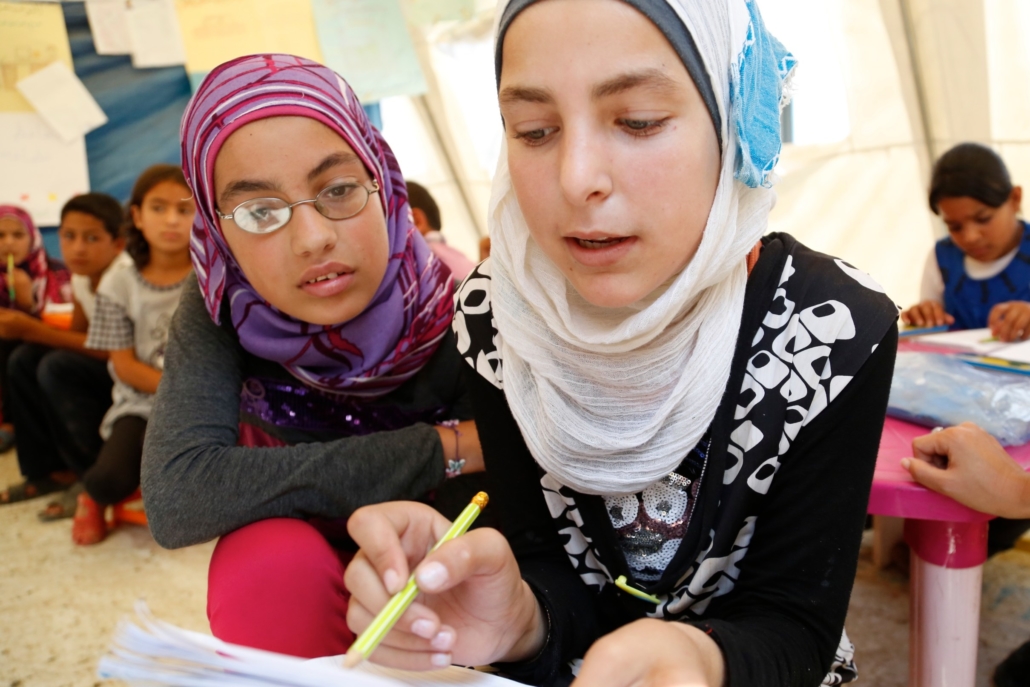 2020 marks the 10th year of the ongoing conflict in Syria. A war that began with the Arab Spring uprising in 2011, the Syrian Civil War has accounted for over 400,000 deaths and the displacement of more than 12 million people. Amidst this conflict, NGOs are working to expand children's access to education in Syrian tent cities.
The Crisis in Syria
Fighting between Bashar Al-Assad's authoritarian regime and Syrian separatist groups increased the prevalence of terrorist organizations. Groups, including ISIS, are using this ongoing conflict to strengthen their power in the region. Caught in the crossfire are innocent civilians. Pushed out of their homes, they have been forced to find refuge elsewhere. Thousands of Syrian refugees are now located in neighboring countries, including Lebanon, Turkey, Iraq and Egypt.
According to World Vision, a nonprofit dedicated to lifting children out of poverty, over half of Syrian refugees are children. Bombings limit children's access to education and healthcare, and the devastation is tearing families apart. Consequently, refugees are relying on resources within refugee camps, also known as "tent cities."
Problems in Syrian Tent Cities
Syrian tent cities are loose constructions of temporary shelters made from the limited resources refugees can find, including boxes, bed sheets, blankets and plastics. With minimal safety precautions, resources and sanitation practices, tent cities are insecure and put refugees at risk.
Additionally, high levels of displacement exacerbate the financial plight of families, especially for children. UNICEF reports that 85 percent of children are living below the poverty line. According to the World Bank, Syrian children have low levels of enrollment and are especially at risk of succumbing to the numerous pressures involved with poverty. However, local NGOs are working to provide quality education in Syrian tent cities.
NGOs Support Education in Syrian Tent Cities
Many NGOs are continuing to expand throughout Syria and neighboring regions to provide educational assistance to children in tent cities.
Nowell's Mission: In 2014, Nowell Sukkar established Nowell's Mission, a nonprofit that raises money to provide education to Syrian refugees living in Lebanon and Jordan. Sukkar and volunteers travel to Syrian refugee camps, providing basic education to children, including training in literacy.
Children on the Edge: Another NGO, Children on the Edge, was established in 2000 by UNESCO to work with traumatized children and youth post-conflict in Timor-Leste. In 2004, when Children on the Edge became an independently registered charity, they expanded their support to include a wide range of children's advocacy work across the world. These projects include building refugee education camps in Lebanon, the country with the largest Syrian refugee population per capita. These education camps have served over 300 children, providing education to children in their own dialect. Subjects include math, science, history, geography and English.
Karam: Karam, the Arabic word for generous, is the name of one NGO, created in 2007. Their mission is to provide support to people across the globe, through education, employment and leadership training. One of their initiatives, operating out of Turkey, raises funds to rebuild schools and to provide Syrian children with opportunities in higher education.
While these are just a few NGOs helping support and rebuild education for Syrian refugee children, they represent the diverse ways children's education can be improved. Whether it's funding teachers, building schools or providing access to higher-education opportunities, initiatives to improve education in Syrian tent cities are helping children rebuild after tragedy.
With new global humanitarian problems emerging every day, it's easy to forget the children impacted by sustained crises – like the one in Syria – who are now facing the long-term effects of insufferable war. By raising awareness, we can change the lives of Syrian children and provide them with the education they deserve.
– Aly Hill
Photo: Flickr
https://borgenproject.org/wp-content/uploads/logo.jpg
0
0
Lynsey Alexander
https://borgenproject.org/wp-content/uploads/logo.jpg
Lynsey Alexander
2020-04-15 10:30:22
2020-04-15 09:36:59
Education in Syrian Tent Cities: NGO Initiatives