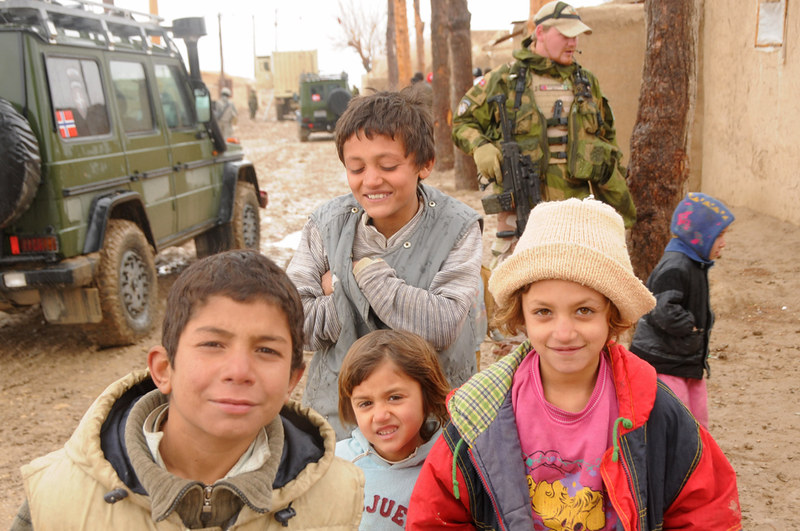 Norway is a country in Europe with more than 5 million residents. Although possessing little hard power on the global stage, Norway has made its influence known through its foreign aid program, Norwegian Agency for Development Cooperation (Norad). Norway's contribution of $4.7 billion to its foreign aid program in 2021 constituted 0.93% of its Gross National Income (GNI), making it the second largest contributor among OECD countries as a percentage of GNI to foreign aid. Norway's foreign aid acts as a major player in global development programs and given its relatively small size serves as a testament to how any country can play a role in promoting global development to reduce poverty. In fact, Norway has made significant investments in major fields to reduce poverty and unleash opportunities for a more prosperous and stable world.
A Leader in Promoting Universal Education
Norwegian foreign aid has played a critical role in promoting global access to quality education in recent years. From 2013-2016, Norway met its pledge to nearly double its annual education aid from $210 million to $400 million by 2016. This increase resulted in several achievements in promoting quality education opportunities for children in developing countries.
During this three-year period, 3.1 million children obtained support each year, 1.6 million were in conflict-affected countries, 11 million students received school supplies along with 8.5 million textbooks, 140,000 teachers underwent training and 5,400 schools either underwent construction or received repair in several developing countries, according to Their World.
These concrete gains for education access from Norwegian foreign aid could help reduce poverty by promoting access to education and the socioeconomic opportunities it creates to achieve higher living standards for future workers. Countries receiving the bulk of aid are also recovering from or are currently enduring civil war and negative impacts on education. Syria, Afghanistan, Somalia, Ethiopia, South Sudan, the Palestinean territories and Lebanon are the biggest recipients of Norad aid, according to OECD.
This means Norwegian foreign aid is working to promote education in countries where the effects of war have impacted education access most acutely through the destruction of infrastructure and threat of violence inhibiting the experience of quality education.
The U.N. lauded Norway for its commitment to promoting global education through its Norad increases, as it represented an increase from 2% to 9% of humanitarian funding for one country going to education, more than twice the U.N. goal of 4%, according to Their World.
The country has also taken action to rally other countries behind promoting education access. It hosted the 2015 Oslo Education Summit to provide a global platform for forging a strategy to promote universal education in participating countries. At this Summit, the World Bank pledged to commit $5 billion over five years to global education.
Norwegian foreign aid has played a critical role in both contributing more than a fair share of its aid to education, but also as a small country nonetheless played an important role in galvanizing the international community to promote global education in its aid programs to reduce poverty.
Promotion of Global Health
Norway's foreign aid has also played an important role in promoting global health and recently combating the COVID-19 pandemic. Between 2000-2016, Norway spent roughly 53 billion Norwegian Krone (NOK) ($5.7 billion) on global health care programs through Norad. As with education, Norwegian foreign aid has worked to promote global cooperation to promote human health through collective action.
From its NOK 4.7 billion ($494 million) Norad spent on health care in 2016, 80% of it underwent distribution through multilateral organizations, demonstrating Norway recognizes the importance of galvanizing other countries to work together in reducing poverty through the promotion of quality health care access to have a healthy workforce capable of contributing to national development and achieving higher living standards for themselves.
Norwegian foreign aid for health care like education has also seen greater contributions than other developed countries. In 2020, Norway spent NOK $6.6 billion (roughly $665 million) on healthcare-related foreign aid.
Norad aims its investments in health care at four main goals. Reduction of deaths from preventable diseases through promotion of food security, clean water, sanitation and the delivery of vaccines. Also, equality of access to and distribution of quality health care services and combating corruption to ensure the former is accomplished.
Combating COVID-19
Norway's foreign aid has also contributed to the fight against the COVID-19 pandemic. Since 2020, Norway has increased its health-related foreign aid expenditures by 8.4% in direct response to combating the COVID-19 pandemic.
Norway has also along with South Africa co-chaired the COVID-19 Tools Accelerator, a global initiative to promote equitable access to COVID-19 vaccines and treatments, raising $18 billion in the process.
Through such spending and global leadership, Norway has proved itself an important factor not just by itself but also by supporting the global response to a global health crisis to combat poverty through better human health.
Norway for its small size plays a major role in the fight against global poverty. The fact Norway can contribute as much to reducing global poverty can serve as inspiration that both anyone or any country can play a role in fighting global poverty in the interest of a more prosperous and stable world. Norway's efforts can also serve as an example that more powerful countries could do more, as the combination of Norwegian commitment and great power capacity to execute such commitment could achieve immense gains in the fight against global poverty through international aid.
– John Zak
Photo: Flickr
https://borgenproject.org/wp-content/uploads/logo.jpg
0
0
Naida Jahic
https://borgenproject.org/wp-content/uploads/logo.jpg
Naida Jahic
2022-09-28 01:30:48
2022-09-28 03:26:44
How Norway's Foreign Aid Programs are Fighting Global Poverty