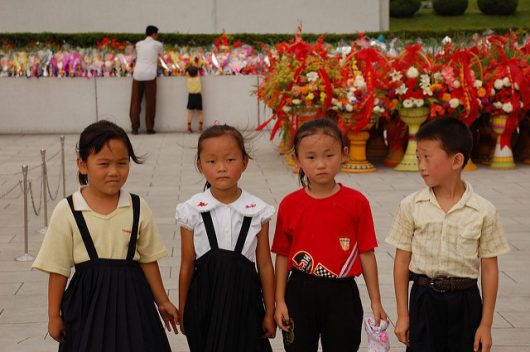 With rising tensions between the United States and North Korea, news coverage has been primarily focused on potential military action between the two countries. However, the United States has been making attempts at promoting human rights, democracy and freedom of information within the country. The latest attempt is the North Korean Human Rights Reauthorization Act.
North Korea is notorious for being one of the world's most oppressed, fascist countries in the world today. Under the rule of Kim Jong-Un, basic freedoms have been restricted to the point where they are practically non-existent. Enslavement, torture, rape, forced abortions and imprisonment are among the severe human rights problems within the country. Perceived opponents of the North Korean government and North Korean refugees who are sent back to the country have no choice but to go to prison camps where they are met with starvation, abuse and forced labor.
Chongsong Women's Prison Camp
At a women's prison camp in Chongsong, North Korea, women are subjected to psychological, physical and sexual abuse. Human Rights Watch conducted interviews with eight women while they were imprisoned. The women told them that among the abusers were prison guards and police interrogators from both the People's Security Agency and State Security Department of North Korea.
"My life was in his hands, so I did everything he wanted and told him everything he asked," said one of the women interviewed by the Human Rights Watch. "How could I do anything else?" The woman in this interview had been raped several times by a People's Security Agency agent while he was questioning her after she was sent back from China to North Korea in 2010.
Earlier this month, the United Nations condemned North Korea for the country's "long-standing and ongoing systematic, widespread and gross violations of human rights." Koro Bessho, Japan's U.N. ambassador, called out North Korea's capital city Pyongyang for its history of abuse and expressed that the country needs to properly address its longstanding issues with human rights violations. Leaders representing nations all around the world are taking it upon themselves to help those in North Korea affected by this issue.
North Korean Human Rights Reauthorization Act
H.R. 2061, also known as the North Korean Human Rights Reauthorization Act of 2017, was introduced to the House of Representatives in April of this year. Rep. Ileana Ros-Lehtinen of Florida's 27th congressional district sponsors the bill, and it currently has 16 co-sponsors. H.R. 2061 seeks to provide $10 million each year during the years 2018-2022 to promote human rights and freedom of information in North Korea as well as provide humanitarian assistance to North Korean refugees.
Through the North Korean Human Rights Reauthorization Act, the President would have the authority to electronically share non-government controlled information inside North Korea, increasing its availability and presence. The President could also provide grants for the allocation of devices that would receive this information and create a grant program designed to develop and distribute methods; the grants could also go towards products that would allow North Koreans easier access to outside information.
H.R. 2061 would allow the Broadcasting Board of Governors to broadcast music, movies, TV and popular cultural references, and they would broadcast in Korean to North Korea about laws, rights and freedoms given through the North Korean Constitution.
In accordance with the North Korean Human Rights Reauthorization Act, the State Department would be tasked with providing updates on the status of U.S. broadcasting in North Korea, whether it has met the 12-hour-per-day goal for broadcasting, and a plan for overcoming difficulties in having communication with North Korean citizens. In addition, the State Department would provide reports on efforts made to reunite Korean American citizens with their relatives in North Korea.
H.R. 2061 has made some progress in Congress; the bill passed in the House of Representatives in September and is currently moving through the Senate. With such a trajectory, there's hope for the bill yet.
– Blake Chambers
Photo: Flickr
https://borgenproject.org/wp-content/uploads/logo.jpg
0
0
Borgen Project
https://borgenproject.org/wp-content/uploads/logo.jpg
Borgen Project
2017-11-28 01:30:55
2019-12-23 07:45:06
North Korean Human Rights Reauthorization Act of 2017