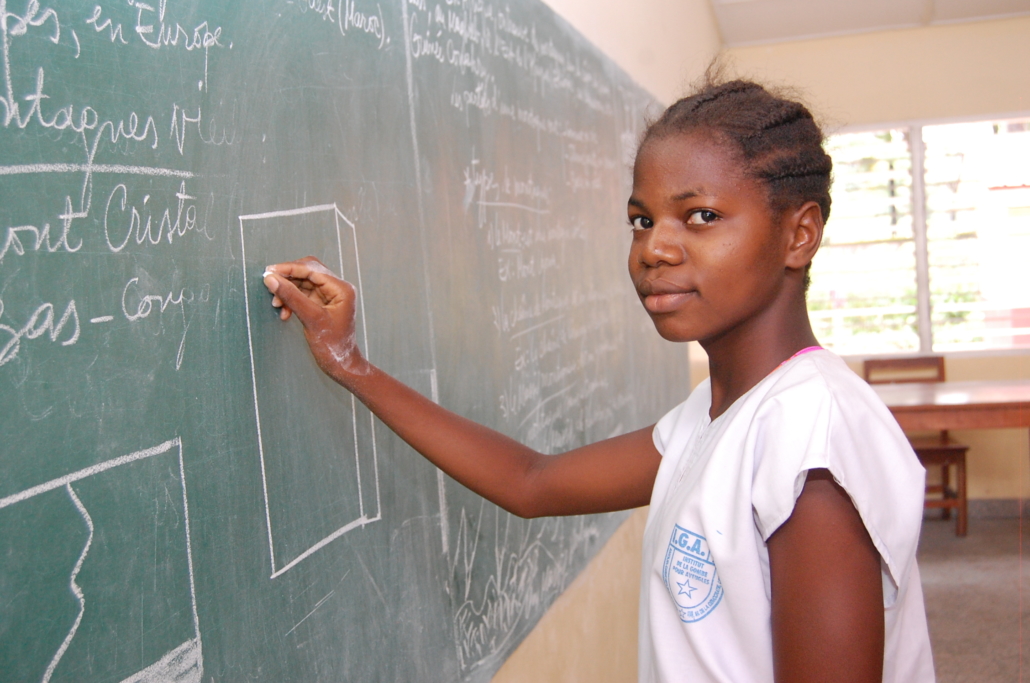 Congolese-Cypriot model Noëlla Coursaris Musunka is not just an international, fashion superstar. In addition to her successful modeling career, her charity Malaika is changing the lives of young girls and women in the Democratic Republic of Congo (DRC). Through her philanthropy, Coursaris Musunka aims to empower and thus, help improve girls' education in the DRC, so they can have the most opportunities for future success.
Noëlla Coursaris Musunka
After Coursaris Musunka's father died when she was young, her mother sent her to live with relatives in Belgium and Switzerland so that she could have a stable education. Though Coursaris Musunka succeeded academically and completed a degree in Business Management, she had little contact with her mother back home in the DRC. Their communication at that time consisted mainly of occasional letters or phone calls. As Coursaris Musunka herself said, "When you have nothing, you know that if you fall there's no one to pick you up. So you have to stand. I resolved very early on that I would study and work and be independent."
Realizing that many girls back home did not have access to education, she decided to start a charity to help girls' education in the DRC. Coursaris Musunka, inspired by her own experiences and the lack of opportunity she witnessed at home, began this endeavor.
Malaika Foundation
Malaika Foundation (named after the Swahili word for "angel") is a grassroots organization working to improve girls' education in the DRC. Coursaris Musunka acts as the charity's president and founder.
According to Coursaris Musunka's personal website, Malaika "empowers Congolese girls and their communities through education and health programs." The Malaika School currently educates more than three hundred young girls with a rigorous syllabus. Notably, 100% of students have passed their year six exams since 2017. Additionally, Malaika has created 20 wells in the DRC to supply residents with drinking water. Moreover, she founded a community center that "provides education, health and sports programmes to over 5,000 youths and adults per year."
The Malaika School in Kalebuka
Currently in its ninth year of operation, the Malaika School (located in Kalebuka) advances girls' education in the DRC at no cost to its hundreds of students. Also, the institution serves both primary and secondary school-aged children. The school educates students on a variety of topics, including multiple languages, STEM fields and the arts. Malaika particularly emphasizes the importance of leadership to teach girls to strive for success. The school also commits itself to sustainability — providing students with breakfast and lunch every day. Importantly, these meals include fruits and vegetables, grown in the school's own garden. Additionally, the school is "100% powered by solar energy." After graduation, Malaika matches students with internships while other students choose to continue their education at universities or specialized colleges.
A Model Beyond Fashion
Coursaris Musunka continues to invest her free time into the charity she founded. "My message to every child," she says, "to every young girl, is this: take your opportunity, go to school. Educate yourself. Become pioneers of education and pioneers of Africa and the world." Coursaris Musunka is a model in the world of fashion, female leadership and educational, charity initiatives. Inspirational and influential figures such as Coursaris Musunka are doing important work in the advancement of education, especially for young girls.
– Jackie McMahon
Photo: Flickr
https://borgenproject.org/wp-content/uploads/logo.jpg
0
0
Kim Thelwell
https://borgenproject.org/wp-content/uploads/logo.jpg
Kim Thelwell
2020-09-16 04:35:52
2020-09-16 04:35:52
Fashion to Philanthropy: Improving Girls' Education in the DRC