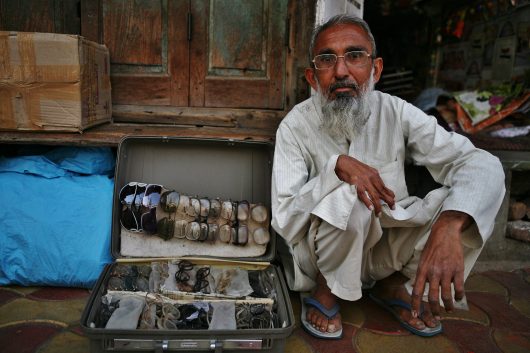 In India, one of the world's most culturally diverse and populous countries, one-fifth of the population lives below the poverty line. Many of India's poor live in rural areas, where a lack of access to basic resources and social services, high rates of illiteracy and inadequate healthcare contribute to high poverty rates.
The NM Sadguru Water and Development Foundation works to empower those living in nearby rural communities and reduce poverty through sustainable development. The nonprofit works to provide education and training for farmers, implement environmentally-sound structures and build community through farmer organizations and cooperatives.
Before the organization began its work that now spans more than 500 villages throughout the states of Gujarat, Rajasthan and Madhya Pradesh, farming in the semi-arid, drought-prone region could only occur during the three-month monsoon period. The only crop farmers could grow was corn, and they had to migrate with their families to other areas in India to find work as laborers to supplement their income. Making only a few thousand rupees per year, they lived in extreme poverty.
The area transformed when the NM Sadguru Foundation constructed check dams and lift irrigation systems to slow water from nearby rivers, conserve rainwater and distribute the water to various sites through gravitational force. This new system eliminated farmers' need to walk long distances to find water, which made it possible to farm year-round and enabled farmers to plant a more diverse set of crops.
Farmers who once were only able to grow corn now grow eggplant, spinach, tomatoes, beets, pointed gourd, onions, papaya, mangoes, potatoes, wheat, chickpeas, rice, cilantro and garlic. While the new crops greatly increase their incomes, farmers and their families are now also much healthier. Many farmers have even turned to floriculture, earning six times more harvesting chrysanthemums, marigolds and roses than their income from farming corn.
With an increased profit, farmers and their families are able to do things they never dreamed possible before Sadguru, such as build better homes, buy and raise healthier livestock and even send their children to school.
Aside from improving access to water, the NM Sadguru Foundation also provides sustainable farming education to farmers and even trains them to become community leaders. Farmers can then supervise their villages and surrounding areas, providing training and support to all those in the community.
While this spreads knowledge of the best farming practices quickly, it also empowers rural people who may have been on the bottom of the socioeconomic ladder previously. For example, some women have transformed their entire villages through introducing and developing fruit orchards in their communities.
The NM Sadguru Foundation's work shows that it doesn't take much to lift many people out of poverty. Improving access to basic needs creates a ripple effect that expands to impact health, security, income, education and so many other factors. With the right solutions and the proper support to maintain growth, eliminating poverty is something that can be achieved.
– Cassie Lipp
Photo: Flickr
https://borgenproject.org/wp-content/uploads/logo.jpg
0
0
Borgen Project
https://borgenproject.org/wp-content/uploads/logo.jpg
Borgen Project
2017-02-10 01:30:23
2020-05-26 21:22:42
How the NM Sadguru Foundation Relieves Poverty in Rural India