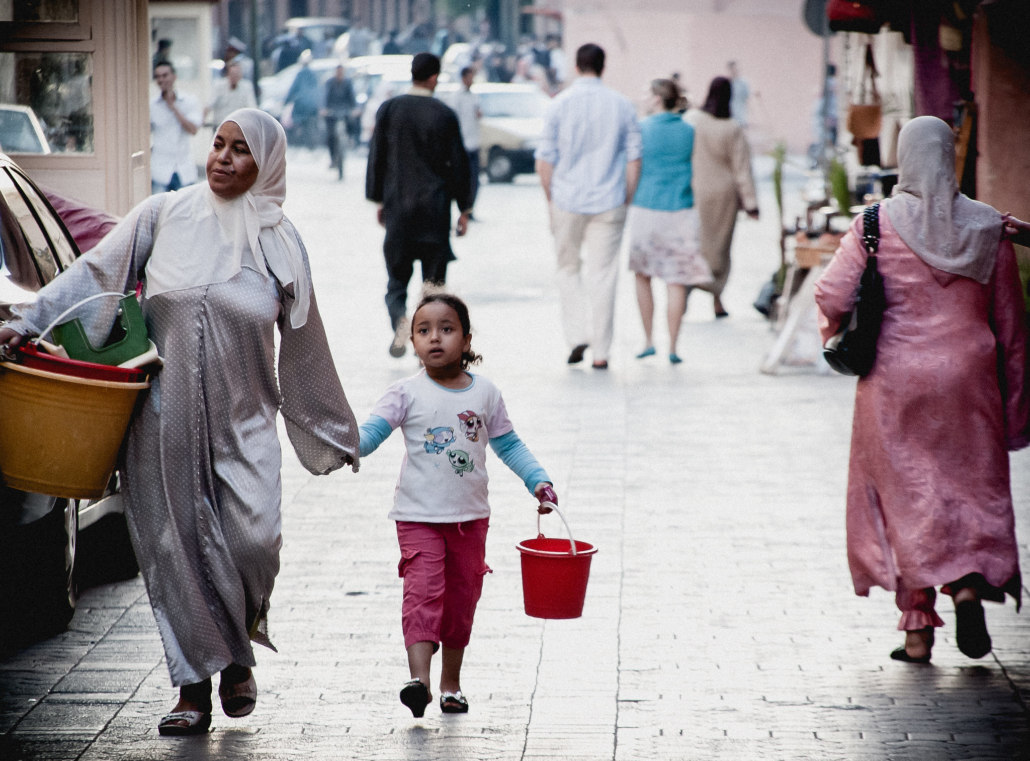 Morocco is a parliamentary constitutional monarchy in Northern Africa. Using its geographical proximity to Europe, the country is positioning itself to become the trade center of Africa. Combining this with low-cost labor, Morocco is moving toward an open market economy. Mohammed VI, the current sovereign of Morocco, has reigned over a steadily growing economy. However, poverty in Morocco is still a major issue that demands the government's attention.
An Improving Economy
Morocco's economy has enjoyed steady growth since 1960. Agriculture, tourism, aerospace, phosphates, textiles and sub-components are some of the major sectors that support the country's economic expansion. In order to further support their increased industrial development and trade, Morocco built a new port and free trade zone near the city of Tangier. Due to these efforts, Morocco's GDP rose from 2.03 billion in 1960 to 117.92 billion in 2018. However, even with this massive rise in the country's GDP, income disparity is still an issue.
Income Inequality in Morocco
Income inequality is one of the main issues that reflect the state of poverty in Morocco. In 2018, the OECD published a report which observed the country's alarming income inequality. The report found that Morocco's Gini Coefficient, an index of a country's income inequality, was the highest of all countries in Northern Africa, at 40.3%. This inequality has far-reaching implications in Morocco. In his interview with Reuters in 2019, Ahmed Lahlimi, the head of Morocco's official statistics agency, stated that social "disparities often trigger protests because they are viewed as a result of an illegitimate accumulation of wealth."
A report by Oxfam also found that Morocco's income inequality has considerable consequences. In the report, Oxfam showed that it would take 154 years for a normal employee to earn what Moroccan billionaires can make in a year. This is especially concerning because an estimated 1.6 million Moroccan citizens live in poverty. Inequality is also made evident by the difference in literacy rates between urban areas and rural areas: as of 2011, urban children were 2.7 times more likely to learn reading skills than those living in rural areas. While the literacy rate in Morocco rose from 69% in 2012 to 73% in 2018, it is clear that more needs to be done to improve the differences between urban and rural access to quality education.
Alleviating Income Inequality
In 2005, King Mohammed VI launched the National Initiative for Human Development (INDH), which aims to reduce poverty in Morocco by improving living conditions, assisting vulnerable social groups and supporting Moroccan families. The third phase of INDH, which will last from 2019 to 2023, will use its $1.9 billion budget to improve basic social services and infrastructure around Morocco. As of 2019, the initiative has created 44,000 projects, 17,000 actions and 9,400 income-generating activities in an effort to bridge the inequality gap in Morocco. The country also took on a loan from The World Bank to reduce unemployment in Morocco. The government plans to use the loan to improve private sector employment and human resources and accelerate digitalization and quality of education.
While Morocco's economy is improving, it is clear that poverty is an issue that still affects many people. Although the developing economy of Morocco improved the lives of many, it also resulted in extreme income disparities. This inequality impacts many citizens, as made apparent by the difference in literacy rates between children in urban and rural areas. Luckily, King Mohammed VI and the Moroccan government have taken measures to alleviate income disparity and poverty in Morocco. With the beginning of INDH's third phase, many people in Morocco hope for a better future.
– YongJin Yi 
Photo: Flickr
https://borgenproject.org/wp-content/uploads/logo.jpg
0
0
Lynsey Alexander
https://borgenproject.org/wp-content/uploads/logo.jpg
Lynsey Alexander
2020-06-30 12:45:43
2022-05-06 12:54:23
The State of Poverty in Morocco