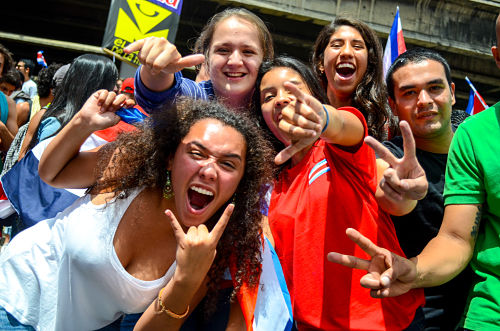 Earlier this summer, the National Teacher's Cooperative of Costa Rica released its inaugural Gross National Happiness Index. Their results mirror what the Sustainable Solutions Development Network's World Happiness Report and the Gallup Poll's 2014 State of Global Well-Being Rankings find: Costa Rica's citizens are generally happy. However, the fact that this index was compiled and published is of greater significance than the results it contains.
The acute and unwavering commitment to Gross Domestic Product (GDP) as the ultimate telltale for societal well-being has been distorting policies and steering resources away from sustainable and equitable growth since the Great Depression.
This skewed developmental path has resulted from GDP's narrow focus on output. GDP, and more specifically its fundamental adherents, has its blinders on an array of other important benchmarks like health, quality of education, altruism and prosocial behavior, environmental health, gender equality, level of social connectivity and support networks, and, of course, financial status.
In other words, the GDP school of thought assumes increased output equals increased income which leads to societies being better off. In a broad, general and abstract sense this seems correct, but it does not hold up in the real world.
A more nuanced approach is required to get humanity back on the right tilt, to allow a better balancing of social, economic and environmental progress. Social scientists are working hard to discover just what makes people happy and societies well off, and how to do so. Their findings may inform a new era of enlightened public policy.
The good news is that when humankind sets a target, we get better at hitting it. We learn how to remove barriers to improvement and shift gears to meet the goals. A whole suite of tools—financial, economic and social—can be tweaked and set in motion to guide and support progress toward an objective.
Costa Rica's effort to measure their citizens' happiness marks a trend that has been incubating since 1972, when the King of Bhutan began measuring Gross National Happiness, GNH, instead of GDP. In 1990, the United Nations initiated their Human Development Index, measuring a variety of quality of life indicators. In 2010 Britain declared their intentions to study happiness as well as GDP, and global metrics of happiness and peace, including the World Happiness Report, Global Well-Being Rankings and the Global Peace Index, are on the rise and gaining prestige.
The growing importance of these indicators is a promising sign of a shift. Costa Rica's high level of happiness and their new effort to measure it should be applauded and replicated by the international community.
– John Wachter
Sources: Foreign Policy, Tico Times 1, Tico Times 2, World Happiness Report
Photo: TicoTimes
https://borgenproject.org/wp-content/uploads/logo.jpg
0
0
Borgen Project
https://borgenproject.org/wp-content/uploads/logo.jpg
Borgen Project
2015-07-31 12:08:07
2020-07-06 12:30:52
Costa Rica Looks Beyond GDP in National Happiness Index