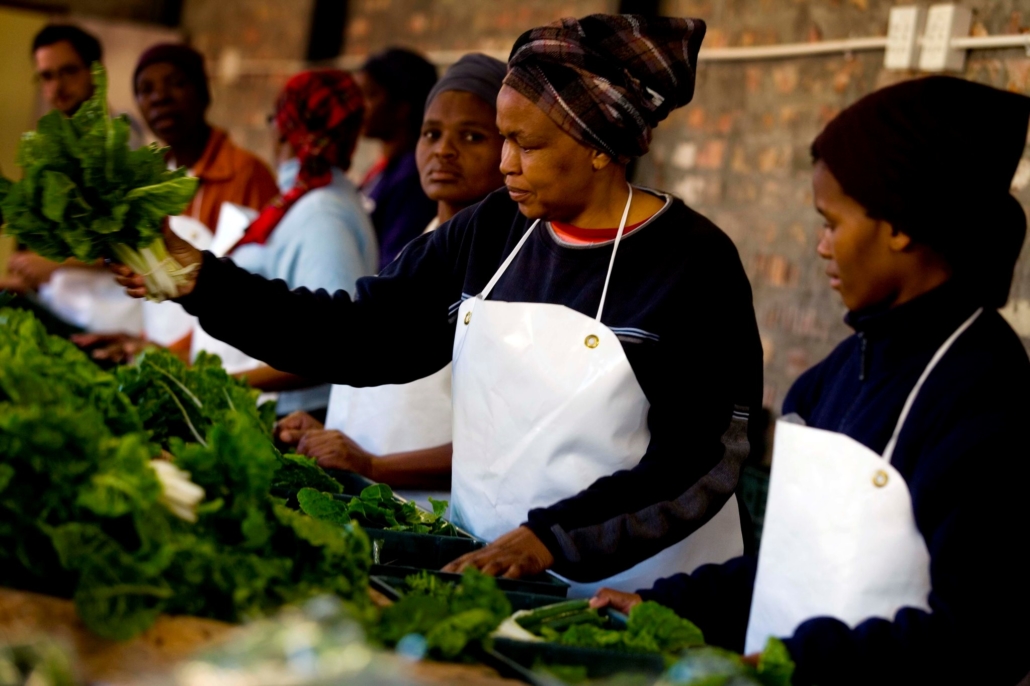 Poverty in South Africa disproportionately affects women, a phenomenon people know as the feminization of poverty. Despite efforts by the South African government to combat severe female poverty and disadvantage, the feminization of South African poverty remains an important issue today. Single motherhood in South Africa is a huge problem because it puts a severe psychological and financial strain on both mothers and children. As of 2015, more than half of the South African population was living under the official poverty line, and homes headed by black African women are at greatest risk of impoverishment.
Despite government efforts to alleviate race-and-gender-skewed poverty with state-sponsored health care, free housing programs and subsidized basic services like water and electricity, poverty in South Africa remains overwhelmingly black and female. Half of South African children grow up in fatherless households, and the number of single mother households in the country has grown over the past several decades. Women must increasingly raise and support children alone, which increases a family's risk of living under the poverty line.
Single-Mother Households and Poverty
The link between single-mother households and poverty is undeniable, impacting even the world's most affluent nations. In Europe, single-mother households generally have more than double the poverty rate of two-parent households. Single-parent households are bound to bring in less money than married couples because they only have one source of income. As a result, children living in single-parent homes are three times as likely to be poor as children living with married parents.
South African women earn an average of 28 percent less than men, partly accounting for the disproportionate poverty of female-led households. Women also have a harder time finding jobs than men; almost 30 percent of working-age women are unemployed, compared to 25.2 percent of men. Women are also more likely to work in the informal, unregulated sector or do unpaid work. Other vulnerabilities, like domestic abuse, sexual assault, unwanted pregnancy and HIV prevent South African women from supporting themselves and their families.
There are psychological consequences for children in fatherless households as well as financial strains. Research has found that boys who grow up with absent fathers are more likely to display aggression and other hyper-masculine behaviors, which increases their risk for unhealthy relationships, crime and addiction. Fatherless girls are more likely to engage in high-risk sexual behaviors, experience an unwanted pregnancy or find themselves in an abusive relationship. These consequences propagate the cycle of fatherless homes.
Why is Single Motherhood in South Africa Common?
For almost 50 years, South Africa's white-supremacist government crystalized systematic inequality on the basis of race through the system of Apartheid. Now, only 25 years into liberation, the South African people still feel these legacies deeply. One of the main contributing factors is the urban-rural divide. Apartheid relegated black South Africans were often in rural homelands far from metropolitan centers and, subsequently, jobs. Thousands of black men had to migrate to cities to find work. They lived in male-only hostels or townships, making low wages and sending money back to their families, who could not leave the homelands to join them.
Some argue that the destruction of the black family structure by the Apartheid regime contributed to patterns of male family-abandonment and neglect. This phenomenon may have had a hand in the recent increase in single-mother households.
Additionally, the vast gap in access to good education, well-paying jobs and respect in society created socio-economic inequalities in South Africa. Black South Africans remain poorly educated, and cyclical, persistent poverty traps many of them, leaving them unable to pull themselves out. In addition, 13 percent of all pregnancies in the country are teen pregnancies, which prevent mothers from finishing school and focusing on a career, resulting in continuous poverty.
The South African government recognizes the scope and seriousness of poverty in single-mother households and has adopted the National Development Plan: Vision 2030 to raise living standards, provide public services and reduce severe poverty and inequality. The policy outlines a plan to invest in education, health services, public transport, housing and social security, as well as welfare policies directed specifically at women and children, like a national nutrition program for pregnant women and a plan to increase women's enrollment in schools, especially in rural areas. Single motherhood in South Africa is a dangerous phenomenon, and in order to alleviate this problem, women need better access to education, resources and job opportunities.
– Nicollet Laframboise
Photo: Flickr
https://borgenproject.org/wp-content/uploads/logo.jpg
0
0
Kim Thelwell
https://borgenproject.org/wp-content/uploads/logo.jpg
Kim Thelwell
2019-09-06 04:43:51
2019-12-17 15:03:13
Single Motherhood in South Africa