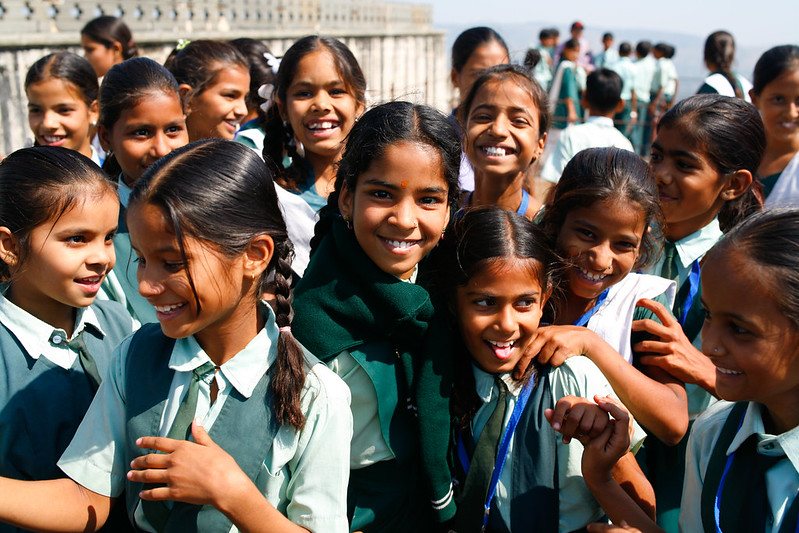 According to the World Bank, the latest official estimates from 2011 indicated that almost 22% of India's population lived below the national poverty line. The demographic most vulnerable to poverty is the 120 million adolescent girls in India who are more likely to discontinue their education at a young age and face child marriages. The Milaan Foundation in India recognizes these hardships and helps young girls secure their futures in education and outside of child marriages.
Issues Young Indian Girls Face
Women suffer discrimination and gender-based violence at notable rates in India. According to the National Crime Records Bureau of India, "every hour, at least two women are sexually assaulted and every six hours, a young married woman is beaten to death, burnt or driven to suicide."
The results of this discrimination have led to deteriorating mental health, high poverty rates and isolation. These gender-based issues start at a young age and are costly for a young girl's education. According to UNICEF, about 43% of Indian girls have discontinued their secondary education early due to an array of reasons, with child marriage having a significant influence.
India has a significant number of child brides, with about 1.5 million Indian girls committing to marry before the age of 18. Of these girls, 7% are under the age of 15. These child brides lack the maturity and development to handle marital duties, yet their parents see no alternatives, often because marrying off daughters eases the economic burden on the family.
While child marriages appear to be the route toward security and stability, many girls end up enduring early pregnancies. Nearly 14% of adolescent Indian girls in both rural and urban areas have begun childbearing. These pregnant girls' lives and health are at risk because young mothers are more susceptible to maternal mortality and complications during childbirth.
The Milaan Foundation in India
The Milaan Foundation in India originated in 2007 to aid impoverished girls between the ages of 12-18 regardless of religion, color or caste system. The organization prides itself on having a diverse team with 60% of its board members and 90% of its team members being women from all walks of life.
Partnering with more than 40 organizations and donors, the organization focuses on four goals: continuation of secondary education for girls, prevention of child marriages, prevention of gender-based violence and adolescent health. Overall, the Foundation has impacted more than 40,000 adolescents in four different Indian states.
The Milaan Foundation and Education
The Milaan Foundation consistently encourages girls to continue their secondary education through its Swarachna School. The school is purposely placed in the Sitapur district as 84% of the district's population lives in poverty. The school currently educates 350 children, all with a passing rate of 100% in 12th-grade board examination classes. The 12th-grade board examinations, also known as the SSC, are crucial for students in India looking to reach higher education and apply to universities.
The Milaan Foundation's Girl Icon Program
The largest program funded by the Milaan Foundation is its Girl Icon Program. Founded in 2015, the Girl Icon Program is a girl-led leadership program that encourages Indian girls to speak out, spread awareness of gender-based issues, diversify their skillsets and become independent. Indian girls who pass through the program are called Girl Icons with duties to inspire and evoke change.
For example, Kushboo Rasheed, a 2015 Girl Icon, went out into her neighborhood and coaxed parents who doubted the value of education to send their children to school. In the end, she recruited 20 kids to attend school and also tutored these children in her spare time to ensure that they did not fall behind. Rasheed shows the program's domino effect: Girl Icons learn, they thrive, then, they recruit more Girl Icons who do the same.
So far, the program has implemented 953 social action projects and impacted more than 10,000 adolescent girls, 375 of whom have become Girl Icons. In 2021, all of the Girl Icons continued their secondary education and 80% looked to pursue higher education. As a result, 95% of girls delayed early marriage due to educational ambitions.
The Milaan Foundation and the Pandemic
Due to the coronavirus pandemic, 10 million Indian girls dropped out of secondary school. Despite the pandemic, The Milaan Foundation in India continued its Girl Icon Program, moving its classroom online from January 2021 to March 2021. The Girl Icon Program Virtual Leadership Training proved to be a great success as it reached 5,000 adolescent girls and awarded 201 education scholarships to its girl leaders to support their upcoming projects.
Outside of the Girl Icon Program, the Milaan Foundation has also provided medical resources across India. As the second deadly wave of the pandemic hit India in January 2021, the Milaan Foundation delivered more than 26,000 medicine kits and 39,000 medical consumables to those in need.
Future Visions
By 2030, the Milaan Foundation hopes to impact more than 10 million Indian girls and raise a new generation of girl leaders who leave the world better than they found it. The Foundation also plans on continuing to recruit more children for its Swarachna School and aims to host another Girl Icon Leadership Summit in late 2022.
– Blanly Rodriguez
Photo: Flickr
https://borgenproject.org/wp-content/uploads/logo.jpg
0
0
Naida Jahic
https://borgenproject.org/wp-content/uploads/logo.jpg
Naida Jahic
2022-10-31 01:30:12
2022-10-31 12:49:32
The Milaan Foundation Educates and Empowers Girls in India