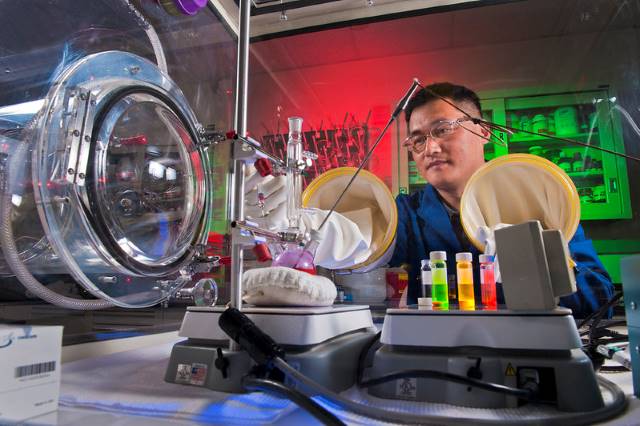 In its most basic sense, the concepts behind nanotechnology were formulated by acclaimed physicist Richard Feynman in 1959. Over the past four decades, nanotechnology has made significant advancements and research is expanding as costs are falling. Because of these innovations, nanotechnology is alleviating poverty worldwide.
Using Nanosensors for Water Management in Agriculture
Whether mechanical or chemical, nanosensors use tools to detect minor changes in chemical composition and relay information to change the dynamics of whatever they are monitoring. Nanosensors use artificial intelligence and computing to make adjustments as soon as any predicaments arise. Because of their sensitivity and small scale, nanosensors can detect problems well before other outdated instruments.
In a study for sustainable agriculture, the Organisation for Economic Co-operation and Development (OECD) asserts nanotechnology is alleviating poverty issues such as food insecurity. The OECD study concluded that nanosensors effectively detect changes in moisture across fields of crops. They then automatically adjust the disbursement of water and eliminate water waste while preventing crop losses. Farm machines outfitted with nanosensors detect moisture levels in different crops and suggest better-suited areas for specific crops allowing farmers to change planting patterns or change water allocations to other land plots.
Nanofiltration Membranes Provide Clean Drinking Water
Access to clean water is a crisis that many developing countries face. Usually, the first issue dealt with when fighting poverty is economic development so regulations are not often in place to protect against pollution. In some countries, scarcity of clean groundwater becomes problematic too. However, nanotechnology is alleviating poverty in these areas by providing clean drinking water.
Ghana was the center of a study on the effectiveness of nanofiltration membranes conducted by the International Water Association (IWA) and members of the Indian Institute of Science. The IWA chose to test Ghana's groundwater due to the high level of pollutants present. During the study, it tested the levels of contaminants, bacteria and natural materials that render water non-potable before and after utilizing nanofiltration membranes.
The results of the IWA study were impressive. Not only did the study determine that nanofiltration reduces pollutants to potable levels, but executed efficiently enough, rural areas could produce enough water for more than 100 households. Ultimately, the conclusion was that nanofiltration was a low-cost solution for drinking water access and production in impoverished rural regions worldwide.
Nanotechnology to Fight Infectious Disease
Most original concepts of nanotechnology's usefulness focused on medical care. The World Health Organization (WHO) has long been fond of utilizing nanotechnology in health care and fighting infectious diseases. The WHO now recognizes that nanotechnology is alleviating poverty in developing nations through scientific medical breakthroughs.
The first need for nanotechnology to address in developing countries is the diagnosis of disease. Nanobiotechnology allows for an inexpensive option to find multiple dangerous microbes using a single test. These technologies have improved over time and are being used in developing nations to detect most viral and bacterial infections, including tuberculosis.
The COVID-19 vaccine development shows the importance of nanotechnology in the prevention of disease too. The Pfizer and Moderna vaccines use a nanocarrier system designed to activate the immune system to fight COVID-19 by assisting antibody production. The distribution of the vaccine to developing nations is now underway.
The Future of Nanotechnology for Poverty Reduction
Nanotechnology is alleviating poverty in developing nations, and with continued scientific inquiry and advancements in nanotechnology, new applications for poverty reduction will improve. Nanotechnology's cost-effectiveness and versatility make it one of the most viable technologies to assist in the struggle against poverty.
– Zachary Kunze
Photo: Flickr
https://borgenproject.org/wp-content/uploads/logo.jpg
0
0
Kim Thelwell
https://borgenproject.org/wp-content/uploads/logo.jpg
Kim Thelwell
2021-02-05 01:30:19
2021-02-03 07:13:52
3 Ways Nanotechnology is Alleviating Poverty