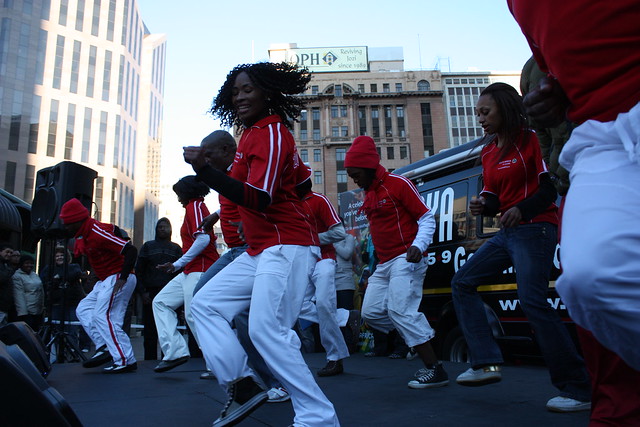 TikTok, the popular
video-sharing social media platform
, has taken a unique approach to enter the African market by empowering young Africans to take a stance as influencers. Many users on the site share short entertaining videos of themselves or friends singing and dancing along to popular songs. They can connect to others based on shared viewing interests. Some users of TikTok in Africa have decided to take things a step further and use the platform to share their support for certain ideas or causes.
TikTok for Good
One way the company encourages activism on its platform is through the TikTok for Good program, where users receive encouragement to share hashtags across the site that promote causes they are passionate about. "TikTok wants to inspire and encourage a new generation to have a positive impact on the planet and those around them," the company wrote in a statement on its website. By uploading videos with a hashtag that represents a specific cause or campaign, users can become influencers and advocates and continue to share videos within the trend.
Some of the most successful TikTok for Good trends in the past have been
#PetBff
and #CreateForACause. #PetBff celebrated International Homeless Animals' Day in 2019 in partnership with the American Society for the Prevention of Cruelty to Animals (ASPCA). TikTok encouraged users to share videos of their pets, and for every video that it posted from Aug. 19 to Aug. 22, 2019, the company donated $1 to the ASPCA. According to the TikTok website, the trend had over 490,000 videos created and raised $75,000, the company's maximum pledge amount. Similarly, #CreateForACause encouraged users to use special holiday filters in their videos in support of
DoSomething.org
, a completely
youth-led nonprofit organization
that advocates for social change;
Best Friends Animal Society
, a nonprofit organization in support of animal welfare and
Oceana
, an international ocean conservation advocacy group. TikTok pledged a $2 million donation to the charities during the campaign.
#DanceforChange Inspires Advocacy
A popular advocacy trend on TikTok in Africa has been the #DanceforChange challenge in partnership with the United Nations' International Fund for Agricultural Development (IFAD). IFAD is a Rome-based U.N. agency that works to encourage individuals, companies and countries around the world to invest in more sustainable agriculture in order to improve food security across the globe. According to its website, IFAD has given $20.9 billion in loans and grants towards 1,069 sustainable agriculture projects that it has supported in partnership with 125 governments. In total, it has reached approximately 483 million people around the world with its programs.
The #DanceforChange challenge encourages users to post dancing content to the site with the hashtag. The videos act as a virtual petition that IFAD uses in support of greater investment in sustainable agriculture across rural African communities. "IFAD invests in rural people, empowering them to reduce poverty, increase food security, improve nutrition and strengthen resilience," the organization said in a statement on its website.
Sherrie Silver, IFAD's advocate for rural youth and an MTV award-winning choreographer, partnered with the popular African recording artist Mr Eazi to highlight the TikTok campaign in the hopes of inspiring more African youth to take action using the site. "We are dancing to capture the world's attention and to share a message with young people everywhere: our generation can end global hunger, but only if our leaders invest more in agriculture and the next generation of young farmers," Silver said in an interview with IFAD.
The #DanceforChange challenge goes further than other TikTok for Good trends by both offering African youth a space to showcase its talents and giving them the opportunity to advocate for themselves and their communities to a global audience. The platform allows users of TikTok in Africa to catch the rest of the world's attention and ask for help addressing issues like hunger and inefficient agricultural practices that they still face in poverty.
TikTok in Africa
The Chinese-based company quickly gained popularity in the United States and across Europe, though TikTok is now focusing on the African market. Along with the #DanceforChange challenge, TikTok has begun moving some company operations into Africa. For example, in 2018 TikTok partnered with Nairobi Garage, a co-working space in Nairobi that offers meeting rooms, club space and private offices, to offer educational sessions on creating content and safe practices while using the platform. The company also began hiring local staff for TikTok in Africa throughout Kenya, Nigeria and South Africa in order to both provide jobs within each country's business sector and connect to the local African market from within.
By moving TikTok into Africa, the company has been able to offer formal employment opportunities at its new office spaces, which in turn helps to reduce poverty levels in those countries as incomes and quality of life increases. Additionally, TikTok is able to create a more inclusive audience as African creators and influencers join the platform to share their culture.
TikTok in Africa continues to make a positive impact both within the country and across the globe by connecting people from impoverished backgrounds to the same creative spaces the rest of the world is able to access. Not only does the app inspire users around the world to advocate for development in Africa, but it also empowers youth within Africa to take their own action to fight hunger because they have a chance for others to hear and see them.
– Myranda Campanella
Photo: Flickr
https://borgenproject.org/wp-content/uploads/logo.jpg
0
0
Jennifer Philipp
https://borgenproject.org/wp-content/uploads/logo.jpg
Jennifer Philipp
2020-06-29 01:30:39
2020-07-22 18:40:37
TikTok in Africa Empowers Youth