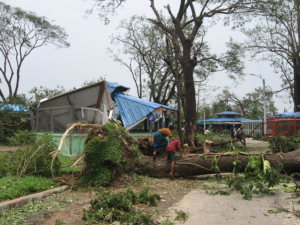 Formerly known as Burma,
Myanmar
is a country located in Southeast Asia. The nation comprises more than 100 ethnic groups and borders India, Bangladesh, Laos, Thailand and China. Its population is around 57.2 million. Former President U Win Myint and State Counsellor Aung San Suu Kyi were overthrown in the February 2021 military coup. As of 2023, Myanmar's acting president is Myint Swe. On May 14, a category 5 tropical
"Cyclone Mocha"
struck the nation. It brought winds of up to 280km/h as well as severe heavy rain, storm surges and landslides. The cyclone made landfall north of Rakhine State's capital Sittwe, causing widespread destruction and forcing thousands of vulnerable people to evacuate. Myanmar's Cyclone Mocha is now one of the strongest cyclones to hit the
Bay of Bengal
in more than a decade. And this event has affected millions of people, including refugees in Bangladesh.
U.K. Support
In May 2023, the U.K. announced £2 million in funding to support 175,000 people affected by Myanmar's Cyclone Mocha. The funding will provide shelter and clean water as well as prevent the spread of disease. Previously, local and international partners received £650,000 in funding from the U.K. With the additional pledge of £2 million, vulnerable people and their communities will receive much-needed emergency aid. Since 2017, Myanmar has received more than £81 million from the U.K. to help with the provision of water, food, sanitation and health care in Rakhine State. Committed to the support of peace and stability, caution and diligence are also in place to ensure the Myanmar military regime receives no U.K. aid benefits.
U.S. Support
On May 17, 2023, the U.S. announced an initial pledge of $200,000 to maintain current relief activities. Later, it announced a provision of almost $17 million in humanitarian aid. The additional support will provide clean water and sanitation as well as emergency shelter and relief items to cyclone-impacted communities. All humanitarian aid will be supplied through the United States Agency for International Development (USAID). Humanitarian partners are active in the affected areas. Prior to this, USAID partners worked in preparation for the cyclone. Currently, the U.S. is the leading donor of humanitarian aid in Myanmar. Since August 2017, reliable humanitarian providers have received more than $400 million from the U.S.
Oxfam Respond To Myanmar's Cyclone Mocha
The cyclone has created significant damage in the Rakhine State. Rakhine State is host to thousands of displaced people due to conflict, with many living in temporary camps. The cyclone's heavy winds led to the camps taking severe damage, further impacting the lives of displaced people who are already undergoing hardship. Oxfam and partners are assessing the destruction in order to plan for a humanitarian response. The organization's aid will consist of providing clean water, sanitation and emergency cash and food. More than 100 Oxfam staff and volunteers are actively working in Rakhine State to distribute emergency supplies and aid.
H&M Foundation Donates
The philanthropic arm of the multinational clothing company, H&M Group, announced its donation of $250,000 to the Red Cross to support ongoing humanitarian aid in Myanmar. The donation is directed toward the supply of water, sanitation and hygiene. The distribution of clean water will be a particular focus and an integrated approach will be applied to provide access to the basic essentials.
Pope Francis Appeals For Solidarity
On 28 May 2023, during the Regina Coeli prayer, Pope Francis appealed to authorities managing Myanmar's humanitarian aid access and delivery. The Pope spoke of the 800,000 people who remain in need of urgent help. Attention was also brought to the Rohingya refugees who are fleeing Myanmar's violence and experiencing the devastating impact of Cyclone Mocha. The Pope concluded, "I appeal to those responsible to facilitate the access of humanitarian aid and I appeal to the sense of human solidarity and ecclesial solidarity to come to the aid of these brothers and sisters of ours."
What is the Future for Myanmar?
Currently, the full impact of Myanmar's Cyclone Mocha is unknown. Humanitarian assistance is crucial for those who are severely affected by the destruction. Organizations like Oxfam and the H&M Foundation are also stepping in to provide crucial support, while Pope Francis appeals for solidarity and urges authorities to facilitate humanitarian access. Together, these efforts aim to alleviate the suffering and inspire hope for a better future among the people of Myanmar during this challenging time.
– Grace Clay
Photo: Flickr
https://borgenproject.org/wp-content/uploads/logo.jpg
0
0
Jennifer Philipp
https://borgenproject.org/wp-content/uploads/logo.jpg
Jennifer Philipp
2023-06-26 01:30:22
2023-06-22 07:08:06
Responding To Myanmar's Cyclone Mocha