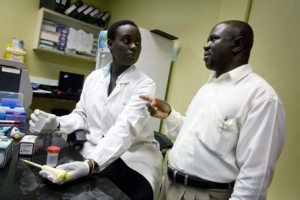 Living with Type 1 diabetes is hard. Anyone who lives with it knows that managing this condition requires checking one's blood sugar multiple times a day, injecting just the right amount of insulin at mealtimes, eating and exercising when appropriate to keep the blood sugar number manageable and keeping plenty of emergency supplies on hand when things inevitably go wrong. However, diabetes is much harder for people living in Uganda, as life-saving supplies in this African nation are expensive and hard to come by. Fortunately, Myabetic, a small retail company helps diabetics in Uganda to earn money and afford these incredibly important supplies.
Diabetes in Uganda
Diabetes is poorly understood in Uganda and is often misdiagnosed as yellow fever, malaria, or cerebral meningitis. Those who are diagnosed correctly are often forbidden from going to school or even work because communities are often scared of their condition. They usually go to clinics once a month to have their blood sugar tested and receive their insulin supplies. However, many people do not give themselves enough insulin because they don't know their own blood sugar number most of the time, and that is when the real trouble begins.
In Uganda, to be told that one has Type 1 diabetes is to be told that one will live a hard, painful life that will slowly lead to an equally painful death. Most diabetics in Uganda cannot afford the insulin and blood sugar supplies that they need to live. Changing Diabetes in Children used to give diabetic children these supplies for free, but the program was shut down in 2017. Insulin for Life also works to gives supplies to Ugandans who need it. But a shortage remains. To make things even worse the fact remains that without insulin, an individual with Type 1 diabetes will live a week or two at most.
Diabetic Neuropathy
With too little insulin, blood sugar numbers will run high, leading to a host of complications, including diabetic neuropathy. Diabetic neuropathy is nerve damage caused by having consistently high blood sugar numbers. This is all too common among diabetics in Uganda. There are four types of diabetic neuropathy: peripheral, autonomic, proximal and focal. Peripheral neuropathy causes tingling, numbness, or pain in the feet, legs and occasionally arms. Autonomic neuropathy causes digestive problems- from heartburn to vomiting, dizziness, low blood pressure, faster heartbeat, genital problems in both sexes, either increased or decreased urination and/or bloating. Proximal neuropathy causes weakness in the legs and pain in the thighs, hips, or rear. Focal neuropathy causes muscle weakness, muscle pains, eye pains, double vision, facial paralysis, chest or belly pain and/or severe pain in one specific area. All of these forms of diabetic neuropathy ravage diabetics in Uganda, causing their bodies to slowly shut down due to chronically high blood sugar numbers.
About Myabetic
Myabetic is a retail company founded by Kyrra Richards. When she was first diagnosed with Type 1 diabetes at age 24, she was embarrassed. She hid her condition from everyone by not checking her blood sugar or doing insulin in public, which threatened her life. Part of the problem was her standard black supply case, which looked ugly and made her fear stigma even more. She founded Myabetic to sell aesthetically pleasing cases and other devices in which to carry diabetes supplies.
Although the company's main goal is to make diabetics feel better about themselves by giving them prettier carrying cases, they sell other diabetes paraphernalia as well. Among these items are bracelets handcrafted by diabetic artists in Uganda. The bracelets come in red, blue, yellow, and green and they cost $15 each. These profits go directly back to the artists, allowing them to buy the supplies they need to survive.
Life with diabetes is hard. Life with diabetes in Uganda is even worse. Those who do not die are shunned, given barely enough supplies to survive and are left to die. Fortunately, Myabetic helps diabetics in Uganda to afford supplies by selling the bracelets that diabetic Ugandans make. The bracelets may be inexpensive by American standards, but every penny counts when someone needs diabetes supplies to live. Thanks to Myabetic, these Ugandan artists have a new chance to hope for a better life.
– Cassie Parvaz
Photo: Flickr
https://borgenproject.org/wp-content/uploads/logo.jpg
0
0
Kim Thelwell
https://borgenproject.org/wp-content/uploads/logo.jpg
Kim Thelwell
2019-01-26 13:30:40
2019-05-07 14:44:26
Help for Diabetics in Uganda