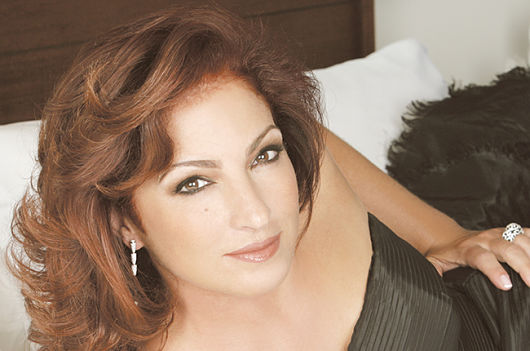 For years entertainers have adopted a precious role in ridding away difficulties posed against those of the developing world. With such charitable responsibility, ten Latina powerhouses from an assortment of entertaining realms have quintessentially supported strategies that give back to many, albeit by endorsement or establishment of a personal foundation.
1) Cuban musician Gloria Estefan has been sincerely active in providing global health, especially helping those who suffer from paralysis-related illnesses. A paralysis-sufferer herself, the "Conga" songstress founded The Gloria Estefan Foundation in 1997 as a means to empower"the youth by financial support for good health, cultural development and education.
2) Mexican singer Thalía, known in American music markets for her Fat Joe-assisted "I Want You," has been a charitable key in giving back to underprivileged women and children from Latin American countries. Her more familiar feat comes from participation as a spokeswoman and ambassador for global campaign March of Dimes, an initiative that educates and funds the developing Latin American world of hazardous premature births,
3) Puerto Rican-Cape Verdean hip-hop icon Lisa "Left Eye" Lopes not only served as a member of R&B trio TLC but has additionally held philanthropic ties with organizations alleviating AIDS, alongside giving back to international ones concerned with poverty. Lopes' most profound advocate roles derived from her donative unit Lisa Lopes Foundation, an organization that provides shelter and necessities to developing Honduran sites.
4) Puerto Rican actress and choreographer Rosie Perez is undoubtedly synonymous with addressing health awareness statements, especially in concern to the discussion of HIV/AIDS. Expanding herself from an inner-city educator to a global spokesperson, the "In Loving Color" choreographer has been massively active in endorsing AIDS-related fundraisers and providing global education of the sexual disease by support of her role in the Presidential Advisory Council on HIV/AIDS (PACHA), as appointed by President Barack Obama.
5) Honduran entertainer America Ferrera, best known for her televised title role as "Ugly Betty," first explored her philanthropic skills when she participated with Aquafresh White Trays to provide immediate dental care to women in need. Since her "fresh mouth" spot, Ferrera has worked in conjunction with fellow celebrities in combating AIDS and cancer, and has more notably collaborated with programs like international "Save the Children" and Hispanic Heritage Foundation-associated "READ: Refugee Enrichment and Development" to enhance education for the impoverished; the former notably raising funds to build schools in Mali.
6) Mexican film starlet Salma Hayek has provided a passionate take on helping battered women of all ages around the world. Among her most high-profiled recognitions include her $75,000 donation to Mexican-operated charity units that minimize domestic hardships in northeastern regions of Mexico. Hayek has more notably co-founded CHIME for a Change and its Syrian-based initiative to improve lives like those hailing from the Middle East who have been displaced by brutal conflict.
7) Greatly known for her filming roles as Gail in "Sin City" and Chelsea Brown in the recent "Top Five," Puerto Rican-Cuban actress Rosario Dawson has taken part in programs that enrich African lives for a socially- and domestically-healthy cause. From attending a 2005 United Nations conference to promote environmental preservation as a poverty eliminator, the "Men in Black II" co-star has been a frequent advocate for the global "V-Day campaign," a movement that stops violence against women; moreover, Dawnson has launched several initiatives that embrace native Africans who specialize in fashion or design.
8) Renowned Mexican singer and former X-Factor judge Paulina Rubio has led a moderate philanthropic trail in shielding Latinos from sexual diseases like HIV/AIDS. Appointed as the then-newest "Madrina" for the Latino Commission on AIDS in 2007, the "Boys Will Be Boys" musician remains a vast component in initiating safe sex campaigns geared towards a Latino audience, not only from the Latino Commission, but also for accompanying international nonprofits like the Elton John AIDS Foundation.
9) Pop culturally known for her sexual-liberating role as Gabrielle of "Desperate Housewives," Mexican starlet Eva Longoria has been regarded as among the top philanthropists, particularly for her vast achievements in giving back to a large number of communities. Longoria's most known charitable causes generally include her involvement with Padres Contra El Cancer and Eva's Heroes, the latter which improves developmentally challenged children. Further on, Longoria has provided global awareness with her Eva Longoria Fund (ELF), which supports children of any ethnic background who suffer from health-related problems.
10) Finally, the term humanitarian is not fully defined without the mentioning of famed Colombian singer Shakira, who has been featured as a spokeswoman for a number of foundations that give back in millions. The "Whenever, Wherever" artist's very own organization, Barefoot Foundation, has created over five schools and implemented proper nutritional and educational access to over 30,000 native Colombian families since its launch in 2007.
With the help of these 10 gracious Latina "sheroes," the developing world might just be a few steps closer in reaching the hopeful of everyone living stably, without financial or health concerns posing as deathly restraints.
– Jeff Varner
Sources: TreeHugger, BORGEN, esmas, PRNewswire 1, San Antonio Express-News, PRNewswire 2, Save the Children, USATODAY.com, California Community Foundation, Shape Magazine, TakePart, thuglifearmy.com, Los Angeles Times, VeroNews, BMI.com
Photo: Billboard
https://borgenproject.org/wp-content/uploads/logo.jpg
0
0
Borgen Project
https://borgenproject.org/wp-content/uploads/logo.jpg
Borgen Project
2015-07-30 08:17:31
2020-07-14 07:19:20
10 Latina Powerhouses With a Plan