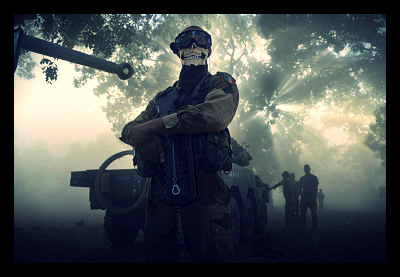 In every culture, music is a special way to tell a story.  It says something unique and important about a culture, and is an essential way to connect people.  Music's importance is seen most visibly in Malian culture, where music is not a profession or a pastime, but a people.  Griots are musicians who tell stories about Malian history, and hold the keys to the past.  In Mali, therefore, music is culture.
In 2012, the Movement for Oneness and Jihad in West Africa banned all music in Northern Mali.  This movement took over Northern Mali after a violent take over instigated by Islamic extremism.  This music ban forced Malian musicians to either flee the nation or move underground.  As a result, an incredible counter-cultural movement is sweeping over Malian music.
"They Will Have to Kill Us First: Malian Musicians in Exile" is a documentary currently being commissioned by British director Johanna Schwartz and producer Kat Amara Korba.  The documentary will explore how Malian musicians are seeking to restore music and peace to the ailing nation.  Musicians featured in the documentary will include Khaira Arby (the "Nightingale of the North",) Manny Ansar (a music festival director), and Toumani Diabate (a 72nd generation Griot.)
The project began shooting in February 2013, near the beginnings of the conflict, and will continue to shoot through April.  The documentary is being independently funded through a Kickstarter Campaign.  The fundraiser officially achieved its goal of 30,000 British pounds on December 7, 2013, but is still accepting pledges to meet production costs.
As stated by Malian musician Fadimata Disco Walet Oumar, "They want to ban music?  They will have to kill us first."  Mali's musical rebellion is a testament to the power of expression.
– Taylor Diamond
Sources: Kickstarter, They Will Have to Kill Us First
https://borgenproject.org/wp-content/uploads/logo.jpg
0
0
Borgen Project
https://borgenproject.org/wp-content/uploads/logo.jpg
Borgen Project
2014-01-13 22:20:19
2017-03-20 13:13:05
Film Tells Story of Exiled Musicians in Mali