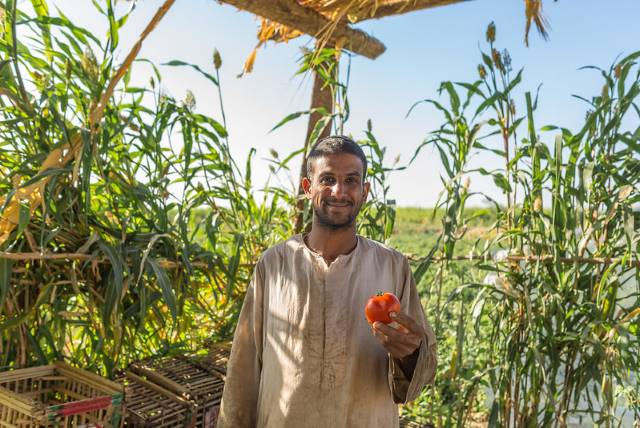 Improvement in agriculture is essential to fighting poverty in developing countries. Agricultural growth leads to economic growth which results in employment opportunities and improves food security. Agriculture is a major component of the Egyptian economy. Agriculture in Egypt accounts for 11% of gross domestic product (GDP) and 23% of all jobs. In Upper Egypt, 55% of employment is related to agriculture. In addition, more than half of the population in Upper Egypt is living under the poverty line. Expansion of agriculture through technological innovations can help productivity and alleviate poverty in all areas of Egypt.
Water Conservation
The Nile River provides Egypt with 70% of its water supply. In a 2019 report, measurements determined that agriculture uses more than 85% of the country's share of the Nile, according to the Egyptian Center for Strategic Studies. However, due to drought, Egypt is "water-poor" because it provides 570 cubic meters of water per person per year. A country is water-poor when people do not have access to a sufficient amount of water, which is less than 1,000 cubic meters a year.
In 2020, to combat the water shortages, a government project that the Ministry of Water Resources and Irrigation and Cairo's MSA University developed, launched a mobile app that receives data from a sensor buried in the soil to detect moisture levels. This technology allows farmers to tell whether or not their crops need water, preventing excessive watering of crops. This modern irrigation method will lead to reduced water consumption, lower production costs and increased crop productivity, which will improve agriculture in Egypt.
Digital Agriculture
In 2019, the Food and Agriculture Organization (FAO) and the Egyptian government launched a program to enhance agricultural productivity through digital technology. Implementation of digital technology helps farmers access information to better manage crops and livestock and thus help them make better agricultural decisions. Digital technology also helps to enhance food security by reducing production costs and waste. It also increases crop productivity with the availability of accurate data to calculate production activities like estimating the daily needs of irrigation and fertilization.
Information Communication Technology (ICT) applications facilitate the flow of information to farmers, provides services to farmers and expands access to markets. With the help of several research institutions of the Agricultural Research Center, the program converted technical content into digital content that one can access via mobile application. With the adoption of mobile applications, agriculture in Egypt will expand as a result of increased access to resources.
Agricultural Innovation Project
The Ministry of Agriculture and Land Reclamation (MALR)lead the 2020 to 2023 Agricultural Innovation Project (AIP). The initiative aims to promote innovations in technologies to improve several issues in agriculture. These issues include inefficient farming techniques that lower farm output and food production and other inhibitors of processing crops like poor post-harvest facilities and marketing infrastructure. The focus on creating innovative solutions will increase income for small-scale farmers in Upper Egypt.
The project supports digital access as a technological innovation so that farmers can better understand and access information surrounding the market and input supply. In addition, the project works closely to support small-scale farmers by improving market access for smallholders and improving institutional support.
Overall, food insecurity and poverty can reduce over time with the expansion of agriculture in Egypt by means of technological innovations.
– Simone Riggins
Photo: Flickr
https://borgenproject.org/wp-content/uploads/logo.jpg
0
0
Kim Thelwell
https://borgenproject.org/wp-content/uploads/logo.jpg
Kim Thelwell
2021-04-12 07:30:27
2021-04-09 08:31:48
Technological Advances in Agriculture in Egypt