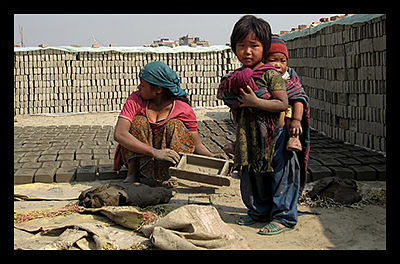 The World Bank estimates that more than 69 percent of the population of Sub-Saharan Africa lives on less than $2 per day, making it one of the poorest regions in the world. Though the region has experienced strong economic growth during the last two decades, poverty alleviation remains a pressing issue for African leaders.
The numbers appear promising. In its latest African Pulse analysis, the World Bank says that Sub-Saharan Africa's economic growth should grow to more than 5 percent over the next three years. Foreign investment, rising commodity prices and global economic recovery will all contribute to the region's rapid development.
Punam Chuhan-Pole, a lead economist in the Bank's Africa department, said: "If properly harnessed to unleash their full potential, these trends hold the promise of more growth, much less poverty, and accelerating shared prosperity for African countries."
But questions remain as to whether the region's economic growth will help mitigate poverty. Statistically, economic growth does not automatically reduce poverty; many resource-rich countries, such as Gabon and Nigeria, have fared worse in terms of poverty reduction than neighboring nations with fewer resources. So, how can Sub-Saharan Africa convert economic gains into poverty reduction?
According the World Bank report, "Better governance will need to underpin efforts to make growth more poverty reducing." Better governance means more efficient mineral and wealth management, agricultural development and methods for controlling urbanization. It must also include strategies to deal with the region's growing income inequality, which likely stems from systemic government corruption and a weak middle class.
In 2010, six of the ten most inequitable countries in the world were in Sub-Saharan Africa. In Mozambique, the poorest 20 percent of the population earns 5 percent of total income while the richest 20 percent take home more than 50 percent. The World Bank points out that Mozambique's oil and gas reserves will be huge economic drivers over the next few years, but, as it stands now, the neediest will benefit the least from any economic gains.
It is difficult to cast economic growth in a negative light. However, Sub-Saharan Africa's recent expansion has done little to improve poverty and income inequality in the region. Without responsible government and a strong, participatory middle class, economic gains will continue to enrich a small segment of the population. The rest of the people will continue finding ways to subsist on $2 dollars a day.
– Daniel Bonasso
Sources: World Bank, UNDP, Overseas Development Institute
https://borgenproject.org/wp-content/uploads/The_Borgen_Project_Logo_small.jpg
0
0
Borgen Project
https://borgenproject.org/wp-content/uploads/The_Borgen_Project_Logo_small.jpg
Borgen Project
2013-08-16 04:48:01
2017-03-20 13:04:02
Poverty in Sub-Saharan Africa – The Full Story