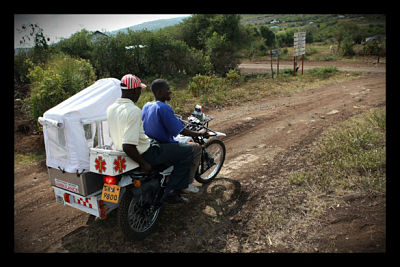 Motorcycles are often the vehicle of choice in the developing world because of their ability to zip over harsh terrain and their low maintenance costs. A motorcycle manufacturing company, eRanger, has taken this versatile vehicle and given it a new purpose as an ambulance. The eRanger company builds motorcycles with a sidecar that serves as a stretcher to transport patients from remote areas to the nearest health center or hospital.
Called the eRanger ambulance, this motorcycle offers the high-power capacity needed to cover diverse and often difficult terrain in rural and remote areas. The sidecar stretcher acts as a bed for the patient, allowing for quick and effective transport. The stretcher is designed to be simple but safe, rugged but reliable, with a cushioned pad for patient comfort and a roll cage for safety.
Loading a patient is made easy by simply pushing back the roll cage and strapping the patient into the stretcher. A rain cover can be attached to the roll cage, providing comfort and privacy in different weather conditions, and this innovative ambulance also offers room for emergency medical supplies underneath the stretcher.
The eRanger ambulance also provides additional comfort through its rugged suspension system, which absorbs shock so patients bounce less during transport. This vehicle provides the perfect alternative to the popular 4 by 4 all-terrain vehicles because of its enhanced suspension system, low cost, and simple maintenance. Motorcycle ambulances are also preferable to car ambulances, especially during the rainy season, because they are better able to navigate over developing nations' diverse terrain.
These motorcycle ambulances are already stationed at health centers through Africa where health workers and community members can utilize them as needed. The eRanger method goes beyond just providing the vehicles, though. They provide training, maintenance instruction, and tools to keep the motorcycles in good condition.
Sustainability is key, says the eRanger company, so they provide a maintenance unit with all the necessary tools and equipment for the eRanger ambulance. This affordable, reliable, and sustainable ambulance also helps communities become more self-reliant by taking health care into their own hands.
For example, the eRanger ambulance makes it possible for a mother in labor to reach a health care clinic quickly, reducing maternal mortality rates in many African nations.
The eRanger model also allows its motorcycle to adapt to the needs of problems in the developing world, from emergency ambulance to mobile medical clinic. The company also manufactures an eRanger immunization clinic, which recreates the sidecar into a stainless steel mini clinic with refrigeration storage, weight scales, and clean water unit.
This versatile motorcycle promises dramatic impact to healthcare in developing nations. Backing that promise is an eRanger patron, Nelson Mandela, who helped eRanger South Africa launch in the Eastern Cape. Since the launch, eRanger has built a college for riders and operators in Eastern Cape, which includes basic control of the vehicle, road riding, off-road riding, and essential maintenance.
In just five hours, operators can reach a basic competency to operate and care for the motorcycle, but advanced training is always available, says eRanger. With just the right mix of affordability, sustainability, and reliability, eRanger is helping save lives in developing nations by providing safe, quick access to critical health care.
– Georganne Hassell
Sources: eRanger, UNICEF, Changemakers, The Guardian
Photo: Motorcycle
https://borgenproject.org/wp-content/uploads/logo.jpg
0
0
Borgen Project
https://borgenproject.org/wp-content/uploads/logo.jpg
Borgen Project
2013-08-26 21:51:48
2020-07-09 21:23:49
Motorcycle Ambulance Saves Lives Through Effective Patient Transport