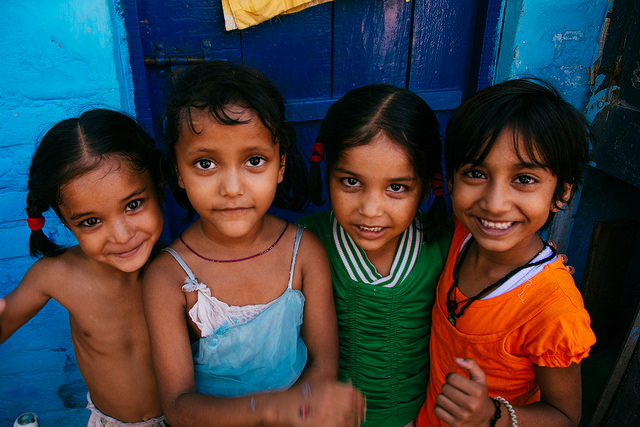 Some life stories have the strength to change our outlook towards the world. They reveal the power of empathetic gestures and prove that even one person can bring about a huge transformation in the society irrespective of their position in life.
While we often hear about the works done by the government, world organizations and celebrities towards uplifting the poor, we rarely hear about the lesser-known superheroes who lack a paparazzi trail. One such human being is Sindhutai Sapkal, who devoted her entire life towards the welfare of the poor orphans in India.
Sindhutai Sapkal
Affectionately known as mai which means 'mother' in Marathi, Sapkal is a born fighter with strong levels of determination and willpower. She did not attend school and does not know much about feminism or politics, but her thinking and understanding of social issues has always been well beyond the realms of any modern educated person's understanding. She personifies what "selfless love" stands for and has come to be known as the 'Mother of Orphans.'
Early Life
Sapkal's story might be unbelievable to many. She was born on November 14, 1948 in Pimpri Meghe village in the Wardha district of Maharashtra, India. She wanted to pursue an education and although her father was very supportive of it, the village tradition and patriarchy shattered her dreams. She was married off at the age of 12 to a 30-year-old man with whom she had an abusive relationship; by the time she was 20, she was already a mother to three children.
Over the years, she struggled to battle the abject poverty in her life. She was fearless and voiced her opinions against the corrupt practices of a local strongman who sold dried cow dungs, which are used as fuel in India, without providing profit to the villagers. This action created a huge uproar in the village and the district collector had to intervene and put an end to the illegal practice.
Out of strong contempt for the woman, the strongman urged her husband to leave her. Since patriarchy is deep-rooted in the society, Sapkal's husband did exactly that. Little did she know then that this ending was actually the beginning of her calling to become the 'Mother of Orphans.'
Journey towards becoming the Mother of Orphans
Sapkal started her journey as a social activist in her early twenties when she was abandoned by her husband and thrown out into the streets. She was nine months pregnant when the world rejected her and left her to die. But, without the help of a single person, this indomitable woman survived despite all odds and gave birth to a baby girl in a cow shelter and cut the umbilical cord using a sharp stone.
She then walked several kilometres to her mother's house but was unwelcomed there. Setting aside the thoughts of suicide, this woman started begging on the streets of Maharashtra to feed herself and her newly born child.
While struggling to survive on the streets, Sapkal was pained to see the plight of poor orphan children who lived their life begging sans any touch of care or warmth. Having lost her own childhood to patriarchy, this young mother took it upon herself to embrace these young people and provide them with whatever little she could.
Sapkal then started begging in earnest for these kids by singing in the local trains of Mumbai as she was determined to bring about a change in their lives. She slowly realized that taking care of them gave her a purpose and satisfaction in life, and thus decided to become the 'Mother of Orphans' by being a mother to every child in need of love and care.
Recognition
After years of effort and struggle, Sapkal's work slowly caught public attention and people started recognizing her efforts. In the year 2016, the D.Y. Patil College of Technology and Research, Mumbai conferred upon her the degree of Doctorate in Literature. So far, she has been honoured with more than 750 awards for her relentless and selfless social work. On March 8, 2018, International Women's Day, she was awarded the Nari Shakti Award 2017 by the President of India.
Sapkal spends all the money from the awards towards uplifting those in need. She not only helps poverty-stricken children, but also offers her care to abandoned women. She now has a huge family of 36 daughter-in-laws, 207 son-in-laws and over 1000 grand kids. Many of her children went on to become lawyers and doctors and others run their own orphanages to help the poor and assist her in her noble goals.
Impact Through Film: Mee Sindhutai Sapkal
Sapkal's life became an inspiration to many, and to celebrate this 'Mother of Orphans,' a Marathi filmmaker decided to make a film on her life. The film, Mee Sindhutai Sapkal, was released in the year 2010, won several national awards and was selected for world premiere at the 54th London Film Festival.
This warrior woman who started her life's journey with nothing at all has proved that one does not have to be rich or in a higher political position to bring about a change in society. She has made possible the impossible, created history and won her personal battle against poverty. Sapkal's actions made her a hero in regard to her own life, and also for the thousands of lives she changed with pure love and affection.
– Shruthi Nair
Photo: Flickr
https://borgenproject.org/wp-content/uploads/logo.jpg
0
0
Borgen Project
https://borgenproject.org/wp-content/uploads/logo.jpg
Borgen Project
2018-07-10 01:30:53
2019-09-25 12:07:15
Sindhutai Sapkal, the Mother of Orphans Who Made History