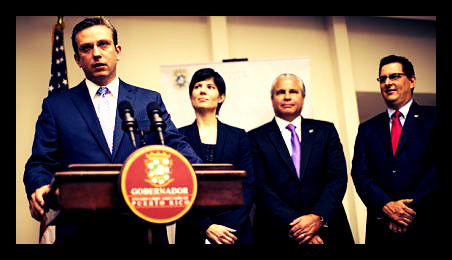 Two of the three biggest credit-rating agencies in the world have downgraded the credit rating of Puerto Rico. Standard and Poor's has downgraded the Caribbean state to "BB" status, two steps below its previous rating of "BBB-". The new status indicates the uncertainties of global markets in the credit quality of the recession-hit country should it be unable to repay its $70 billion worth of municipal debt.
Moody's downgraded the credit quality of Puerto Rico to Ba2 from Baa3. The new rating means "obligations are judged to be speculative and are subject to substantial credit risk."
Both agencies have cited the uncertain economic and investment environment as reasons for the downgrade. Puerto Rico has an unemployment rate of 14.7% and a debt-to-GDP ratio of 70% and growing, and concern abounds about its liquidity constraints. Moreover, much of the island is impoverished. According to the latest census data, 45.6% of the island was living in poverty in 2011.
Many investors in the US hold Puerto Rican debt because the debt is high-yield and triple-exempt, meaning it is tax-exempt at the local, state, and federal level. As such, they are widely held in mutual funds, with many people unaware. A large number of funds have already begun selling off Puerto Rican debt to cut their losses, such as the Franklin Double-Tax Free Income Fund, which has sold off almost $64 million worth of bonds.
The cut in Puerto Rico's credit rating comes amidst actions taken on behalf of the government to rein in spending and reform a large pension system. As borrowing costs rise, it remains a question as to whether Puerto Rico will be able to obtain more credit after scheduling a $2 billion bond offering this month.
A spokesman for the US Treasury has stated that there is no "federal financial assistance being contemplated" for Puerto Rico.
– Jeff Meyer
Sources: Moodys, Standard and Poors, The Economist, CNBC, CNBC, Census.gov
Photo: Bloomberg
https://borgenproject.org/wp-content/uploads/logo.jpg
0
0
Borgen Project
https://borgenproject.org/wp-content/uploads/logo.jpg
Borgen Project
2014-02-19 13:39:26
2016-02-16 12:07:54
Puerto Rico Gets Credit Rating Downgrade