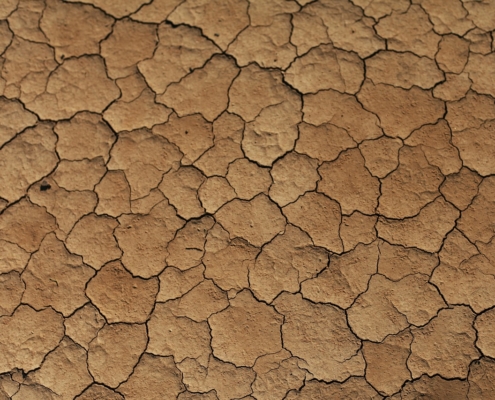 Agriculture stimulates the large majority of economies in nearly all African countries. For the past couple of decades, the value of agricultural production has almost tripled (+160%). This large boost imbues every nation with great potential. With that potential lies a grand obstacle that is forcing leaders to think differently about the situation in Africa. The loss of arable land is an issue that threatens the progress of Africa's agricultural economies, and while the issue remains largely invisible across the continent, the impacts have been widespread and devastating.
The Extent of Arable Land Loss
According to a report published in 2015 by the Montpellier Panel, a group of agricultural and economic trade experts, "about 65% of Africa's arable land is too damaged to sustain viable food production." This statistic, shocking as it may be, has ramifications that extend beyond its effect on the land.
When soil becomes degraded, food production decreases dramatically, causing severe economic side effects in agriculturally dominated communities. Ecological imbalances such as these decimate the livelihoods of people all around the continent. Ultimately this results in increased poverty rates. According to the Montpellier Panel report, "In sub-Saharan Africa (SSA) an estimated 180 million people are affected, while the economic loss due to land degradation is estimated at $68 billion per year." In short, this issue is not limited to one country or another. It extends beyond national and even continental borders.
The Causes of Arable Land Loss
The roots of this complex issue are spread across the continent and draw from a wide variety of international issues. However, the causes that can be immediately addressed lie in the heart of Africa. The Food and Agriculture Organization (FAO) writes that the "available evidence leaves no doubt that soil degradation caused by erosion, desertification, deforestation and poor agricultural practices is undermining the very resources on which African farmers and their families depend for their very survival."
These natural causes, while addressable, require the effort and consent of the leaders of Africa's nations. Much of the burden that Africa faces currently falls on the shoulders of the most impoverished farmers with the least resources. The solution begins when governors grant their farmers the resources to practice water and soil conservation among other sustainability practices.
Though the situation seems dire, there are many opportunities available to change-makers in Africa's agricultural sector. The international community, in conjunction with Africa's national governments, has the opportunity to foster major structural changes to combat the ecological threat of arable land loss.
Solutions to Boost Agriculture in Africa
Underused cultivatable land, sometimes available in abundance. Compared to other continents, Africa has much more room to pursue greater agricultural productivity. There is a trove of untapped resources in a small number of countries surrounding the Congo Basin. With these resources in hand, Africa can increase agricultural productivity and inputs without adversely impacting the environment.
Water resources are often underutilized. Contrary to popular belief, there are large pockets of underutilized water spread throughout the whole of Africa. While this allows farmers to irrigate better and prevent soil degradation, its fragile state must always be taken into consideration.
Available technological methods to rapidly boost productivity. There is a diverse web of new technologies that have the potential to offer African farmers the tools they need to enable the growth of agricultural production and the protection of their natural resources.
Food security and environmentalism have the potential to go hand-in-hand. With that said, overexploitation as a result of desperation will only lead farmers and their land into further degradation. Nonetheless, there are potential opportunities to consider in order to combat arable land loss and boost agriculture in Africa.
– Matthew Hayden
Photo: Pixabay
https://borgenproject.org/wp-content/uploads/logo.jpg
0
0
Yuki
https://borgenproject.org/wp-content/uploads/logo.jpg
Yuki
2021-03-31 07:04:26
2021-05-06 07:04:47
The High Cost of Arable Land Loss in Africa