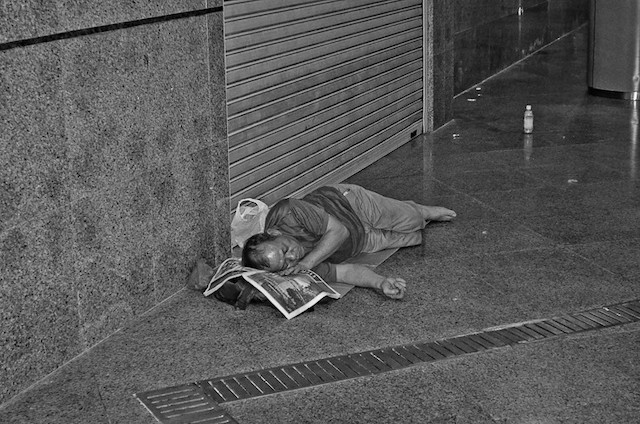 On one end of the spectrum, there are ultra-rich Singaporeans who live the luxurious lives one might see in the Hollywood hit movie "Crazy Rich Asians." On the other end, there are many Singaporeans who are struggling to make ends meet. As a result, many have to resort to sleeping in the streets. It is too easy to forget that poverty and homelessness in Singapore are issues that still exist.
Homelessness in Singapore
In 2017, volunteers from the welfare organization Montfort Care and volunteer group SW101 conducted a survey focusing on issues that low-income individuals experienced. Within five hours of conducting the survey in 25 locations, the team found 180 people sleeping in public. Men comprised the majority of the homeless they found.
Later in 2019, Assistant Professor Ng Kok Hoe of the Lee Kuan Yew School of Public Policy led the first landmark study on the homeless population. It unveiled the scale of homelessness in Singapore for the first time. The study found that there were "between 921 and 1,050 homeless people in Singapore," most of whom were Chinese men. According to the study, homelessness is not typically a temporary condition but a chronic issue. About half of those interviewed had been homeless "for one to five years," and a third for more than six years.
Non-Stereotypical Homeless Population
Homeless people in Singapore tend to stay vigilant and often try to avoid detection. It is not easy to tell them apart from other members of the public as they do not fit into the common stereotypical images of the destitute and vagrant homeless population. The Lee Kuan Yew School of Public Policy study that found nearly 30% of the homeless found ways to maintain their appearance and look presentable.
The 2017 report revealed that approximately 60% of the homeless interviewed were employed. Around 58% had full-time employment, and 38% had temporary or part-time employment. Despite being employed, the nature and low pay of these jobs often drive people to the streets. Most of the homeless are employed in "low-wage, irregular jobs." The average wage for homeless employees is only $1,036. This is well below the national median wage in Singapore at $2,564. With that level of income, it is impossible for many to afford a place to stay.
Public Housing
Singapore often prides itself on having one of the highest rates of homeownership in the world. The Housing Developing Board (HDB) sold apartments to around 90% of its inhabitants in 2018. HDB housing houses about 80% of Singapore's residents. Although the HDB flats provide affordable options for Singaporeans, the strict eligibility requirements sometimes add to the problem of homelessness.
Furthermore, under the joint tenancy requirement, two single people, often strangers, have to co-rent a small one-room flat. The lack of privacy and conflicts between tenants sometimes make sleeping outdoors a more attractive option than going home. In fact, about 15% of those sleeping on the street "had HDB rental flats in their names." Ng believes that long-term solutions to homelessness in Singapore would depend on HDB. Furthermore, it is urgent for the joint tenancy requirement to be revised or removed.
Addressing The Issue
The Ministry of Social and Family Development (MSF), as well as many other nongovernmental organizations, is working closely to help people in need and alleviate the problem of homelessness in Singapore. Over the past two years, MSF has been partnering with different community groups and government agencies to reach out to and assist the homeless population in Singapore. In July 2019, MSF launched the Partners Engaging and Empowering Rough Sleepers (PEERS) Network, bringing together 26 agencies to help the homeless in Singapore.
The ministry also provides temporary accommodation and relief through funded overnight shelters, including their Crisis Shelters and Transitional Shelters. For individuals that are unable to support themselves and have limited or no assistance from family, there are 11 MSF-funded Welfare Homes in Singapore. MSF's Welfare Homes provide long-term residential care and support from basic physical needs to programs that improve emotional well-being. Between 2016 and 2018, MSF assisted about 300 homeless people.
Homelessness in Singapore is easy to miss, but it is no doubt a chronic problem that has persisted for many years. Since homelessness is a complex issue that with no singular common cause, it requires multifaceted solutions to mitigate. The government has been working closely with different agencies and nongovernmental organizations. Commendable efforts have been made to address the issue by reaching out and providing both short and long-term support for the homeless in Singapore.
– Minh-Ha La
Photo: Flickr
https://borgenproject.org/wp-content/uploads/logo.jpg
0
0
Kim Thelwell
https://borgenproject.org/wp-content/uploads/logo.jpg
Kim Thelwell
2020-06-09 13:07:07
2020-08-07 03:14:12
Homelessness in Singapore