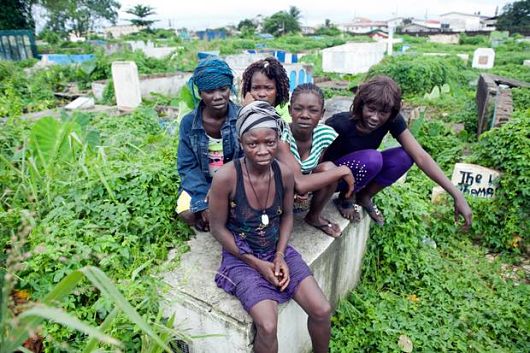 Liberia has had a trying past couple of decades. Most recently, it was plagued by the Ebola virus, which killed thousands of people. Before this, it had suffered through a 14-year-long civil war, which had taken place just a few years after yet another civil war ended. Both wars killed hundreds of thousands of people, leaving many homeless and destitute. Lacking housing or money, many poverty-stricken Liberians have turned to living in cemeteries, many of which are in Monrovia, its capital.
Most go to the Palm Grove Cemetery. Many of these dwellers arrived when they were just children and after their parents had been killed. Some had been child soldiers. They were taken there by friends from the street who used the relative peace and security of the cemetery to indulge in marijuana, cocaine and heroin. They used tombs for shelter after smashing them open and throwing out their long-dead inhabitants.
Monrovians look upon the cemetery dwellers with distaste and fear. They are viewed as criminals and drug addicts who disrespect the graves of their families and are deprecatorily called "friends of the dead." On Decoration Day, a public holiday when Liberians paint and adorn tombs, conflict always erupts between the tomb dwellers and the families of the tombs' rightful owners.
Rather than provide an area for the homeless to live in, President Johnson Sirleaf simply put up walls around the cemetery in 2007 to keep them out. Just a few months later, however, people had already breached the walls to live in the cemetery once again. Now the walls serve to better hide the dwellers and their activities rather than keep them out.
Prostitution has also become commonplace behind the cemetery's walls. Some women and girls are only able to survive through sex work. They are afforded no protection from the police, who often rape them themselves. Unwanted births are commonplace.
Many diseases also run rampant. Ebola was just another problem to add to a list of illnesses that included ones such as tuberculosis and diarrhea.
Hope may yet be around the corner for these cemetery residents. Last year, the British charity organization, Street Child, began to work with them, setting up counseling sessions, schools and rehab centers. However, many roadblocks stand in the way of their progress. It is extremely difficult for many residents to even consider weaning themselves off their dependency on drugs. Sometimes, drugs make them aggressive and hostile, which makes it hard for people from Street Child to engage with them.
The outbreak of Ebola also set back efforts. Schools were banned, as were public gatherings. Street Children also started redirecting efforts to the 2,000 children orphaned because of Ebola. Officials have been hostile to Street Children's efforts in cemeteries, calling their residents a "lost cause."
Now that Ebola has largely disappeared in Liberia, Street Children is ready to make a renewed effort to help the cemetery dwellers. To the charity organization, small successes have boosted their belief that these people can be saved from a lifetime of poverty and dependency.
– Radhika Singh
Sources: Independent, BBC 1, BBC 2
Photo: Independent
https://borgenproject.org/wp-content/uploads/logo.jpg
0
0
Borgen Project
https://borgenproject.org/wp-content/uploads/logo.jpg
Borgen Project
2015-08-12 01:30:20
2020-03-20 13:04:44
The Poor Find Haven In Monrovia's Cemeteries