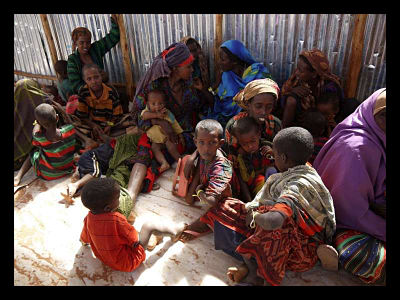 Somali refugees continue to arrive in Ethiopia in large droves due to poor growing conditions, food shortages, and continued conflict. While the situation is slowly improving, John Ging, Director of Operations in the Office for the Coordination of Humanitarian Affairs, urges continued attention to the crisis and says, "I call on the international community to invest now to build the resilience of Somalis and stop the cycle of crisis they have endured far too long."
To that end, The United Nations World Food Program, UNHCR, European Commission Humanitarian Aid and Civil Protection, and the government of Ethiopia have partnered to launch an aid project that provides Somali refugees with monthly cash installments in addition to food aid. Currently, 12,000 refugees are receiving monetary relief and the project plans to extend cash aid to 13,000 more by October.
Monetary relief allows Somali refugees to round out their diet with fresh produce, proteins, and dairy from the local market, providing an important supplement to the basic grains and non-perishables received from aid agencies. It also gives the refugees an opportunity to inject money into the local economy. This economic boost is helpful to the communities supporting the large number of refugee settlements.
Currently the refugees who are part of the pilot cash program receive 100 Ethiopian Birr per month, or about $5.00. The organizations backing this program are optimistic that these cash transfers will greatly alleviate the most acute suffering and make the refugee situation less of a burden. Between Ethiopia, Kenya, and Yemen, there are over 1 million Somali refugees. The cash relief program gives refugees an opportunity to regain a little agency and make decisions about what groceries to purchase while also offering much needed hunger relief.
– Zoe Meroney
Sources: World Food Program, United Nations, All Africa
Photo: UNHCR
https://borgenproject.org/wp-content/uploads/logo.jpg
0
0
Borgen Project
https://borgenproject.org/wp-content/uploads/logo.jpg
Borgen Project
2013-08-12 05:02:34
2016-02-16 11:54:49
Refugees in Ethiopia Receive Monetary Relief