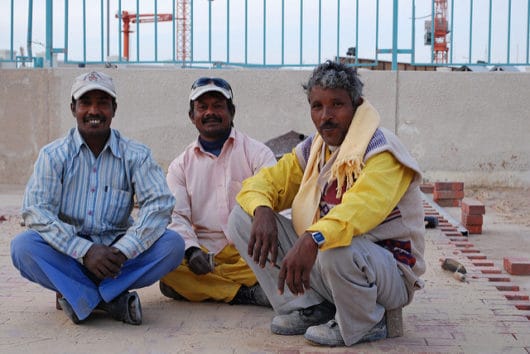 When one thinks of the Gulf state of Qatar, sky-high skyscrapers, double-decker airplanes and sprawling shopping malls come to mind. Ever since the discovery of oil in the region in 1939, the Qatari economy has seen rapid growth. In 2018, the CIA World Factbook ranked Qatar as second highest for GDP per capita, making it one of the wealthiest nations in the world. But this also makes it important for people to learn about the state of migrant workers in Qatar.
Migrant Workers in Qatar
The progress in Qatar has its drawbacks. When FIFA selected Qatar to host the 2022 World Cup, the treatment of migrant workers in Qatar was brought to the spotlight. A research brief from the UK Parliament found that Qatar has 1.5 million migrant workers or 90 percent of its total labor force comprises migrant workers.
While foreign workers continue to report incidents of exploitation and segregation, Qatar has made substantial improvements to its labor laws and is cooperating with organizations like Amnesty International and the International Labor Organization in the process.
The Kafala System
Gulf states—including Qatar—use the kafala (Arabic for sponsorship) system as an employment framework to recruit migrant laborers from abroad to work in low-paying jobs.
Under the kafala system in Qatar, migrant workers have documented a range of abuses, among them, are delayed and unpaid wages, excessive working hours, confiscation of passports, inaccessibility to healthcare and justice, sexual violence as well as deception in the recruitment process. In short, the kafala system binds a migrant worker into an exploitative employer-employee relationship.
By giving an employer control over a migrant worker's job and residential status, the kafala system encourages workplace abuses. With over 95 percent of Qatari families employing at least one housemaid, some migrants choose to become domestic workers in the homes of Qatari nationals, where they are often subjected to sexual violence.
Furthermore, The Guardian reported in October 2013 that many Nepalese workers have died since the beginning of construction projects for future World Cup sites. These Nepalese workers live in segregated labor camps outside Doha where they endure unsanitary conditions and scant water supplies.
Labor Laws in Qatar
Under pressure from international nonprofits, Qatar has implemented a series of labor laws to improve working conditions for workers. In December 2016, a new law allowed migrant workers to return to Qatar within two years if they had previously left without their employer's permission. It also increased the penalty for employers found guilty of confiscating their employees' passports and created a committee to review workers' requests to leave Qatar.
While this made no reference to the kafala system, the law fell short of addressing kafala's main shortcoming, i.e. workers still need permission from their employers to switch jobs.
In order to help domestic workers who are often victims of forced prostitution, Qatar introduced a domestic workers law in August 2017. Instating legal protections for over 173,000 migrant domestic workers, the law sets a limit of 10 hours for a workday and mandates 24 consecutive hours off every week, as well as three weeks of annual paid leave. Though in its early stages, the law promises to alleviate the alienation and abuse of domestic workers, some of whom work up to 100 hours per week.
The Qatari government is gradually repealing the kafala system. In October 2017, the government expanded the Wage Protection System and mandated payment of wages by electronic transfer.
On September 5, 2018, an Amnesty International press release reported that the Emir of Qatar issued Law No. 13, which bans employers from preventing migrant workers from leaving the country.
Conclusion
Qatar's World Cup bid may have been a blessing in disguise. Qatar started its stadium projects using slave-like labor, and now it has slowly opened up to the critiques and suggestions from external nonprofit organizations. As an example, the International Labor Organization has forged a technical cooperation agreement with Qatar and together they have worked to unravel the kafala system. These changes will turn this wealthy country into a more equitable one.
– Mark Blekherman
Photo: Flickr
https://borgenproject.org/wp-content/uploads/logo.jpg
0
0
Kim Thelwell
https://borgenproject.org/wp-content/uploads/logo.jpg
Kim Thelwell
2018-12-18 19:37:01
2019-12-18 08:59:52
Facts About Migrant Workers in Qatar