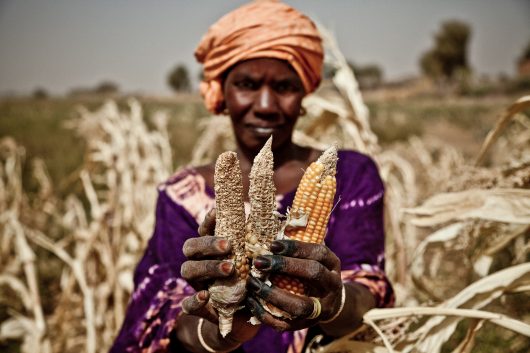 Millions of people around the world continue to face extreme hunger with little to no chance of receiving help to alleviate the situation. Resolving food insecurity in vulnerable populations requires vast amounts of information: How many need help? Where do they live? What is causing the food insecurity? Mobile technology may be the solution.
In the past, humanitarian organizations have struggled to help those in need due to untimely food assistance and frequent failures to collect valid information for addressing hunger in remote areas. The fact that most vulnerable populations live in isolated or dangerous areas with little infrastructure made data collection incredibly expensive, risky and often unfeasible.
Today, the World Food Programme (WFP), the largest humanitarian organization working to reduce food insecurity, conducts food security analyses of vulnerable populations through Vulnerability Assessment and Mapping. Through these efforts, WFP can gather usable information about the level of food insecurity in addition to important details that help divert resources to areas where they are most needed. New food security monitoring methods now allow WFP to gather real-time data to properly identify and assess the situation in distant areas that were previously inaccessible.
An effective blend of traditional methods and technological advancements help WFP's analysts collect pertinent data. For example, face-to-face assessments provide a baseline that gives WFP the necessary information to more accurately plan food assistance efforts as well as providing the ability to further monitor the area for possible concerns. However, these assessments are time-consuming and challenging to conduct in far-off areas and those susceptible to a sudden collapse in food security. To address this, WFP often resorts to another, more efficient method.
Mobile Vulnerability Analysis and Mapping (mVAM) offers the unique opportunity to continuously monitor an evolving situation. Using common mobile technology such as texting or live voice calls to collect real-time information on household incomes, potential risks, food consumption and other crucial information remain central to WFP's efforts to develop risk management strategies. This type of monitoring also emphasizes market prices and rainfall patterns to flag potentially deteriorating situations to ensure that assistance is provided promptly if it is needed.
WFP can also use mVAM's automated two-way communication to relay new information to people in a cost-efficient and effective manner. Another substantial benefit offered by mobile technology is the drastic reduction in expended resources. WFP will save 50 percent of the money that was previously used for data collection in addition to reducing the time for survey turnaround by 83 percent.
With the explosion of mobile phone and Internet access in developing countries, particularly those in Africa, smartphones and messaging services could serve as a vital support system for the food insecure, including refugees. WFP's Food Bot, designed to be widely accessible, works on various platforms such as Facebook Messenger, WhatsApp and Telegram. It can even be altered to fit onto other messaging services. To help ease costs in developing countries, people also now have access to low-data usage apps like Facebook Lite and others. mVAM was first used in Somalia and the Democratic Republic of the Congo to access unsafe areas but quickly expanded to other countries.
Actionable information is one of the most critical components of humanitarian efforts, as organizations desperately need to know exactly what is happening and what people need if they wish to adequately support vulnerable areas. During the Ebola crisis, information from texts and calls helped identify the communities struggling the most without risking the safety of analysts. African farmers suffering from severe droughts were able to notify WFP of the worsening food security in their area through mVAM. While the Iraqi province of Anbar experienced violent internal conflict, continuous information about the food security and other needs of those displaced streamed in through mobile phones. There are dozens of more examples of the successes of WFP's mobile technology platform.
The mVAM program provides WFP with a more concrete and precise understanding of the nature of food insecurity in communities around the world, equipping them with the information they need to rapidly and effectively help those in need. This type of basic technology can be utilized to aid remote areas in nearly every situation, whether it is during a drought, an infectious disease outbreak or even political conflict. As the world's number of phone and Internet users steadily increases, other humanitarian organizations could undoubtedly utilize more robust data-collecting platforms to better deliver various forms of aid to the millions in need.
– Akhil Reddy
Photo: Flickr
https://borgenproject.org/wp-content/uploads/logo.jpg
0
0
Kim Thelwell
https://borgenproject.org/wp-content/uploads/logo.jpg
Kim Thelwell
2017-10-13 07:30:45
2020-04-09 04:31:45
How Mobile Technology Can Help Reduce Food Insecurity