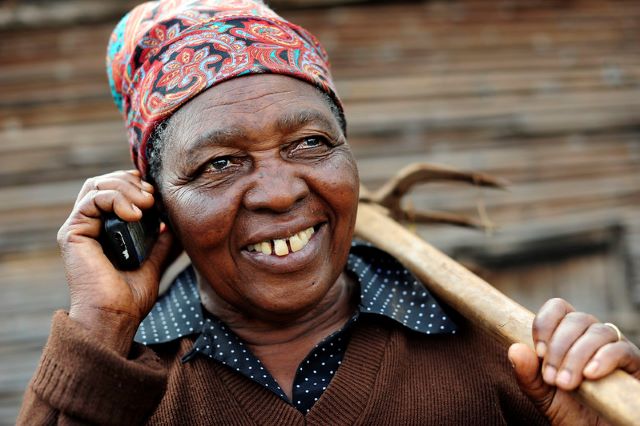 Around 75% of working Kenyans make their living through agriculture. Being the largest industry in the country, the ability of Kenyan farmers to produce crops is essential for both economic and food security reasons. Agriculture provides food and money to the many farmers and their communities. This vital sector is in danger, with unpredictable climate conditions and the emergence of pests that can decimate entire crops. Artificial intelligence (AI) and mobile smartphones are new resources being used to save the produce of these farmers and the livelihoods of millions of Kenyans. Mobile technology in Kenya has great potential to increase the production of the valuable agricultural sector, keeping millions above the poverty line.
Cellphone and Internet Acess in Kenya
The mobile phone industry has been steadily growing in Kenya. According to a survey of 577 farming households, 98% of respondents own a mobile phone. The increasing affordability of cellphones and internet access in the country has opened the door to bring new forms of aid to the farmers who produce more than a third of the country's GDP.
Project FARM
Mobile apps that machine learning powers have emerged to help farmers all over the world make as much from their crops as they can. In Kenya, which has been experiencing unpredictable levels of rainfall each season, a mobile app is working to consolidate data to help determine the best course of action for the farmers during changing weather conditions. Project FARM (Financial and Agricultural Recommendation Models) is a program that can take into account weather, temperature, strains of crops and success rates from other farms in order to determine what actions will produce the largest yield. FARM sends notifications to farmers via text so that they can be readily alerted of any danger as heavy rain can occur suddenly and damage entire fields. Farmers can operate the program from their cellphones so they can easily access and implement the resources. After just one year using FARM, on average, a single farmer increased their yield from six 90kg bags of maize to nine bags.
AI Apps as an Educational Resource
Programs like this also work in conjunction with resources that seek to educate farmers about ways to sell their products as well as how to maximize efficiency and yield. These resources are free and greatly help those who could not afford to hire an agronomist to inspect their farm. This combination helps farmers produce more and know how to manage more products so that they can sell them in the most efficient way possible.
Apps for Crop Pest Control
AI also helps farmers by giving them valuable information about crop-decimating pests. Pests pose a grave threat to African farms and estimates have determined that Africa loses around 50% of all crops each year due to pests and diseases. The Fall Armyworm (FAW) is a type of caterpillar that has recently plagued East Africa and is capable of ruining huge amounts of produce. The Farmers Companion App is a program that AI powers which is capable of determining which crops are infested and the stage of the lifecycle of the pest. This will allow farmers to take the best possible steps to contain the spread. Another app, PlantVillage Nuru, is capable of diagnosing crop diseases without an internet connection.
Mobile Technology in Kenya Helps Agriculture
Mobile technology in Kenya is an important step to help farmers deal with the evolving problems of the 21st century. With agriculture being such an important industry in Kenya and with so much of the produce at risk each year, it is vital for the economy and wellbeing of the country that crops are protected and that yields are produced at an effective rate. These types of developments in AI and mobile technologies have the potential to significantly help the livelihoods of millions of farmers in Kenya and other countries too.
– Jackson Bramhall
Photo: Flickr
https://borgenproject.org/wp-content/uploads/logo.jpg
0
0
Yuki
https://borgenproject.org/wp-content/uploads/logo.jpg
Yuki
2021-01-27 01:30:47
2021-01-29 08:16:20
Mobile Technology in Kenya Helps Farmers