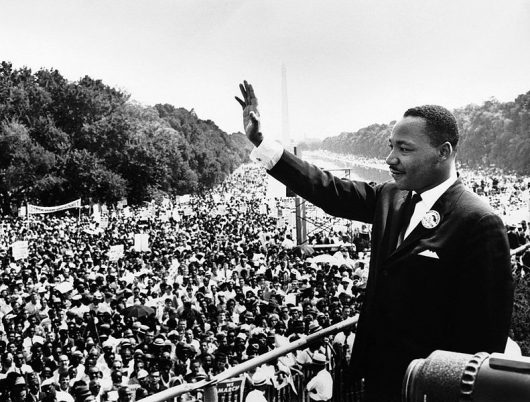 Although his main intent was to fight for the equality of African-Americans during the 1960s, Martin Luther King, Jr.'s quotes about nonviolence are still relevant today. As of 2017, Colombia, Yemen, El Salvador, Pakistan and Nigeria are the top five most dangerous countries in the world.
Colombia faces drug trafficking and frequent acts of terrorism. Pakistan is in the midst of a religious war in which innocent bystanders have become collateral damage. Nigeria is terrorized by two extremist groups, Boko Haram and ISIS of West Africa.
However, violence is not only a common trend in these countries but in a large percentage of the world. From the Caribbean to Africa and even parts of Asia, violence is an epidemic.
Violence is an ongoing cycle that is hard to break, and no one seems to have understood this more than Dr. King. He preached of the power and strength of nonviolent actions. He understood that peaceful protest and other nonviolent protests could strike real change.
Martin Luther King, Jr.'s Top Quotes about Nonviolence
"In spite of temporary victories, violence never brings permanent peace."
"We adopt the means of nonviolence because our end is a community at peace with itself. We will try to persuade with our words, but if our words fail, we will try to persuade with our acts."
"Here is the true meaning and value of compassion and nonviolence, when it helps us to see the enemy's point of view, to hear his questions, to know his assessment of ourselves. For from his view we may indeed see the basic weaknesses of our own condition, and if we are mature, we may learn and grow and profit from the wisdom of the brothers who are called the opposition."
"Nonviolence is a powerful and just weapon, which cuts without wounding and ennobles the man who wields it. It is a sword that heals."
"Nonviolence is absolute commitment to the way of love. Love is not emotional bash; it is not empty sentimentalism. It is the active outpouring of one's whole being into the being of another."
"World peace through nonviolent means is neither absurd nor unattainable. All other methods have failed. Thus we must begin anew. Nonviolence is a good starting point."
"I refuse to accept the view that mankind is so tragically bound to the starless midnight of racism and war that the bright daybreak of peace and brotherhood can never become a reality… I believe that unarmed truth and unconditional love will have the final word."
"I have tried to offer them my deepest compassion while maintaining my conviction that social change comes most meaningfully through nonviolent action."
"I am convinced that even violent temperaments can be channeled through nonviolent discipline, if they can act constructively and express through an effective channel their very legitimate anger."
"In the nonviolent army, there is room for everyone who wants to join up. There is no color distinction. There is no examination, no pledge, except that, as a soldier in the armies of violence is expected to inspect his carbine and keep it clean, nonviolent soldiers are called upon to examine their greatest weapons: their heart, their conscience, their courage and sense of justice."
From Martin Luther King, Jr.'s quotes about nonviolence, many have been and continue to be given the power to envision peace. If humans across the globe could comprehend Dr. King's lesson, the world would finally be able to achieve peace.
– Cassidy Dyce
Photo: Wikimedia Commons
https://borgenproject.org/wp-content/uploads/logo.jpg
0
0
Borgen Project
https://borgenproject.org/wp-content/uploads/logo.jpg
Borgen Project
2018-03-27 01:30:06
2019-11-28 15:42:53
Why Martin Luther King, Jr.'s Quotes About Nonviolence Are Relevant