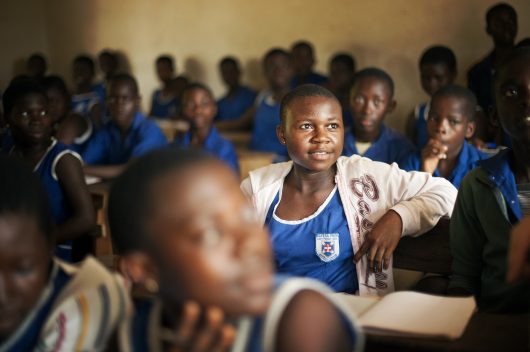 In February 2017, the president of Ghana, Nana Akufo-Addo, stated that the government will begin to fund the cost of public Senior High Schools (SHS) for everyone who qualifies beginning in September. According to The Herald, President Akufo-Addo stated, "By free SHS, we mean that, in addition to tuition which is already free, there will be no admission fees, no library fees, no science centre fees, no computer laboratory fees, no examination fees, no utility fees; there will be free textbooks, free boarding and free meals and day students will get a meal at school for free."
President Akufo-Addo has followed through on this promise. The equivalent of over $90 million has been set aside by the government with the goal of aiding 424,092 students for the 2017-2018 school year. While the program for free high school in Ghana is for incoming freshman only, it is already a great improvement, as in 2014, only 37 percent of students were enrolled in secondary education.
President Akufo-Addo has been quoted recognizing the importance of education both in general and in terms of developing countries. VOA News reports Akufo-Addo saying that the, "economy for over a century has been depending largely on the production and export of raw materials. This cannot and will not create prosperity for the masses of Ghanaians."
Though there have been concerns expressed about if free SHS is a sustainable program, if the system will be overburdened or if it will harm the private schooling sector, the worries are thus far unfounded. The beneficiaries of this maiden program will be under the policies of the program until their third year, which gives time for the policies to be further developed and corrected.
The private schooling sector was not affected when free primary school was initiated over a decade ago. In fact, they remain among top performing schools in the nation. Therefore, the same result is more than likely to be expected with the beginning of free high school in Ghana.
As for if the school system will be overburdened with congestion of students and a subsequent drop in the quality of education, the prime minister of education is not concerned. VOA News quotes Minister Matthew Opoku Prempeh claiming, "the government based its calculations on data from headmasters and on the total number of students who passed the entrance exam…We should be able to place everybody."
With a new and still improving focus on education, the future of Ghana from both an economic standpoint and a more holistic level has room for growth more than ever before.
– Gabriella Paez
Photo: Flickr
https://borgenproject.org/wp-content/uploads/logo.jpg
0
0
Kim Thelwell
https://borgenproject.org/wp-content/uploads/logo.jpg
Kim Thelwell
2017-10-14 07:30:19
2020-02-13 20:10:01
New Program for Free High School in Ghana Looks Promising