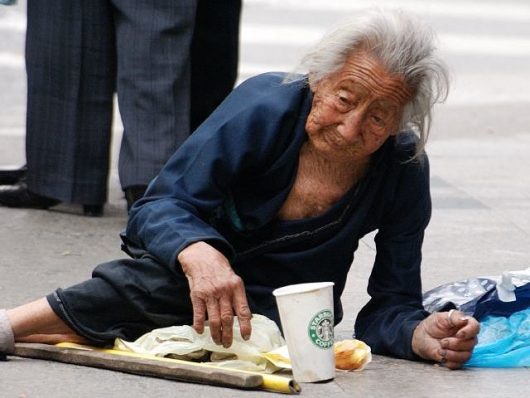 Shanghai sits on China's central coast and is becoming a wildly popular tourist destination for visiting foreigners as well as Chinese nationals. With an amazing city skyline, incredible subway transportation and popular nightlife, it can be hard to imagine or see those living in poverty beneath the glamour. Here are 10 facts about poverty in Shanghai that are important to remember.
10 Facts About Poverty in Shanghai:
Urban Poverty Eradicated
The World Bank defines poverty as those living on less than $1.90 per day, and by those standards, China has eradicated all urban poverty. China's ability to lift its citizens out of poverty is unprecedented but as great as this is, keeping an eye on the middle class will be important for economic health.
Rural Poverty Eradicated by 2020
Most concern for poverty is for those in the countryside, as people leave for the cities due to a lack of available jobs. The Chinese government's goal is to eradicate poverty in all of China by 2020 and it has started this process by creating social reforms and looking at its redistributive policies.
Growing Disposable Income


These ten facts about poverty in Shanghai would be incomplete without the mention of the growing middle class.

It is estimated that the middle class will grow to 75 percent of the population by 2022 and as of 2013

the average Shanghai family's disposable income was ¥

48,841 a year.

Disneyland
Some may see the wealth of Disneyland and compare it to the poverty in the villages nearby. However, it looks as if Disneyland take part in the place to eradicate poverty. Disneyland has helped create infrastructure for rural places by bringing subway lines and freeways to the Pudong district as well as creating jobs for those in northern Shanghai.
Tearing Down the Old


Small homes built from a past and poorer era are being torn down and residents are being encouraged to relocate. Relocated citizens are given a monthly housing stipend by the government, which unfortunately is not always enough for the interim of the construction.

Building the New
Wealth seems to be rising as from 2000 to 2008 luxury home construction saw an increase by ten versus smaller homes decreasing by 60 percent. While this has occurred naturally in the past, there is a new focus on building new homes and forcing relocation.
Migrant Workers
Approximately 39 percent of Shanghai's residents are estimated to be long-term migrant workers. Migrant workers are people who have moved from more rural communities into the cities looking for work. Their income is unsure as is their housing and many migrant workers are susceptible to poverty.
Migration Reversal
The Chinese government is causing a migration reversal with the end goal of eradicating poverty. The government is forcing migrant workers out of the city and back to their hometowns by shutting down businesses and houses based on health coeds. Some feel it is unfair to have this forced lifestyle imposed on them, while others think this process would have occurred naturally because the cities are becoming too expensive.
Urbanization
Part of the migration reversal is a focus on urbanization–turning China into various urban centers. The government is becoming more focused on creating government-subsidized homes for those in rural areas. This relocation is estimated to see of 9.8 million people moved across China from 2016 to 2020.
Disparity


These 10 facts about poverty in Shanghai all come down to growth and disparity. There is still a huge disparity between wealth and poverty, luxury and necessities, opulence and simplicity, but things are improving. While the methods may not be agreed upon, Shanghai is a beacon for the changing China.
– Natasha Komen
Flickr
https://borgenproject.org/wp-content/uploads/logo.jpg
0
0
Borgen Project
https://borgenproject.org/wp-content/uploads/logo.jpg
Borgen Project
2018-05-05 07:30:30
2019-11-03 18:33:36
10 Facts About Poverty in Shanghai Everyone Should Know