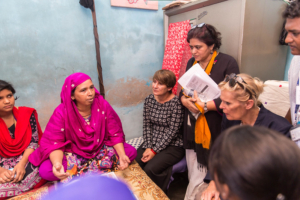 Bangladesh has made significant progress in the field of childcare, surpassing the Millennium Development Goal set by the U.N. in 2010 and consistently reducing infant mortality rates over the past decade. This achievement can be largely attributed to the increased number of midwives in Bangladesh who have received excellent education through the National Midwifery Programme. This program has effectively trained and deployed more midwives in Bangladesh than ever before, providing safe and trustworthy maternal care while simultaneously creating new career opportunities for young women in Bangladesh.
The Program
The National Midwifery Programme is a three-year diploma course currently offered by 60 different nursing colleges and 105 private midwifery institutes across the country. According to MD Saiful Hassan Badal, the Honorable Secretary of the Medical Education and Family Welfare Division of the Ministry of Health and Family Welfare, this program has created "a cadre of international standard professional midwives." It equips midwives with training in technology and counseling skills preparing them to provide excellent service both during the delivery but also pre- and post-natal care.
Successes
In the last decade, 8,646 midwives have graduated from the program.
Nearly 3,000 Bangladeshi midwives are employed in the public health system.
403 public health complexes, known as Upazila Health Complexes (UzHCs), employ midwives trained by this program.
Midwives now conduct 87% of the deliveries in these complexes, compared to 24% in 2018.
Around 400 midwives trained by this program are working in the Rohingya camps.
Community trust in public sector midwives has significantly increased, with people now choosing to have a midwife present rather than a traditional birth attendant during delivery.
Funding and Key Actors
The National Midwifery Programme is largely funded by the U.K. government, which maintains a strong bilateral aid partnership with Bangladesh. The U.K. supports a total of 38 midwifery colleges and provides financial and technical assistance to the Fourth Health Sector Programme of the Government of Bangladesh. This program aims to improve health care in Bangladesh, aligning with Sustainable Development Goal 3, which seeks to end preventable deaths of newborns and reduce the maternal mortality ratio to less than 70 per 100,000 live births by 2030.
The implementation of the Fourth Health Sector Programme is overseen by the United Nations Population Fund (UNFPA) in collaboration with the Government of Bangladesh. During a seminar held in March 2022 in Dhaka, Bangladesh, the Bangladesh Representative of UNFPA, Dr. Eiko Narita, personally thanked the U.K. Government for its "generous support" of Bangladeshi midwives. She acknowledged that this support "has enabled [UNFPA] to train thousands of midwives over the past decade and integrate their life-saving services into the national health system."
Empowering Women
The impact of the midwifery program goes beyond safe maternal care and deliveries; it empowers women and provides them with a new career path. The program offers free training, making it accessible to all and aligning with the U.K.'s priorities in their International Development Strategy to "provide women and girls with the freedom they need to succeed." The Midwifery Newsletter in Bangladesh serves as a platform for midwives to share experiences and stories. One such story is that of Tanjina Akter, a Bangladeshi midwife based in Baharchara who successfully delivered a baby girl to a Rohingya refugee couple. The baby presented in breech, making for a possibly complex birth. Akter handled the complications independently, as she was the only midwife on duty, and the parents decided to name their daughter Tanjina in honor of the midwife who brought her into the world. This newsletter serves as tangible evidence of the program's success and its impact on lives across the nation.
The Future
Looking ahead, Bangladesh still requires more than 20,000 midwives to meet the country's needs. The government is already taking steps and making plans to create an additional 5,000 midwifery posts. Some nursing colleges are also offering a Bachelor of Science degree in Midwifery as an alternative to the diploma course, which elevates the program to a higher education level, providing greater opportunities for participants.
Conclusion
The Bangladeshi midwifery program has achieved remarkable success over the past decade, saving lives and improving maternal and child health care. Through effective training and deployment, support from the U.K. government and collaboration with the UNFPA, this program has not only reduced infant mortality rates but also empowered women and created new career paths. With continued efforts and expansion, Bangladesh is on track to further enhance its health care system and save even more lives in the future.
– Danielle Chorley
Photo: Flickr
https://borgenproject.org/wp-content/uploads/logo.jpg
0
0
Lynsey Alexander
https://borgenproject.org/wp-content/uploads/logo.jpg
Lynsey Alexander
2023-08-06 01:30:30
2023-08-03 12:05:21
Midwives in Bangladesh: A decade of Success in Saving Lives