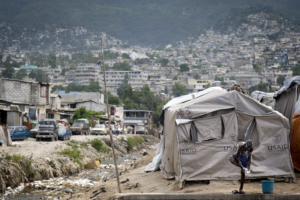 The catastrophic earthquake that struck Haiti a decade ago has birthed a very different humanitarian crisis. On January 12, 2010, the 7.0 magnitude earthquake killed over 250,000 people with 300,000 more injured. The 2010 Haiti earthquake was the most destructive natural disaster the region had suffered, displacing over 5 million people and destroying nearly 4,000 schools. The earthquake's epicenter was at the heart of the metropolitan area in the capital city Port-au-Prince. Ten years later, 4 million people are experiencing severe hunger with 6 million living below the poverty line.
The Root Problem
These consequences led to many social and political setbacks. Before the 2010 earthquake, 70 percent of people lived below the poverty line. Now, a nationwide study indicates that one in three Haitians needs food aid and 55,000 children will face malnutrition in 2020. Despite others allocating $16 billion in aid to the island, the nation has lapsed in food security due to a lack of international investments and funding.
Humanitarian Response
Recurring climate events such as prolonged droughts and Hurricane Matthew, which struck Haiti on October 4, 2016, have resulted in the destruction of agricultural sectors and infrastructure. The hurricane took the lives of an estimated 1,000 people. The island also suffered a cholera epidemic in 2010 that resulted in over 8,000 deaths. Since then, thousands reside in makeshift internal camps—once regarded as temporary housing—without electricity or running water.
World Vision's relief fund aims to provide essential care to residents through agricultural support, emergency food supplies and medicinal materials. Donations and sponsorship of children alleviate many of the poverty-stricken burdens. After the 2010 earthquake in Haiti, the organization's unified efforts brought food to over 2 million people. Other international humanitarian organizations have received critical reception over discrepancies in rebuilding efforts and the disbursement of funds.
Political Unrest
Various ambassadors and nations followed with many humanitarian responses and appeals for public donations such as the European Council providing millions of dollars in rehabilitation and reconstruction aid. Frequent political turmoil has curbed humanitarian progress in Haiti. In September 2019, thousands demanded the resignation of President Jovenel Moise over his mismanagement of the economy, which impacted poorer populations the most. For more than 50 years, the World Food Program has attempted to build resilience in the political and economic framework of Haiti through school meals and nutrition, and disaster preparedness. By preparing food before the hurricane season, the program can meet over 300,000 people's needs. It delivers daily meals to 365,000 children in approximately 1,400 schools across the nation. Other organizations that provide sustainable development projects and emergency relief include CARE, Food for the Poor, Midwest Food Bank and Action Against Hunger, among others.
The humanitarian crisis a decade after the 2010 earthquake in Haiti requires a level of urgency. Millions in Haiti are facing unprecedented levels of severe hunger due to a lack of funding and economic and political stability. International organizations are vital to providing aid and care to these populations, and the world's growing awareness of this issue is just as important.
– Brittany Adames
Photo: Flickr
https://borgenproject.org/wp-content/uploads/logo.jpg
0
0
Lynsey Alexander
https://borgenproject.org/wp-content/uploads/logo.jpg
Lynsey Alexander
2020-03-26 01:30:47
2020-03-23 13:47:23
A Humanitarian Crisis After the 2010 Haiti Earthquake