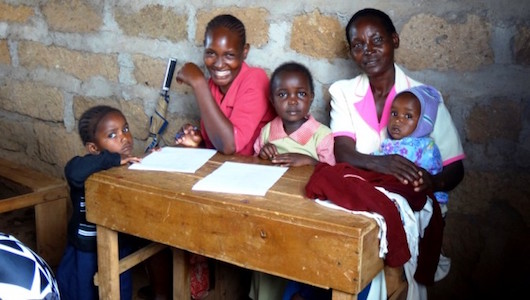 Village HopeCore International, a nonprofit working to end poverty in the rural regions of Kenya, was founded in 1982 by Dr. Kajira "KK" Mugambi.
A native of Kenya and former resident of a village located at the foothills of Mt. Kenya, Mugambi started this organization 19 years after leaving Kenya in pursuit of an education in the United States. Mugambi used the skills and knowledge he acquired while in school to give back to his home country.
The organization divides its efforts into two main programs: its Microenterprise Program and its Public Health Program.
The Microenterprise Program relies on microloans to help local business owners and entrepreneurs get their businesses up and running. It consists of six steps:
The first step involves forming a group. This allows participants to support one another throughout the program.
The second step is what they call the "Merry-Go-Round." This step requires the participants to donate a small amount of money once a month. One member receives these donations and it rotates each month until every member has received funds. These funds give the members the opportunity to start or sustain a business.
The third step involves distributing a "soft" loan. Once the members successfully complete step two, they are granted a loan of approximately $350. The group may then divide the money amongst themselves at their discretion. This step is used to teach them how to repay loans and for the organization to evaluate their ability to work as a group.
After the soft loans are distributed and paid back, the group moves onto the fourth step. Here, each member is given a hard loan that is expected to be paid back within two years. This loan gives the members more of an opportunity to grow and expand their businesses.
After this step, they proceed to the fifth step, which involves paying back the loans and creating a group loan security fund just in case any of them default on their loan.
The final step has the group engage in monthly meetings to support one another in their endeavors.
The Public Health Program helps counter many health issues in Kenya, such as malaria, tuberculosis and HIV. It is divided into five different areas of focus:
The first one involves microenterprises, much like their other program, but instead, the funds are distributed to counter health issues.
Their second area of focus is a series of mobile health clinics and schools that are placed throughout rural Kenya. In total, they have 72 schools, with more than 20,000 students in 393 villages. These clinics provide clinical services, classroom health education, malaria bed nets and deworming medication.
Thirdly, Village HopeCore International provides villages with clean water systems and hand hygiene equipment for schools. This includes health clubs, tanks and hardware and monitoring and maintenance. They have these programs in more than 180 schools, reaching nearly 45,000 students in 516 villages.
The fourth aspect involves helping expectant mothers and children under the age of five, providing them with family planning services, deworming medication, Vitamin A and health education. Every year, they help around 9,000 families in 200 villages.
Finally, they assist with planning parenthood through clinical services, youth centers and health education.
Village HopeCore International recently received worldwide recognition for their services and the positive impact they are having on communities in rural regions of Kenya. In the future, the organization hopes to expand their reach throughout Western Africa.
– Julia Hettiger
Sources: Street Insider, Village HopeCore, 2SenseWorth
Photo: Village HopeCore International
https://borgenproject.org/wp-content/uploads/The_Borgen_Project_Logo_small.jpg
0
0
Borgen Project
https://borgenproject.org/wp-content/uploads/The_Borgen_Project_Logo_small.jpg
Borgen Project
2016-03-09 01:31:27
2020-06-20 09:46:55
Village HopeCore International Assists Rural Kenya