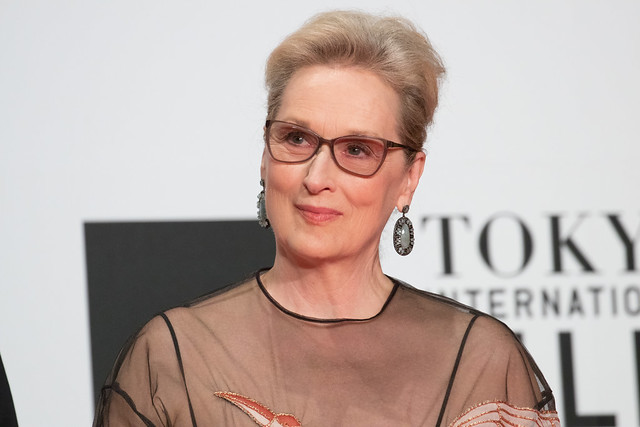 Often called one of the greatest living actresses, Meryl Streep is one of Hollywood's most acclaimed stars. With a film career dating back to the 1970s, Streep has racked up an impressive resume, winning two Academy Awards, two Emmy Awards, and seven Golden Globes — among other awards and countless nominations.
Known for her impressive accent impressions and desire to perfect any role she plays, Streep is extremely dedicated to anything she finds passion in. Therefore, it should come as no surprise that when it comes to philanthropy and humanitarian work, Meryl Streep is dedicated to every cause she supports.
Girl Up
Girl Up is a massive organization that focuses on empowering young women and girls. Many influential people have supported the organization in various ways, including fashion photographer Nigel Barker, former NFL player Wade Davis, and Meryl Streep herself. One of Girl Up's biggest priorities is girls' education worldwide.
Through a collaboration with the organization, Meryl Streep co-narrated the film Girl Rising. The 2013 film highlights stories of nine girls from Sierra Leone, Haiti, Ethiopia, Afghanistan, Peru, Egypt, Nepal, India, and Cambodia. The film highlights the various obstacles girls in underdeveloped and developing countries face to become educated. By lending her voice to a film with such an important message, Streep inevitably brings in an audience that may not have otherwise tuned in.
Gender Equality
Meryl Streep has also been involved with a variety of panels and events dedicated to gender equality. In 2015, she attended the sixth annual Women in the World Summit — an event started by journalist Tina Brown in an effort to make people "engage with the world and see beyond our own". Meryl Streep was part of a "Three Great Women of Film" panel, in which she stressed the importance of empathy, telling the audience that nothing matters more than a film's ability to make people feel what others feel.
In 2016, the White House screened the CNN documentary We Will Rise, which highlights girls in the pursuit of education in Liberia and Morocco. Then-first lady Michelle Obama spoke about her travels to these two countries in Africa, and how she saw the troubles that many girls face concerning education. Meryl Streep, staying true to her passion for global girl's' education, accompanied Michelle Obama during these travels. Meryl Streep, therefore, was very supportive of the former first lady's Let Girls Learn Initiative, an initiative that focused heavily on the reasons that girls are unable to receive an education.
Additionally, Meryl Streep has signed several letters and campaigns calling for gender equality. In 2015, the ONE Campaigned penned an open letter calling for women to be focused on in the UN summit; Streep signed this letter. She also signed another letter on International Women's Day in 2016 in the name of gender equality.
Streep is a spokesperson for the National Women's History Museum and has made various donations to the museum. She notably supports the Women in the World Foundation. First launched in 2011, the foundation uses the power of the Internet to determine which causes need which solutions — awarding grants as is seen fit. Streep also supports CHIME FOR CHANGE, which has successfully funded hundreds of projects in 80 countries in the name of health and justice for women and girls.
Silver Mountain Foundation for the Arts
In addition to independently supporting various organizations, Meryl Streep's humanitarian efforts blossomed into her foundation. Based in New Jersey, USA, Silver Mountain Foundation for the Arts is Meryl Streep's organization co-founded with her husband, sculptor Donald Gummer. Much of the funding goes towards arts-based organizations such as Mass MoCA, the Museum of Fine Arts in Boston, and the National Museum of Women's History.
However, the Silver Mountain Foundation for the Arts has also made contributions to women's and environmental organizations such as Women for Women International, the Women's Refugee Commissions, the Rainforest Foundation, and the Natural Resources Defense Council.
Additional Support
Since its establishment in 1983, Streep has created a foundation that gives to a multitude of organizations. However, as highlighted previously, Meryl Streep's humanitarian efforts don't stop there. She also supports Artists for Peace and Justice, an organization that has donation 100 percent of its donated funds to Haiti in the aftermath of its disastrous earthquake.
Meryl Streep's humanitarian efforts expand to alleviating hunger and poverty through her support for causes like Heifer International. This organization provides livestock as well as training to low-income families. By providing training, these families and communities can expand their livestock and become self-sufficient — which is the ultimate goal in poverty relief.
With a history of giving back almost as extensive as her film career, it's clear that Meryl Streep's humanitarian efforts are extremely important to her. Largely devoted to causes pushing for equality, Streep has served as an excellent role model for what a philanthropic celebrity looks like.
– Emily Cormier
Photo: Flickr
https://borgenproject.org/wp-content/uploads/logo.jpg
0
0
Kim Thelwell
https://borgenproject.org/wp-content/uploads/logo.jpg
Kim Thelwell
2019-08-19 15:01:46
2019-09-14 05:52:05
Meryl Streep's Humanitarian Efforts