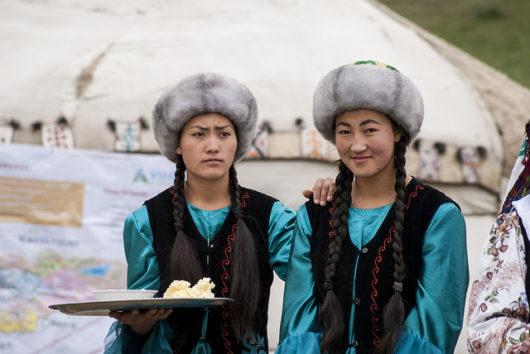 Education breeds confidence and encourages young girls to pursue opportunities otherwise not available to them, which is one reason why it is so integral to learn about the top 10 facts about girls' education in the Kyrgyz Republic and foster international and local policies that support equality in education. Working towards complete gender equality in education in the Kyrgyz Republic will not only improve the lives of millions of girls and women, but it will also benefit everyone in the country.
Top 10 Facts About Girls' Education in the Kyrgyz Republic
There is virtually no gender disparity in children attending primary and secondary school. In 2017, primary school enrollment rates for girls were at 89.18 percent compared to 90.6 percent for boys; 97.79 percent of girls completed primary school compared to 97.45 percent of boys. Furthermore, 87.06 percent of girls attend secondary school compared to 87.32 percent of boys. Thus, boys in the Kyrgyz Republic are less than two percent more likely to attend primary school than girls and less than half a percent more likely to attend secondary school.
Women and girls in the Kyrgyz Republic have very similar literacy rates to men and boys. In 2009, 98.98 percent of women ages 15 years and older were literate compared to 99.52 percent of men. However, older women who are ages 65 and older have a 5.41 percent lower literacy rate than men in that same age group. Although these numbers are promising, further reading of the top 10 facts about girls' education in the Kyrgyz Republic gives insight into why more needs to be done to improve girls' education.
Parents and teachers seldom discuss menstruation or explain the process of puberty to their daughters or students. Aigerim, a 17-year-old from Vasilevka, a village in the northern Kyrgyz Republic, said: "In most families, the mothers never talk with their daughters about menstruation." This issue is exacerbated by the lack of suitable bathrooms for privacy and the disposal of menstrual products in Kyrgyz schools. A 2011 study found that 85 percent of bathrooms in Kyrgyz schools were pit latrines, only 11.5 percent of rural schools had sewage systems that worked and bathrooms built during the Soviet era did not have individual stalls for privacy. This shame and lack of suitable bathrooms create a block of access for girls in the Kyrgyz Republic and impact the quality of education.
To encourage girls to continue to attend school while on their periods, UNICEF and Save the Children have created training programs about menstruation education as part of the Wins4Girls's WASH (Water, Sanitation, and Hygiene) project. The program trained 100 teachers from 100 schools on how to approach the subject in school settings and make education more welcoming to female students. Although there are no statistical results of the training program thus far, Wins4Girls teamed up with the NGO "Our Voice" to spread the WASH program to local youth centers. As a result of these efforts, a total of 403 additional girls received training on menstrual hygiene and awareness.
Sexual education in Kyrgyz schools is extremely lacking. In schools throughout the Kyrgyz Republic, and especially in rural areas, any topics to do with sexual health "are to all intents and purposes not discussed." As a result, when women marry they know very little about STIs, HIV, AIDS or birth control. In fact, the National Statistical Committee found in 2010 that only 30.3 percent of women between the ages of 15 and 49 were using any form of contraceptives. Some politicians such as the former leader of the conservative political party, Tursunbay Bakir Uulu, have advocated for the introduction of a religious style of education which would include the elimination of all sexual education courses or information in public schools.
Child marriage in the Kyrgyz Republic robs many young girls of education prospects or any opportunities for future independence. In the Kyrgyz Republic, 19.1 percent of girls are married between the ages of 15 to 19. According to the U.N., child marriage causes girls to leave school early and almost all child brides do not return to school after marriage. In fact, 28.4 percent of girls married before the age of 18 did not complete secondary school. Child marriage is more common in poorer, more rural areas and amongst girls who have lower levels of access to education.
Non-profit organizations are pursuing policy initiatives to decrease the rates of child marriage in the Kyrgyz Republic. The Osh Resource Center of the Interbilim International Center worked to raise awareness of child marriage and trained 20 girls on how to convince their parents not to allow child marriage. This grassroots program focused on such a small group because it was started by a Kyrgyz child bride to help girls in her own community.
Although there is access to education for girls in the Kyrgyz Republic, opportunities to apply that education in the workforce are very limited, both legally and culturally. In 2015, women in the Kyrgyz Republic made up 40 percent of the workforce compared to 44 percent in 1990. The Kyrgyz government actively classifies 400 jobs that women are forbidden from applying to. Furthermore, Kyrgyz laws discriminate against women workers by enforcing shorter work weeks for women in certain areas and designating specific jobs as too dangerous for women such as work that involves heavy lifting or any jobs which take place underground. The lack of female workers costs the Kyrgyz Republic 0.4 percent of its GDP annually.
The Kyrgyz Republic has a very high gender pay gap, which has steadily worsened. In 2010, women made 63.6 percent of what Kyrgyz men earned compared to 67.6 percent in 2000. Although women are slightly more likely to complete primary and secondary education than men, the sectors women enter in the Kyrgyz workforce are generally lower paying. For example, women make up 77 percent of teachers and 71 percent of hotel and restaurant workers in the Kyrgyz Republic. The gap in wages is discouraging and many young girls in the Kyrgyz Republic will have little incentive to seek higher education if their job prospects and earnings continue to be so limited.
Although female presence in the Kyrgyz workforce is modest, there are policy initiatives to rectify this discrepancy which would also encourage more young girls in the Kyrgyz Republic to seek education. The USAID initiative Agro Horizon has helped more than 20,000 women working in agriculture learn to access markets and grow their farming businesses. In addition, the USAID Business Growth Initiative provides training in business and management skills for over 2,000 Kyrgyz women working in the apparel and tourism industries, allowing these women to access new technologies and spread their businesses to new markets. The presence of successful, independent female role models is imperative in order for young girls to stay in school and seek higher education.
Path to Independence
Education is the path to independence and a future of opportunities for young girls in the Kyrgyz Republic. Although these top 10 facts about girls' education in the Kyrgyz Republic show that there is still gender inequality in the Kyrgyz economy, improving education standards for girls will benefit all of its citizens and lead to a fuller and more equal life for women in the Kyrgyz Republic.
– Alina Patrick
Photo: Flickr
https://borgenproject.org/wp-content/uploads/logo.jpg
0
0
Kim Thelwell
https://borgenproject.org/wp-content/uploads/logo.jpg
Kim Thelwell
2019-03-06 01:30:34
2019-11-14 13:17:17
Top 10 Facts About Girls' Education in the Kyrgyz Republic