A new report published in Clinical Infectious Diseases suggests that meningitis A is nearly eliminated in Africa.
We can thank a vaccine developed only five years ago. It was produced to help curb meningitis A, a strain that only impacts Africa.
The need to create the vaccine became apparent in 1996 when more than 250,000 people became infected with the disease and 25,000 people died.
While meningitis can be fatal, prevention is possible. Brown University estimates that a simple vaccination can prevent up to 70 percent of meningitis bacteria strains.
However, for those living in impoverished conditions, accessing life-saving medications may not always be possible. In 2010, the United Nations reported that approximately 28 million people in sub-Saharan Africa lived on less than $1.25 per day.
The meningitis epidemic prompted action from African health ministers. Answering that call was the Serum Institute of India, which produced a low-cost vaccine that only costs 50 cents a dose.
The vaccine was made possible in large part to the generosity of the Bill and Melinda Gates Foundation that provided $70 million to initiate its development.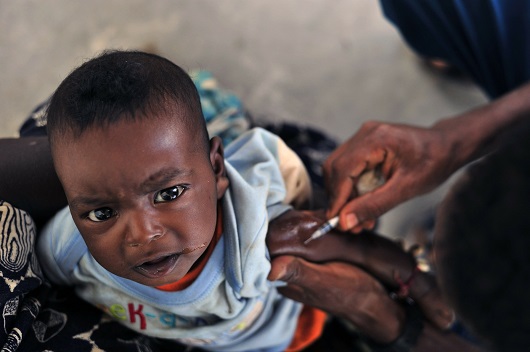 "The disease is highly feared on the continent; it can kill or cause severe brain damage within hours," the World Health Organization (WHO) said.
"But just 5 years after an affordable meningitis A vaccine was introduced, its use has led to the control and near elimination of the deadly meningitis A disease in the African 'meningitis belt' stretching across the continent from Senegal to Ethiopia."
The success of the vaccine is incredible. In 2013, WHO revealed that there were only four laboratory-confirmed cases across the 26 countries in Africa's "meningitis belt."
"We have nearly eliminated meningitis A epidemics from Africa, but the fact is the job is not yet done," said Dr. Jean-Marie Okwo-Bele, WHO's director of Immunization, Vaccines and Biologicals. "Our dramatic gains against meningitis A through mass vaccination campaign will be jeopardized unless countries maintain a high level of protection by incorporating the meningitis A vaccine into their routine childhood immunization schedules."
The vaccine does more than prevent the deadly meningitis A strain. A WHO study suggests "90 percent of people who received the vaccine still have the antibodies 5 years later." Additionally, an added benefit is a protective boost against tetanus.
According to the WHO, more than 237 million people across 16 countries have been treated. However, 10 additional countries still need to implement the vaccination.
– Alyson Atondo
Sources: UN 1, Columbia University, University of Minnesota Twin Cities, UN 2
Photo: Flickr, Pixabay
https://borgenproject.org/wp-content/uploads/logo.jpg
0
0
Borgen Project
https://borgenproject.org/wp-content/uploads/logo.jpg
Borgen Project
2015-11-22 10:27:01
2020-06-24 20:02:41
Meningitis A Vaccine in Africa Almost Eradicates the Disease