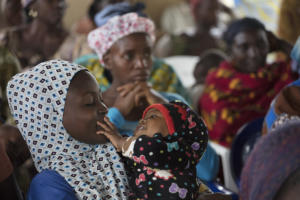 Marie Stopes International Nigeria recently donated almost 1,500 units of the medication misoprostol to the Nigerian state Nasarawa. This donation will hopefully reduce maternal mortality in Nigeria, which, in Nasarawa, is higher than average. The donated misoprostol cost one million Nigerian Naira altogether, approximately $2,580.
What is Marie Stopes International?
Dr. Tim Black founded the current Marie Stopes International in 1976 when he purchased and revitalized the Marie Stopes Clinic in London, named after the late Dr. Marie Stopes. A year later, Dr. Black and his wife opened a clinic in Dublin, followed by another in New Delhi.
MSIN first came to Nigeria in 2009. These clinics provide ultrasounds, testing for pregnancy and sexually transmitted infections, counseling, and other related forms of reproductive healthcare. As of 2018, the Non-Governmental Organization has helped more than three million women in Nigeria alone, and Marie Stopes has opened clinics in 37 countries around the world. The NGO's Nasarawa State Clinical and Training Officer Nathaniel Oyona praised Marie Stopes's decision to "support the government by assisting pregnant women especially those that cannot afford to pay their bills."
Why is Maternal Mortality in Nigeria So High?
A study from 1985 to 2001 at the University of Jos found that hemorrhage after delivery caused most maternal deaths, followed by sepsis and eclampsia. Furthermore, in 2015, Nigeria registered around 58,000 maternal deaths resulting in a maternal mortality ratio of more than 800 maternal deaths per 100,000 live births. By comparison, the WHO cited that the 46 most developed countries in the world had a maternal mortality ratio of 12 deaths per 100,000 live births in the same year.
As of 2017, childbirth causes the deaths of 7% of women in Nasarawa each year. Nasarawa's shortage of medical staff, equipment and medicine means that many women do not trust the birth centers. Instead, many women choose to give birth at home without a doctor present. However, home births can pose problems if complications arise, such as a postpartum hemorrhage. Unfortunately, this situation leaves many pregnant women without proper access to much needed medical care.
How Does Misoprostol Help Maternal Mortality in Nigeria?
Misoprostol is an oral medication with multiple uses that can lower the chance of hemorrhage after childbirth. Various studies have found that misoprostol can reduce postpartum bleeding by 24% to 47%. Because misoprostol is taken orally, it is easy to distribute and administer. Heat exposure will also not negatively impact misoprostol's effectiveness. Misoprostol's versatility makes it useful for women who choose to have a home birth or lack access to birth centers.
MSIN specified that the 1,497 packs donated are earmarked for women without the means to afford postnatal care. The Commissioner for Health in Nasarawa confirmed the misoprostol will be distributed accordingly.
What Are the Next Steps to Fight Maternal Mortality in Nigeria?
Though the donation of misoprostol is a welcome short-term solution, long-term reform is needed to reduce maternal mortality in Nigeria. Since 2011, the government of Nasarawa has shifted to the Nigerian State Health Investment Project, in hopes of rebuilding trust with clinics and hospitals and giving better care to patients. The government has since granted multiple facilities in Nasarawa updated medical equipment and a better supply of necessary drugs. These reforms have caused a positive change in clientele and productivity.
As for Marie Stopes International, the NGO will continue to open clinics worldwide and train local people to provide reproductive healthcare. Through their social franchise networks, MSIN staff train Nigerian doctors and nurses to provide better reproductive healthcare and counseling in their facilities. Once local healthcare providers complete their program, MSIN gives them the medicine and other materials they may need for their practice. In Nigeria, 200 franchisees have completed the MSIN training program.
Though more work is necessary to combat maternal mortality in Nigeria, misoprostol has proven to be an accessible and effective tool to help prevent postpartum hemorrhage in women. This is one step in a larger plan to rebuild trust in the healthcare system and reduce maternal deaths in Nigeria.
– Jackie McMahon
Photo: Flickr
https://borgenproject.org/wp-content/uploads/logo.jpg
0
0
Jennifer Philipp
https://borgenproject.org/wp-content/uploads/logo.jpg
Jennifer Philipp
2020-07-07 01:30:31
2020-07-07 05:09:01
NGO Working to Reduce Maternal Mortality in Nigeria