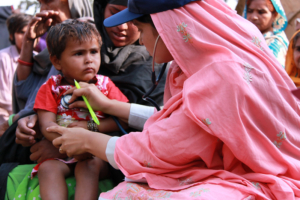 Maternal health in Pakistan has been a major issue over the years and has consistently shown many negative outcomes. This suggests that the women of Pakistan are not receiving the attention they require in their months of pregnancy. In 2020, the maternal mortality rate was 154 per 100,000 live births. And as of 2021, Pakistan's infant mortality rate was 53 per 1,000 live births. The prevalence of low birth control, alongside a disorganized medical system, creates an atmosphere of risk and danger for expectant mothers.
Norway-Pakistan Partnership Initiative
Established in 2009 by U.N. agencies UNICEF, WHO and the United Nations Population Fund (UNFPA), the Norway-Pakistan Partnership Initiative (NPPI) aimed to reduce barriers that prevented pregnant women from accessing safe and reliable medical care in the province of Sindh. This involved strengthening health care systems through better support and using flexible financial approaches to improve the provision of maternal health care.
The project ended in 2013 with underwhelming research that assessed the impact of the NPPI. The overarching narrative was that the project had an insignificant effect on the participating communities. Although there have been some improvements, the rate at which pregnant women are accessing health care has only increased marginally. Despite this, reports indicated the following successes from the NPPI:
Support for female health workers: The NPPI created functional community networks in 80% of the participating villages.
Creation of an incentive scheme: The rollout of a successful voucher initiative saw 35% of pregnant women using the vouchers to seek medical care.
Provision of support and outreach services: All female and community health workers received full training in newborn, infant and child health care.
A Decade Later
A decade after the end of the NPPI, checking back in to assess how maternal health in Pakistan has weathered the recent years, especially through the pandemic, reveals the following. Approximately 20% of all deaths among women of childbearing age are due to pregnancy complications, specifically hemorrhaging and sepsis. The COVID-19 pandemic has also profoundly impacted maternal health in Pakistan. With a sudden lack of available hospital beds, many women found themselves unable to access the medical attention they required as they carried to term. Delays in emergency services and poor organization in facilities have also directly impacted increased maternal and infant mortality.
Rurality and Education
An intersection between education and location has also been identified. In a 2019 study, researchers with the National Institute of Population Studies linked low education levels and rural localities in Pakistan with poorer maternal health outcomes. Maternal mortality was 26% higher in rural areas compared to urban counterparts. Additionally, significantly more women in rural areas are less educated than women in urban spheres. About 96% of educated women sought medical care during their pregnancy compared to 50% of uneducated women. These recent maternal health indicators and contributing factors suggest that education and rural access to medical facilities need to be targeted in future interventions to improve maternal health in Pakistan.
National Committee for Maternal and Neonatal Health
Established in 1994, the National Committee for Maternal and Neonatal Health (NCMNH) is dedicated to reducing the high maternal mortality rate in Pakistan. Its goal is to advise policymakers on effective policies that reduce and prevent maternal and neonatal deaths. So far, the committee has:
Assisted the Ministry of Health in the development of the Maternal Health Section policy in 2001.
Introduced WHO technologies, including post-abortion care in Pakistan.
Established a skills lab, or a medical facility that conducts skill training, equipped with modern medical technology to complement the abilities of Pakistan's medical professionals.
Bakhabar Noujawan Course
Currently, the NCMNH is developing a course to promote and educate young girls on reproductive health. This is a crucial factor that directly correlates with poor maternal health indicators. Aimed at women aged 15 to 29, the Bakhabar Noujawan course involves educating students about how to maintain and navigate reproductive health. The vision is that participating in this course will contribute to these women's credit in their educational institutions while encouraging them to become more involved in their own health.
Looking Ahead
Despite the persisting challenges, efforts to improve maternal health in Pakistan have shown some promising developments. Initiatives like the Norway-Pakistan Partnership Initiative have supported female health workers, implemented successful voucher systems and provided comprehensive training. Also, the establishment of the National Committee for Maternal and Neonatal Health and the upcoming Bakhabar Noujawan course demonstrate an ongoing commitment to reducing maternal mortality and improving reproductive health education. Overall, these initiatives hold the potential to make a positive impact on the well-being of women in Pakistan and pave the way for a healthier future.
– Ariana Mortazavi
Photo: Flickr
https://borgenproject.org/wp-content/uploads/logo.jpg
0
0
Naida Jahic
https://borgenproject.org/wp-content/uploads/logo.jpg
Naida Jahic
2023-06-04 01:30:23
2023-05-31 16:21:41
Improving Maternal Health in Pakistan: 10 Years On