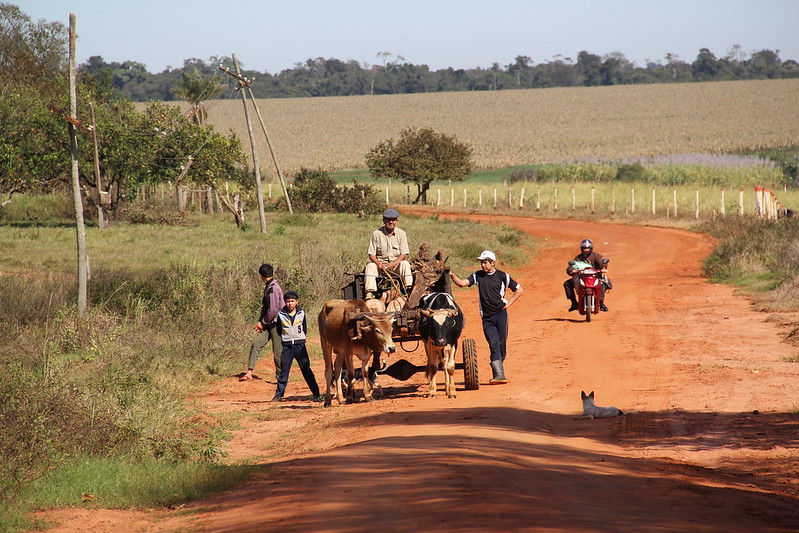 Healthcare in Paraguay has improved tremendously over the past decades. The life expectancy of both males and females has increased by about 10 years since 1990. In the same period of time, the mortality rate of children under 5 years old decreased from 34.6 deaths to 14 deaths per 1,000 live births. Still, many communities remain underserved and face the repercussions of limited access to healthcare.
The Rural-Urban Divide
The improvements in Paraguay's healthcare system have occurred mostly in urban areas. This makes sense considering that more than 60% of Paraguay's population lives in the urban perimeters of Asunción and Ciudad del Este. In fact, about 70% of healthcare workers operate within the Greater Asunción area.
In contrast, rural populations do not receive the same access to healthcare. While the more rural regions located to the West of Asunción represent 61% of the national territory, only about 31% of the national paved road network reaches these regions. As a result, transportation from isolated rural communities to urban areas with better access to healthcare is not an easy feat.
The Family Health Units and Coverage
In 2008, the Ministry of Public Health and Social Welfare created family health teams to carry out healthcare in a coordinated, comprehensive and continuous manner. Each team is organized in Family Health Units (USF in the Spanish acronym) and serves the populations to which they are assigned. These teams must provide consultation, home care and ongoing medical evaluation to their communities.
While USFs have successfully improved the health of urban populations, they have largely left behind those who live outside of urban centers. For example, only about 50% of the Alto Paraguay residents have USF coverage.
The following reasons help explain this disparity in USF coverage between city and country areas:
Rural areas generally have low population density and exist between small towns. Therefore, providing USF coverage to many rural communities can be inefficient and challenging.
Many healthcare workers who are originally from rural areas often decide to either move to urban areas or leave Paraguay completely due to the poor working conditions and precarious employment contracts.
There are few incentives for healthcare workers to practice in rural areas.
As a result, rural areas, where poverty rates are the highest, are also most susceptible to experiencing USF shortages.
The maternal mortality rates (MMRs) by region reflects the disparity in USF coverage. In 2015, the rural areas of Boquerón, Amambay and Canindeyú recorded MMRs of 347, 190 and 167 per 100,000 live births, respectively. This data stands in stark contrast to the average MMR of the entire nation which is 132 per 100,000 live births. Clearly a significant imbalance in healthcare access exists between geographic locations in Paraguay.
Addressing MMR in Rural Communities
Several initiatives emerged to address this problem, although some deemed some of them unsuccessful. The Maternal Health and Child Development Project, which operated from 1996 to 2004, aimed to improve the health of mothers and their children in underserved areas. As the World Bank notes, the outcomes of this project were unsatisfactory.
A joint project between the Pan American Health Organization (PAHO) and the World Health Organization (WHO) is currently in effect with the goal of strengthening the care of mothers and children and improving responses to obstetric emergencies. PAHO and the WHO implemented this project in 19 municipalities across Bolivia, Argentina and Paraguay, reaching approximately 400,000 people. It is too early to discern the impact of this project as it only emerged in 2017. Nevertheless, since it only serves a few municipalities in Paraguay, many rural, underserved Paraguayan communities have not received the assistance necessary to improve their MMR.
The COVID-19 Pandemic
In spite of the challenges Paraguay faces in terms of its healthcare system, the country has kept COVID-19 under control in rural and urban communities alike. As of July 19, 2020, there have been confirmations of 3,721 cases and 31 deaths in a country with over 7 million people. One can attribute this successful containment of the virus to the government's quick and effective response. The first COVID-19 case in Paraguay received confirmation on March 7, 2020, and the country went into full lockdown on March 20, 2020. While the country is not in the clear yet, Paraguay is among the most healthy South American countries with regards to COVID-19.
Bringing Healthcare to Rural Areas
The situation for rural regions, however, is not hopeless. Since urban areas observed significant successes in healthcare through the implementation of the USFs, one could reasonably apply similar tactics to rural areas. Having said that, the biggest hurdle in bringing healthcare access to rural areas will be providing incentives for healthcare workers to settle in areas with low population density.
Luckily, in 2010 the Ministry of Public Health and Social Welfare launched a rural internship program that incentivizes doctors to work in rural areas. As a result, the concentration of healthcare workers in rural areas should increase as more doctors graduate from medical school.
Nevertheless, the Ministry must continue to pay special attention to rural areas, especially those where impoverished and indigenous people reside. The healthcare system has historically underserved these communities while urban, wealthier communities continue to experience improvements in healthcare. In order to provide healthcare for all residents of Paraguay in an equitable manner, the government must ensure that all Paraguayans can receive the same basic healthcare regardless of geographic location.
There are certain challenges that should receive special attention as Paraguay continues to improve its healthcare system for residents. Many regions still struggle with maternal mortality, especially in rural areas. In addition, viruses that mosquitoes transmit, such as Zika, chikungunya and dengue, cause intermittent regional epidemics. Lastly, about 18,000 people in Paraguay live with HIV or AIDS. However, given the government's swift and effective response to COVID-19 as well as the success of USFs across the country, these challenges certainly are not insurmountable. If USFs expand significantly into underserved areas, Paraguay should be better able to effectively handle these health challenges.
– Alanna Jaffee
Photo: Flickr
https://borgenproject.org/wp-content/uploads/logo.jpg
0
0
Kim Thelwell
https://borgenproject.org/wp-content/uploads/logo.jpg
Kim Thelwell
2020-07-29 09:14:17
2020-07-29 09:14:17
The Regional Disparities of Healthcare in Paraguay