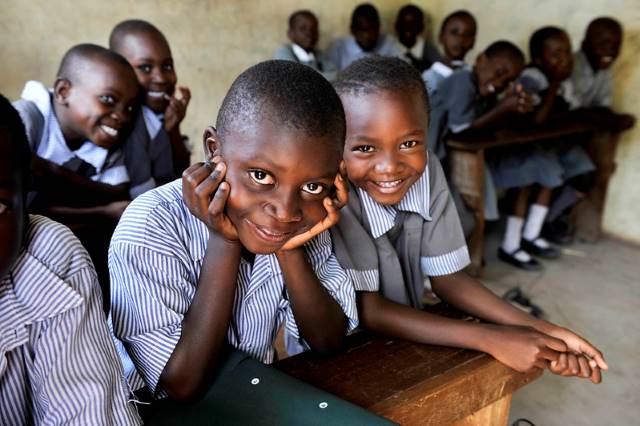 The Mobile Art School in Kenya (MASK) is an award-winning school that provides fine arts education to children in Kenya. In a place where arts education is often neglected, MASK demonstrates how an education focused on creativity and innovation brings more economic opportunity to students. MASK instills critical values like empathy and peace in its students and encourages continued development in Kenyan culture.
The Origin Story of MASK
MASK was founded by Alla Tkachuk in 2007. Trained as a scientist but at heart an artist, Tkachuk moved to London from Russia years before to follow her dream of working in the arts. In 2006, Tkachuk spent three weeks on the Kenyan-Tanzanian border on a painting trip. During her time there, she connected deeply with the people through the universal language of art. She began to wonder what she could do to give back to a community that had been so kind to her.
Tkachuk began hosting a simple painting workshop for children in the village. After a few more workshops, the headmaster of the local school came to Tkachuk with great excitement about her program. Tkachuk then realized that arts was not regularly taught in the region and this deeply troubled her.
After consulting with non-governmental organizations, local schools and teachers, Tkachuk established the Mobile Art School in Kenya in 2007. The program travels from one school to another in rural Kenya, bringing art supplies and a passion for the cause with it.
The Growth of MASK
As MASK became more popular, the program was able to expand. Soon after the school's start, Tkachuk and her team hosted workshops for teachers in more than 25 schools, supported by Kenyan education authorities. In 2013, with the support of the national press and the Kenyan government, the MASK Awards was developed in hopes of further fostering creativity in students nationwide. These awards are open to all young people in the country and include prizes such as paid internships. Winning artists also get the opportunity to have their work exhibited at London's Saatchi Gallery and at the U.S. Library of Congress, among other locations.
MASK's Programs
The Mobile Art School in Kenya has two main programs: Creativity Clubs for children aged 7 to 12 and Creativity for Entrepreneurship and Leadership (CEL) for students aged 16 to 21. Creativity Clubs focus on fun, simple art. The program aims to help children harness their creativity and teaches them how to observe, analyze and connect ideas through creative outlets.
CEL is more practical. It aims to use creativity to train students with skills that will prepare them for the working world. The course focuses on entrepreneurial and leadership skills, teaching students creative problem-solving abilities. After completing this course, students are eligible to be part of the Creative Workforce Project at MASK, an initiative that helps students secure paid internships to kickstart their careers.
MASK's Impacts
Brittany Glenn, a student at the University of London's Institute of Education, conducted a case study on the Mobile Art School in Kenya to analyze the importance of arts education in lifting people out of poverty. She found that for many, MASK was an introduction to the fine arts. The program instilled values of peace and empathy and also encouraged cultural appreciation and preservation.
Further, arts education is a critical part of career success. MASK boasts many successful students in various fields who all benefited from the creative problem-solving skills that the program instilled in them. One MASK student, Hellen, came from a remote village in Kenya and now works as a chemist. Her time with the Creativity Clubs and her experience as a MASK volunteer provided her with the critical thinking skills she needed to succeed in college. Hellen even "invented a new domestic poison from a local plant" while studying, which her college planned to patent.
Hellen is only one of the many success stories from the Mobile Art School in Kenya, illustrating how fine arts education can bring people out of poverty and help them flourish.
– Jessica Li
Photo: Flickr
https://borgenproject.org/wp-content/uploads/logo.jpg
0
0
Kim Thelwell
https://borgenproject.org/wp-content/uploads/logo.jpg
Kim Thelwell
2021-07-22 01:30:16
2021-07-19 08:22:39
Mobile Art School in Kenya Supports Innovation