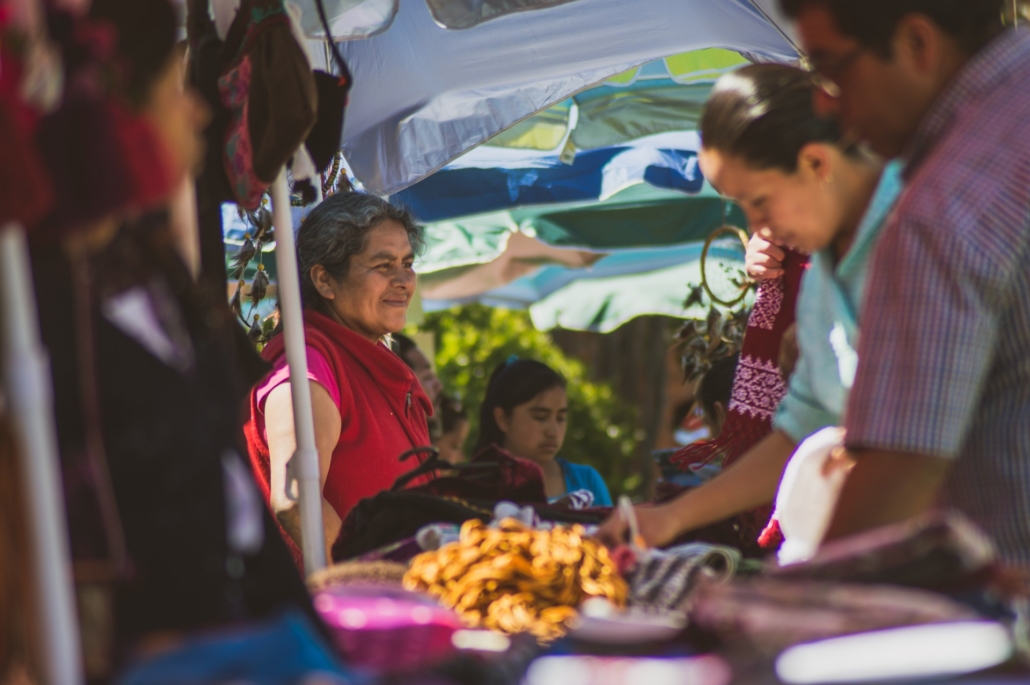 Khadi Oaxaca is a small nonprofit with a big goal: community-based sustainable development. Comprising more than 400 families in Oaxaca, Mexico, this fabric and clothing producer is both contributing to local progress and taking part in a larger movement challenging what the future of the garment industry will look like. Seeking inspiration from the past, this avant-garde project has surprising roots in a tradition from across the globe.
Mahatma Gandhi's Khadi Movement
Khadi refers to hand-spun, hand-woven Indian cloth. In 1918, Mahatma Gandhi began promoting khadi production as a means for impoverished individuals living in rural India to achieve economic self-sufficiency and consequently, liberation from dependence on British textiles. Khadi soon became a symbol of Indian national pride and the Indian independence movement at large.
Khadi Makes its Way to Mexico
Three decades after India gained its independence, Mark "Marcos" Brown—the man who co-founded the Khadi Oaxaca project—visited San Sebastián Río Hondo in Oaxaca. He subsequently traveled to India, where he lived in the Gandhi ashram for two years, learning about both the history of khadi and how to spin and weave the cloth. When he returned to Oaxaca in the 1990s, he brought with him a Gandhian spinning wheel and began teaching the other villagers, including the Ramírez family, how to use it.
In 2010, Brown, his wife Kalindi Attar and the Ramírez family laid the foundations of what would become Khadi Oaxaca. Together, they built what they hoped could be an alternative to conventional production for the future of the garment industry. They hosted a cotton-spinning workshop with more than 30 women from the town. In 2014, members of the group began designing clothing and using plant-based dyes. Today, the affiliation consists of spinners, weavers and embroiderers, as well as growers along the Oaxaca coast who supply cotton to these artisans.
Farm-to-Garment Economics
Khadi Oaxaca's farm-to-garment model provides crucial income to indigenous Zapotec families living in the agrarian villages of Oaxaca. Though recent data is difficult to come by, Sedesol, the department of the Mexican Secretary of Social Development, reported in 2010 that more than 55% of the population of San Sebastián Río Hondo was living in extreme poverty. By promoting a "thread standard," Khadi Oaxaca managers raised the market value of a kilogram of thread from 400 pesos ($18 USD) in 2010 to 1,500 pesos ($70 USD) today, enough to meet spinners' basic needs of survival and incentivize the practice of spinning. The integrated supply chain offers autonomy and provides a reliable source of revenue that has only become increasingly important during the COVID-19 pandemic.
More Than Just Cloth: An Ethical, Sustainable Alternative
However, Khadi Oaxaca is about more than just business. The company aims to provide an example of cottage industry production as an alternative to today's fashion industry, which is too-often exploitative of both natural and human resources. The fashion industry is the second-largest consumer of the world's water supply and produces 10% of humanity's carbon emissions. Moreover, the equivalent of one garbage truck full of clothes is burned or dumped in a landfill every second, amounting to 85% of textiles ending up in landfills every year. Furthermore, human rights abuses within the garment industry are rampant.
Fast fashion–inexpensive clothing produced rapidly in response to fleeting trends–is possible only through the employment of low-paid factory workers, a workforce that includes mostly females and may employ 16.7 million children in South Asia alone. Child labor is a major issue in Mexico as well, with several nonprofits currently working to eradicate its presence specifically from the fashion supply chain.
Weaving Sustainable Development
 Khadi Oaxaca believes that garment producers and consumers can and should do better. The company sources its organic cotton from local farmers along the Oaxaca coast and uses plant-based, regionally harvested dyes–never chemicals. While the project remains a small-scale one, it hopes to function as an archetype for what the future of the garment industry could be: an environmentally-friendly industry that supports the livelihood of its workers and delivers beautiful, high-quality clothing to consumers.
– Margot Seidel
Photo: Pixabay
https://borgenproject.org/wp-content/uploads/logo.jpg
0
0
Jennifer Philipp
https://borgenproject.org/wp-content/uploads/logo.jpg
Jennifer Philipp
2020-12-18 12:05:31
2020-12-18 12:05:31
Khadi Oaxaca: The Future of the Garment Industry