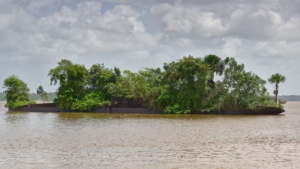 French Guiana is a territory of France located on the northeastern coast of South America, bordering Suriname and Brazil. The territory has faced a history of oppression and neglect. Violent slave revolts shaped much of the land's early history, its use as a penal colony shaped its recent past. This neglect has led to an overall sense of struggle, with issues arising in nearly all sectors of life. This sense of struggle becomes increasingly visible when regarding the recent cases of yellow fever in French Guiana.
Yellow Fever in French Guiana
In August of 2017, a Brazilian woman in her 40s contracted yellow fever in French Guiana. She was living in a clandestine gold mining village in the area of the dam lake Petit Saut. On August 2, she reported a fever, vomiting, lumbar and abdominal pain and intense asthenia. Her relatives reportedly witnessed hemorrhagic symptoms. On August 7, she was admitted to a hospital in Kourou. On August 8, she experienced multi-organ failure and was rushed to the intensive care unit of a hospital in Cayenne, the capital city of French Guiana. There, she was treated with intensive supportive therapy but showed no positive response. On August 9, she passed away.
In August of 2018, a Swiss man in his 40s, living in a forested area near the river Comté, developed a fever, body aches and mild myalgia. On August 5, a day after his symptoms began, he sought out medical attention. He was sent away with the diagnosis of an acute, dengue-like viral infection. In the days that followed, he experienced vomiting, prostration and a persisting fever. He returned to seek medical attention at the Cayenne hospital. He was admitted into the intensive care unit on August 8, and shortly thereafter, on August 9, he was transferred to a specialized transplant center outside of Paris and received a hepatic transplant. On August 10, blood tests confirmed that he had contracted yellow fever in French Guiana. On August 30, he passed away.
Yellow fever is a virus transmitted by the Aedes and Haemogogus species of mosquitos, the same species responsible for the spreading of Zika and Dengue. Yellow fever is endemic in French Guiana. Many of the infected do not experience symptoms, but those who do typically report some combination of a fever, an aching in the back and head, a loss of appetite, nausea and vomiting. A small percentage of those who do experience the initial wave of symptoms will later experience a second wave, referred to as the toxic phase. Those in the toxic phase will likely experience the development of jaundice, a darkening of the urine, vomiting and abdominal pain. Approximately half of all those who enter the toxic phase will die within seven to 10 days.
The endemic status of yellow fever in French Guiana says volumes on the state of the territory as a whole. Although there have been improvements in vaccination rates, with an estimated 80 to 90 percent of the population receiving the yellow fever vaccine, a lack of infrastructure and health care options thoroughly ostracize those living in more rural settings. 
Some communities, such as Maripasula, the most isolated town in French Guiana and France as a whole, takes three days to reach. One must travel by boat down the Amazon. The people of Maripasula have long demanded a road be put in, but as of now, no road exists. This greatly reduces their ability to combat fast-acting diseases such as yellow fever.
The government that rules over French Guiana is the same that rules mainland France, and yet, the GDP of those living in French Guiana is roughly half that of their European counterparts. A shocking 40 percent of citizens live in poverty, and over 20 percent are unemployed.

In 2018, USA Today listed France as the 24th richest country in the world. 
The disparity in income and quality of life between mainland France and French Guiana is drastic, to say the least. In 2017, French Guiana was overcome with protests and social unrest, with many of its citizens participating in mass strikes. The French government apologized for its neglectful treatment of French Guiana and promised to allocate 3 billion euros to the South American territory. This money was meant to be dispersed throughout a variety of sectors, with healthcare and education at the forefront. As of May 2019, this monetary promise remains largely unfulfilled.

– Austin Brown
Photo: Flickr
https://borgenproject.org/wp-content/uploads/logo.jpg
0
0
Lynsey Alexander
https://borgenproject.org/wp-content/uploads/logo.jpg
Lynsey Alexander
2019-11-21 07:30:36
2020-01-18 13:13:34
Yellow Fever in French Guiana