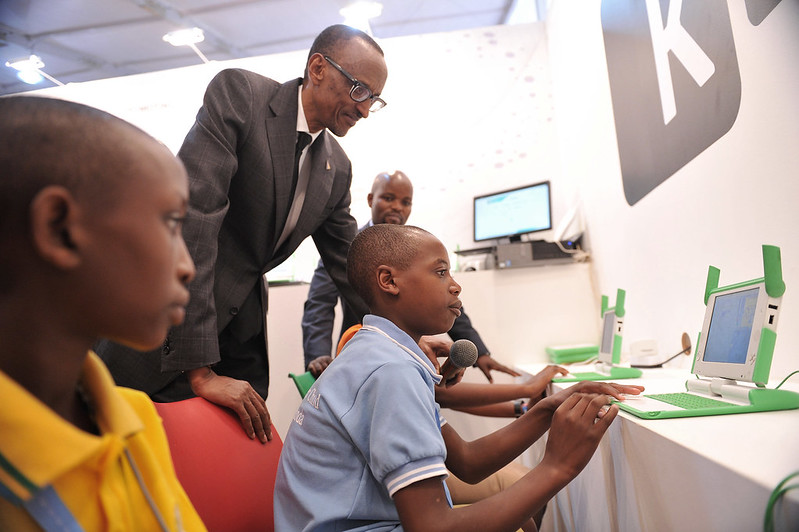 Rwanda is a country located in the Eastern part of Africa that has been on the rise since the 1990s. The country has become a leader in innovation and technology, and it is one of the most innovative countries in Africa. Here are 10 facts about Rwanda's innovative technology.
10 Things About Rwanda's Innovative Technology
Rwanda's innovative technology inspires the country to dream of "Made in Africa." The Mara phone—the first phone in Africa—aims to create high-quality smartphones designed to promote digital inclusion. Using technology to improve the lives of people in Africa, Mara Phones produces high-quality smartphones designed to promote digital inclusion. Founded in 1996 by Ashish Thakkar, Mara Phones is a subsidiary of Mara Group, a dynamic African group with operations in the banking, technology, real estate and infrastructure fields.
Rwanda is using its technological potential to move the country from a developed nation to a developed country. President Paul Kagame of Rwanda is intent on turning Rwanda into the technology capital of Africa, like Singapore. For years Kagame has been drawing parallels between the two countries, following in the footsteps of the late Lee Kuan Yew, the man credited with transforming Singapore from a developing world status. Together with his successors, they have experienced global renown as the 'master builders' of the 20th century.
The Rwandan government has Stellar Ambitions, including a satellite program to help monitor water supply and anticipate natural disasters. In 2019, Rwanda launched its first telecommunications satellite, Rwa-Sat-1. The satellite now collects data from terrestrial sensors to inform the government about agriculture, meteorology, national water resources and disaster risks.
Today, Rwanda is part of just 13 African countries that have enacted explicit legislation on e-waste. In 2016, Rwanda's law cratered common regulations for dealing with outdated electrical devices, as well as assigning duties in this area between the nation's different organizations. By 2020, the so-called Enviroserve Rwanda Green Par e-waste management plant opened. Enviroserve offers services, such as remodeling, refurbishing and recycling of hardware, e.g. outdated mobiles, computer systems and other appliances. Furthermore, Rwanda has been championing the regional e-waste program of the East African Communications Association (EACO) alongside Burundi, Kenya, South Sudan and Tanzania, according to the World Economic Forum.           

 

Rwanda became one of the first nations in Africa to launch a national drone delivery system. Rwanda has been able to reduce service time delays and costs by using drones instead of conventional delivery methods to deliver medical supplies. To streamline blood deliveries, Rwanda's government signed a deal with Zipline, a drone startup based in San Francisco, in 2016. Zipline's autonomous drones would transform blood from a distribution center to a hospital.

 

One of the forerunners in Africa in the development of smart cities is Rwanda. Kigali's modernization is a part of a larger initiative by the Rwandan government to broaden and streamline access to public services. The government's Irembo platform aims to develop e-government services that will enable citizens to submit requests for birth certificates and register for driving tests online. The Rwandan government established a partnership with Nokia and SRG to implement smart city technology in order to "improve the lifestyle and social sustainability of its citizens." For instance, in 2016, the city began deploying buses with free Wi-Fi and cashless payment services.
The government of Rwanda introduced AI-powered chatbots to health care to help Rwandans have easier access to consultations with doctors or nurses. This is possible thanks to Rwanda's cutting-edge technology. Today, patients can complete about 4,000 consultations per day from any location in the nation with just a mobile device. Babylon's nurses are using the tool to increase productivity and help them make better choices for their patients.
To improve the technological aptitude of its youth, Rwanda has implemented a number of significant initiatives and policies. The "One Laptop Per Child" project, which distributes laptops to all of the nation's primary schools, is one such initiative. The project has already given 203,000 laptops—which government funding paid for—to 407 schools. The Carnegie Mellon University branch in Rwanda is a partner in another impressive project. Through this collaboration, the University will offer Rwandan students instruction in IT, electrical and computer engineering as well as a degree.
A number of cutting-edge startups that have support from the government are based in Rwanda and have a positive impact on the nation. In contrast to other African nations, Rwanda's government has complete authority over the nation's technological infrastructure and operations. Long-term, this may stifle innovation, but it has helped the nation concentrate its efforts and resources on crucial areas that might be crucial to its future growth. In order to produce laptops that are "made in Rwanda," the government, for instance, recently agreed to a contract with the South American business Positivo BGH, World Geostrategic Insights reports. The contract stipulates that the business will make 150,000 laptops annually.
Together with OneWeb, Rwanda launched its own satellite, the Icyerekezo. Rural Rwandan schools will now have access to fast internet thanks to the satellite. Icyerekezo (meaning Vision) is the moniker that students from Groupe Secondaire St Pierre Nkombo on Nkombo Island gave to the satellite. With the help of this exciting partnership, schools in isolated areas will have access to the internet, allowing them to take part in the ICT initiatives in classrooms all over the nation.
A Major Driver
The government of Rwanda made the deliberate choice to prioritize Information and Communication Technology (ICT) as a crucial component of the nation's development agenda, which has led to the country's innovation and technological advancements. A major driver of the expansion of the telecommunications industry in Rwanda has been the rise in demand for ICT services and the pressure to make the economy more competitive.
– Frida Sendoro
Photo: Flickr
https://borgenproject.org/wp-content/uploads/logo.jpg
0
0
Jennifer Philipp
https://borgenproject.org/wp-content/uploads/logo.jpg
Jennifer Philipp
2023-01-21 01:30:21
2023-01-18 05:30:58
10 Facts about Rwanda's Innovative Technology