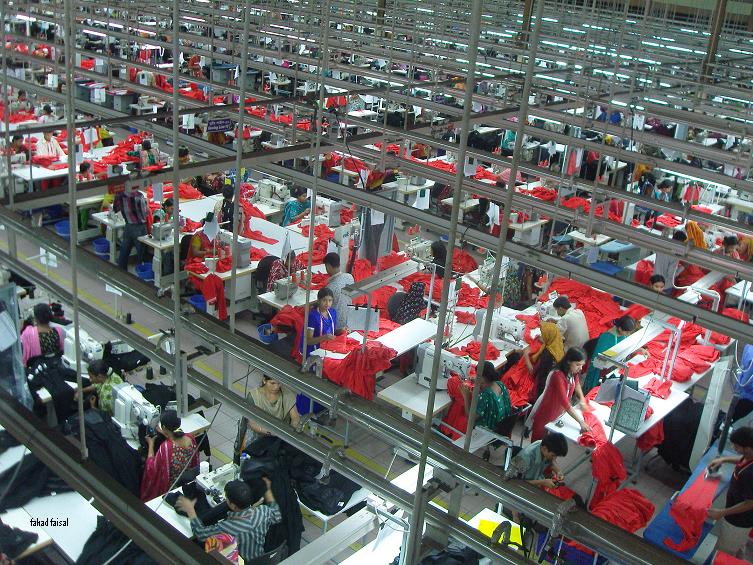 The ready-made garment (RMG) industry is a significant source of growth for Bangladesh's rapidly developing economy. Bangladesh is the world's second-largest exporter of garments, and the garment industry in Bangladesh employs 4.4 million workers in more than 4600 factories. However, the size and complexity of the industry leads to poor working conditions and exploitative labor practices. These practices often do not garner attention until a tragic disaster happens, like the Rana Plaza collapse. As such, there is an urgent need for increased information transparency in the garment industry in Bangladesh to improve labor rights and workplace safety for these millions of workers. The digital initiative Mapped in Bangladesh is stepping up to the challenge.
Rana Plaza: Leaving a Legacy of Responsibility
The Rana Plaza building, located in Dhaka, Bangladesh, housed five garment factories that supplied American brands. Its 2013 collapse is one of the world's worst industrial disasters, killing at least 1,1232 people and injuring 2,500 more. In the wake of the tragedy, activists and consumers worldwide demanded the codification of workplace safety standards. However, the lack of transparency surrounding which brands used the building to produce their garments concealed the companies involved. In fact, people had to dig through rubble for loose clothing labels to confirm which companies worked at Rana Plaza.
As such, the Rana Plaza collapse was an eye-opening example of how a lack of transparency costs lives. It indicated that the first step toward reforming the garment industry in Bangladesh requires greater visibility of workers and their working conditions. Although companies saw a lack of transparency in their supply chain as a competitive advantage, disclosing of supplier factory information actually drives profits. Indeed, 85% of executives from the apparel and footwear industries say that "transparency is either extremely or very important to the industries' success."
Consumers' focus on ethical manufacturing has also driven this call for reform. A survey from Accenture found that when consumers' values do not align with a company's position on social, ethical, and environmental issues, 42% of consumers will step away from the brand. Further, 21% will never buy from that company again. In this way, transparency serves as a tool for accountability. It provides consumers with the information they need to make more informed shopping choices and demand more ethical practices. That said, the push for information transparency requires more than shifting consumer preferences.
Mapped in Bangladesh
A promising milestone for information transparency in the garment industry in Bangladesh comes from Mapped in Bangladesh (MiB). Implemented by the Centre for Entrepreneurship Development at Brac University, this initiative has collected and published a comprehensive database of RMG export-oriented factories. It formats this information as an interactive, digital map reminiscent of Google Maps. The initiative came about as a pilot project in response to the Rana Plaza Collapse. As a stakeholder of the RMG industry explained, "If we had such a map during the Rana Plaza tragedy, we could have reacted more quickly."
Syed Hasibuddin Hussain, the project manager for MiB, outlined their methodology to The Borgen Project. Despite not knowing the exact number of factories, the team determined the general industrial areas where they exist. Because single factories interact with the larger RMG system, they rarely exist in remote villages.
From there, they decided the most effective method would be a door-to-door census on the streets of the industry's four major districts. Hussain described the process as using "the snowball effect to identify additional factories," no matter how dispersed individual factories are within a cluster. As of August 2020, the MiB site displays complete data sets from the Dhaka, Gazipur, and Narayanganj districts. The researchers expect to add the last major district's data in 2021.
Mapping Transparency for Consumers
The project aims to fill the absence of an authenticated and continuously updated method of tracing RMG producers. Additionally, it serves as an alternative to sources with unverified secondary information. Hussain added that MiB can authenticate some data points directly. These include factory name, address, certifications, products made, export countries and worker's participation committees. However, it is impossible to completely validate information like the number of workers and their demographic breakdown.
MiB's formal data validation process also involves cross-checking for consistency with both brands and other outside sources. Specifically, it verifies memberships with certain associations and again with the factory at a later date. When MiB finds contradictory information during the verification process, it flags the data. This lets the consumer make the final call for their purchases.
Some factories lie about which brands' products they manufacture for marketing purposes, but brands themselves also challenge the data. Hussain shared, "Initially, we thought this transparency would be attacked by the local associations, but it was unexpected for us that brands would come in and falsify their reporting," even when the factories show proof that they do manufacture said brands. These inconsistencies highlight exactly why transparency in the garment industry in Bangladesh is so important.
The Impact of COVID-19 Moving Forward
COVID-19 has hit Bangladesh's RMG industry especially hard. At the end of April 2020, 1,149 factories reported that brands canceled orders for more than $3.16 billion worth of garments. In the wake of these economic impacts, activists are concerned that progress on worker protections and safety regulations after the Rana Plaza collapse will disappear.
In May and July of 2020, MiB surveyed export-oriented RMG factories to create a COVID-19 specific map. It found that a large part of the garment industry in Bangladesh is back in action. "It seems like things are getting normal, but one of the questions we asked is about how optimistic they are about the immediate future, and we found out that people were extremely pessimistic," said Hussain. There is a possibility that factories are using their current capacity for orders that were initially canceled and recently reinstated.
Perhaps the pessimism also results from in the market uncertainty facing workers during the upcoming winter season. With the current quarantines in many Western markets, the RMG industry is not working on a natural order pipeline. Though factories traditionally produce knits and coats in the winter season, demand is sure to change with people staying home. With this added unpredictability for workers who already live under extreme financial uncertainty, the garment industry in Bangladesh requires increased information transparency now more than ever.
– Christine Mui
Photo: Wikimedia

https://borgenproject.org/wp-content/uploads/logo.jpg
0
0
Jennifer Philipp
https://borgenproject.org/wp-content/uploads/logo.jpg
Jennifer Philipp
2020-10-23 07:06:40
2020-10-23 07:06:40
How Digital Solutions Can Reform the Garment Industry in Bangladesh