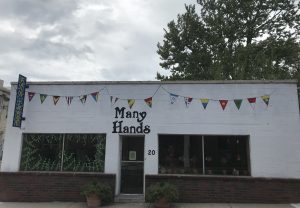 Many Hands Fair Trade Shop, located in Liberty, Missouri, sells fair trade items from a global community of artisans and workers. The shop — open between the months of March and December — benefits fair trade sellers in over 30 countries.
What is Fair Trade?
Fair trade is a concept that began around the 1980s in an effort to provide sustainable compensation and livelihoods to the producers and workers who make globally-traded products.
Essentially, consumers pay slightly more for internationally-traded products to ensure that a fair wage is paid to the producers of the products. Additionally, fair trade organizations set standards on the products produced, including environmental and human rights standards for producers and a fair trade minimum price for consumers.
What is Fair Trade's Impact?
In 2016, there were over 1,400 fair trade certified producer organizations in over 70 countries who work to ensure fair compensation to over 1.6 million workers and producers. In fact, 23 percent of fair trade workers are women, a position that empowers them to help build their communities and work in a meaningful way.   
By selling solely fair trade products, Many Hands Fair Trade Shop uses their small storefront to contribute in a large way to producers all over the world. Established in 2015, the store works to ensure they are providing "a channel for these [fair trade sponsored] artisans to sell their products, [and] offering them an opportunity to break the cycle of poverty and embrace a better life."
What is the Many Hands Fair Trade Shop?
Cindy Noel, one of the managers of the Many Hands Fair Trade Shop, spoke with The Borgen Project about the efforts of the store's managers to ensure as much income as possible goes to the fair trade producers.
"We put everything back into buying fair trade items so we can support more fair trade artisans and farmers. We have had to purchase a few shop displays but we ask for donations of most things and really have bought very few things. We are frugal. No one takes a salary," said Noel.
The store is so serious about putting all the profit back into fair trade they have made an agreement with the Second Baptist Church of Liberty in Missouri — the owners of their property and sponsors of the store's mission — to pay no rent on the storefront.  
The store purchases its products from a variety of companies, mainly SERRV, Papillion and Equal Exchange — all of which are members of the Fair Trade Federation or the World Fair Trade Organization.
All three of the store's suppliers buy and sell products from fair trade producers in many different countries. SERRV purchases from producers in 24 different countries; Papillion benefits artisans in Haiti; and Equal Exchange has partnered with over 40 farmer producers over the world.
How Does Fair Trade Benefit its Producers?
Noel continued to describe the ways in which the store, and more generally fair trade, benefits its producers:
"The artisans and farmers are guaranteed an ethical wage and provided a safe place to work before we order our merchandise. Most times their children are cared for and educated in schools where their parents work. Sometimes workers who have broken free of the sex trade, or who have diseases and are shunned, work at home and provide for their families by joining a home based co-op," Noel said.
Going Above and Beyond
Through the international network of fair trade, Many Hands Fair Trade Shop is making it possible for hundreds of fair trade producers to pursue meaningful work while earning fair and sustainable wages.
By taking no profit or salary from the shop, the managers at Many Hands are going above and beyond to see to it that every possible cent is put back into purchasing fair trade products. Through these admirable efforts, the organization will continue to support producers and workers in over 30 countries all over the world.
– Savannah Hawley
Photo: Savannah Hawley
https://borgenproject.org/wp-content/uploads/logo.jpg
0
0
Borgen Project
https://borgenproject.org/wp-content/uploads/logo.jpg
Borgen Project
2018-09-16 01:30:15
2019-07-31 23:29:29
The Inspiring Work of Many Hands Fair Trade Shop