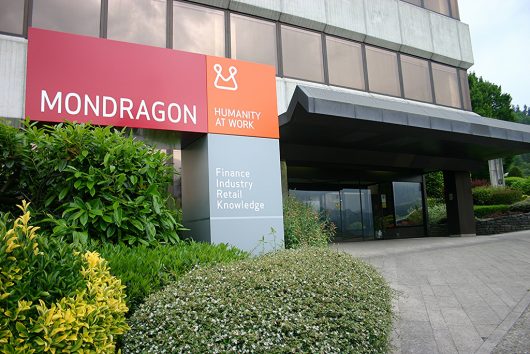 Cooperatives are being used as an alternative to the usual corporate hierarchical business model. These are businesses created by people uniting voluntarily in a democratic manner, aiming to improve their economic and social needs.
Economists recognize the crucial role they play in improving Spain's economic struggle. The largest worker cooperative in the world, Mondragon Corporation based in the Basque region of Spain, best exemplifies this claim. Once known as one of the poorest regions in Spain, the Basque region is now the richest, prospering due to a strong sense of self-determination, grassroots participation and non-governmental intervention.
In the 1940s, the young priest Don Jose Maria Arizmendiarrieta made it a goal to reduce the poverty rate at the time. The repressive policies of Franco's regime were leading to economic restraints causing more Spaniards to emigrate from the country. Arizmendiarrieta wanted to counteract this by creating humanistic cooperative businesses that looked out for workers' needs. Arizmendiarrieta and others created a technical school. He then established a cooperative bank, the Caja Laboral, leading to the first industrial cooperative in 1956.
Today, Mondragon is one of the most successful Spanish firms with global sales of $15 billion, employing close to 75,000 individuals in a total of 260 cooperatives. The people of Basque no longer experience the poverty they once did, "In Mondragon, I saw no poverty, I saw no signs of extreme wealth, I saw people looking out for each other," said Sociology Professor Barbara J. Peters. "It is a caring form of capitalism."
The Mondragon cooperatives are based on 10 principles: democratic organization, open admission, subordinate and instrumental nature of capital, value and importance of labor, participation in management decisions, fair payment, social transformation, cooperation, education and the university.
Workers in Mondragon have full control over their firm. Once a year members of each cooperative meet in a general assembly and elect who they want in charge; this board of directors is chosen to lead the cooperative in making important decisions and deciding the company's strategy.
Moreover, the cooperatives are not accountable to shareholder's needs; outsiders cannot buy any control, which allows management to invest solely on their cooperative with the long-term interest of the community in mind. Instead, the workers of Mondragon receive a share of the annual profits or losses based on a formula that tries to reflect the relative productive contribution of each worker.
Using this formula, most of the profits are reinvested, in turn creating new cooperatives and jobs as well as spurring the long-continued growth of Mondragon. Funds are also put aside for social welfare, providing care for retirement, widowhood and disability. Additionally, top CEOs at Mondragon are not earning exceptionally more than starting employees, somewhere between three to nine times more, which is significantly lower than most corporations.
Due to Mondragon's investment methods, they barely felt the loss of the 2008 recession, which deepened Spain's economic struggle. Not a single employee was fired, remaining steady at around 84,000 worldwide, one-sixth of them Spaniards. Instead of firing workers, their employees' average salaries dropped by around 5%, and those who were left without work found jobs at another co-op; all the co-ops back each other up, making sure they prioritize their profits, investing in the co-ops which are economically declining.
Since 1990, Mondragon has expanded its businesses to international markets. Today, they have 125 different businesses in different countries; however, these businesses are not all cooperatives. In 2006, Mondragon began working with Mexico, Brazil and Poland to educate trade unions on how to properly run a co-op.
The 2008 economic recession set the project back. Nevertheless, in 2009 Mondragon partnered with the United Steel Workers (USW) to lay the groundwork for the formation of Mondragon Union Cooperatives in the U.S.
– Marcelo Guadiana
Photo: Flickr
https://borgenproject.org/wp-content/uploads/logo.jpg
0
0
Borgen Project
https://borgenproject.org/wp-content/uploads/logo.jpg
Borgen Project
2016-10-29 01:30:28
2020-05-28 14:19:51
Mondragon Cooperatives: Improving Spain's Economic Struggle